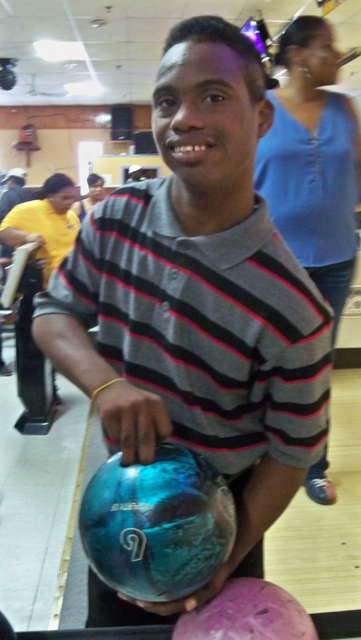 The Office of the Governor teamed with Junior Bowlers at Tropical Ten Pins Bowling Alley to help children with disabilities learn to enjoy bowling, and the effort seemed to work as there were smiles all around the bowling alley Saturday afternoon.
The Back to School Unified Bowl-a-Rama, a first-time affair on St. Croix, is part of a campaign to promote greater inclusion of people in conjunction with the Americans With Disabilities Act. The event featured the V.I. Bowling Federation Junior Bowlers.
The bowling alley was packed with cheering squads, families of bowlers, Department of Education representatives and local queens. There were 72 children, including children with disabilities, registered to bowl for free.
Dylon Schjang, a 15-year-old Junior Bowler, was paired with and teaching Jaydin Velazquez, 14 years old.
According to Schjang, it's a sport that anyone can play. He said it was Velazquez's first time bowling and he was impressed with how fast he caught on.
"He's doing great and caught on right away," Schjang said. "We can help them to be future Junior Bowlers."
Schjang said he felt really good helping the children learn a sport that helps them stay physically fit. Velazquez had the form down, was all smiles and gave thumbs up when he knocked pins down.
Leatrice Potter-James, Velazquez's grandmother, said the program was an excellent idea for her grandson with Down Syndrome.
"The children are exposed to bowling with their peers," Potter-James said. "This is a good way for them to learn to bowl."
A tournament was held, with teams made up of Junior Bowlers and children with disabilities. The children had a chance to win one of four tablets. There also was a raffle for teachers and was free food.
Maureen Moorehead, district coordinator of special education, said the idea is to bring children together and to be unified with others. The Department of Education had a table set up with brochures and representatives gave out information on special services.
Sunday's event on St. Thomas is the Back to School Unified Hoops Galore and will be held from 2 to 5 p.m. Sunday at the Winston Raymo Recreation Center Basketball Court. The theme of the two events is "Cultivating Inclusion."