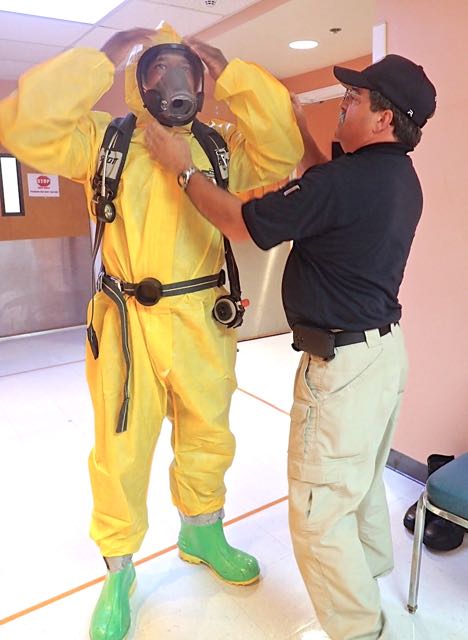 A group of St. Croix firefighters and Gov. Juan Luis Hospital staff are learning how to deal with gas spills, terrorist incidents and hazardous materials during a four-day training program at the hospital provided by FEMA, VITEMA, U.S. Homeland Security, and Texas A&M University.
The 48 students have been learning about the types of chemicals, the proper use of personal protection equipment and how to respond, among other things, from 8 a.m. to 4 p.m. since Tuesday. The participants have been tested each day and, on Friday, they will take an exam for national certification.
According to Kent Gardner, training manager for the program, the class includes instruction and practice learning to use the equipment such as air tanks, air masks, splash suits, boots and gloves.
"At times of crisis, you always resort to what you have been trained," he said.
Hazmat instructor Alan Russell worked slowly with St. Croix firefighter Mahlik Griffin to cover himself with protective gear from head to foot. It takes more than one person to don the suit and make sure there are no openings between sleeves, gloves, boots and masks – that all skin is covered.
First he asked if Griffin had any sharp objects in his pockets that could tear the plastic suit. Then they inspected and turned on the air mask. As Griffin put on each article of clothing, Russell tucked it in or taped it closed until Griffin looked airtight.
"In hazmat, you take your time," Russell said.
In addition to firefighters, hospital staff in the program include clinical nurses and workers from the Emergency Room, safety, quality, maintenance and dietary divisions, according to Angeline Ravariere, JLF quality management department.
"In the event of an incident in the community, the fire department has the responsibility to perform in the field. But if the hospital has walk-ins, we would have the ability to decontaminate them before they contaminate the rest of the staff," Ravariere, said.
VITEMA Director Mona Barnes spoke to the training class and thanked the participants as well as the trainers. She pointed out the training program was paid through a federal Homeland Security grant and free to the territory.