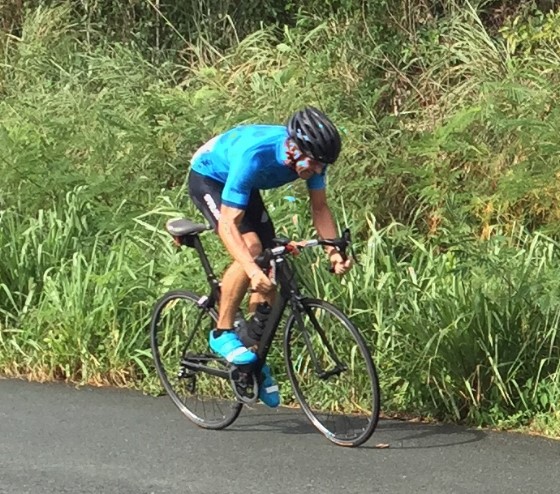 Because of the threat of inclement weather on Sunday morning, the organizing committee for the Encarnación Road Race considered canceling the event. The forecast called for heavy wind and rain around 9 a.m., so the mileage was shortened for all racing categories in order to clear the roads before the approach of the scheduled storm.
A small field of cyclists gathered on St. Croix's south shore during an overcast sky and cool, heavy breeze on the 12.7-mile loop course, which took cyclists from the former Café Kaleidoscope, then over the Christiansted Bypass, through Beeston Hill and back to the start along the South Side Road.
The Elite riders covered three laps of the course, shortening the race to just over 38 miles. Stephen Swanton and Mark Defour shot through the first lap in 38:02, leaving John Harper and Morgan Theophane to fend for themselves. Just when Defour was momentarily distracted on lap 2, Swanton plunged an attack and Defour was unable to respond. Swanton finished the second and third laps alone and crossed the line in an overall time of 1:56:13. Defour was second in 2:00:48. Both Harper and Theophane abandoned the race.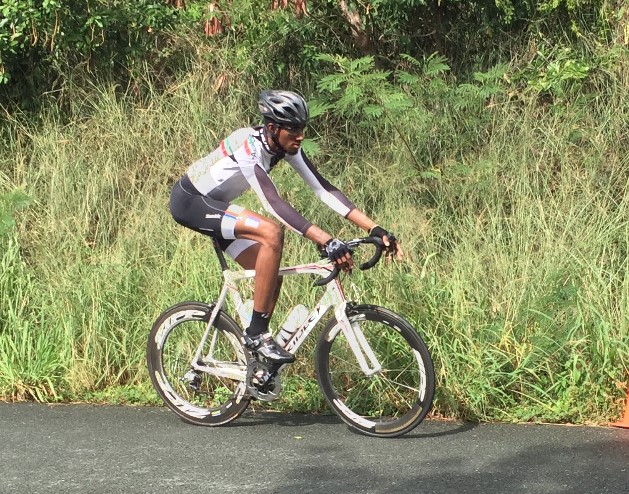 The Expert field included a trio of matched riders: Jerry Remy, Miguel Cruz and Robin Seila. They worked together for both laps of their 25.5-mile race until Remy began his early sprint at the dip just before Mountain Mint Farm. They finished in the above mentioned order, just seconds apart.
Alvin Thomas was the lone Sport rider in the one-lap 12.7-mile race. He met his fellow Masters riders on the course yet nudged out Valentine Dove right at the line. They earned the same finish time of 41:33 and the first place medal for their respective categories. Hubert Bartlett was second in the Master's race and Paul Gumbs was third.
The final event on the calendar is the VI Cycling Championship Time Trial and Road Race will be held at 7 a.m. on Aug. 13 and Aug. 14.
For more information, call 513-2707.
The Virgin Islands Cycling Federation (VICF) held the Encarnacion Road Race on Sunday, July 31. The weather was overcast and windy. The race began and ended at Café Kaleidoscope.
ELITE (38.1 miles) – TOTAL: lap 1 /lap 2 /lap 3
1. Stephen Swanton – 1:56:13… 38:02…37:57…40:14
2. Mark Defour – 2:00:48…38:02…39:53… 42:53
John Harper – DNF…39:28…44:50
Morgan Theophane – DNF…42:44
EXPERT: (25.5 miles) – TOTAL: lap 1, lap 2
1. Jerry Remy…1:25:28… 42:45… 42:43
2. Miguel Cruz… 1:25:35… 42:45… 42:50
3. Robin Seila… 1:25:36…42:45… 42:51
4. Laverne Fredericksen …1:39:20…48:42…50:38
5. James Meyers…DNF
SPORT: (12.7 miles) – TOTAL…lap 1
1. Alvin Thomas…41.33…41.33
MASTERS: (12.7 miles) – TOTAL lap 1
1.Valentine Dove…41:33… 41:33
2. Hubert Bartlett…41.34… 41:34
3. Paul Gumbs …43.37…43.37
4. Hubert Abraham…50.43… 50.43