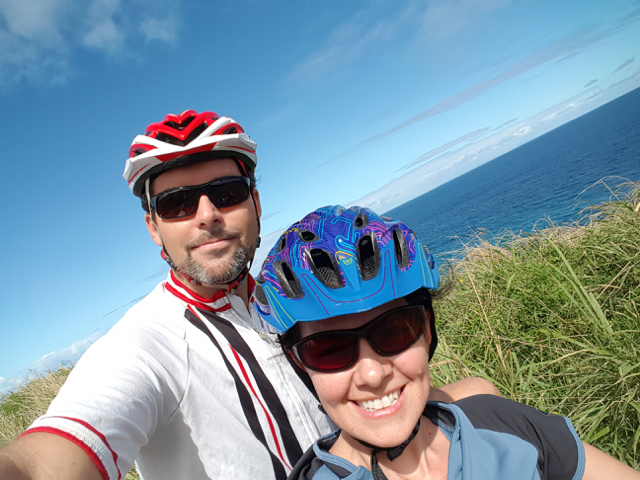 Despite St. Croix's sometimes daunting terrain, exploring the island by bicycle is open to a wide range of ages and abilities, according to Aaron Hutchins, owner of Virgin Islands Bike and Trails.
He and his wife, Olga Hutchins, have provided more than 10,000 bike tours for visitors and locals since they began offering bike rentals out of Frederiksted in 2008.
"We've had people from eight to 86 years old with all abilities rent bikes," Aaron Hutchins said. "We have a variety of tours available geared to different levels of ability."
He said some of the tours are very flat and not hard to handle. Other tours one can do a lot of climbing on rugged terrain. They build and deliver activities and itineraries for all levels of cyclists, hikers and explorers.
Bikes are a good marriage between man and machines, he said, allowing people to go at a slower pace to explore St. Croix.
"Bikes are a good match for St. Croix," Hutchins said. "St. Croix offers a lot of exploring opportunities. People can be exposed to the beauty, history and culture of St. Croix and stay active and fit at the same time."
Virgin Islands Bike and Trails is a growing tour and bike rental company and bike shop that provides hiking and biking tours, mountain or road bike rentals and full bike services and sales. Some of the brands of bikes they sell include Salsa, Giant Bicycles, ibis, and KHS.
Hutchins, an environmental manager and conservationist, was born and raised on St. Croix and has been biking the island since 1977, so he knows the trails on the island pretty well.
"I grew up in Frederiksted with our bike mechanic, Jamie Keys, who is also the former USVI cycling champion, and considered by many as the best bike mechanic in the Virgin Islands," Hutchins said. "Jamie and I have been riding, racing and exploring together by bike on St. Croix, throughout the Caribbean and some of the best mountain biking locations in the U.S."
Keyes, Jamie Bate, Mike McQueston, John Riggs and Hutchins – all former competitive cyclists from St. Croix – recently spent a week together riding the world famous trails near Lake Tahoe.
The rental and repair shop, formerly called Freedom City Cycles, was located a half a block from the pier in Frederiksted until about two months ago. They have recently moved the operation to Estate Little Fountain and renamed the business Virgin Islands Bike and Trails.
Hutchins said they decided to move and change the name to be less city specific and serve all of St. Croix. He said they couldn't justify staying in Frederiksted since the number of cruise ships has dwindled from 60 a season to 25 scheduled for the next winter season. He added they have had a very good working relationship with the cruise lines, and on a lot of cruise ship days they would rent out all of their 35 bikes.
"We love what we do and we're working hard to improve access to trails and opportunities to explore the island by bike," Hutchins said.
To improve trails and open up more trails across St. Croix, Hutchins, his wife and Win Welsh have co-founded the VI Trail Alliance. The nonprofit alliance is working with private land owners to build a sustainable trail system. Hutchins said they are getting good feedback and there is a lot of interest and enthusiasm from property owners and the public. They also have support from the St. Croix Hiking Association and the St. Croix Fire Walkers, a group of firemen. They are in the process of getting a board of directors and drawing up by-laws.
A group of bicyclists led by Win Welsh, have open weekly mountain bike rides at 8 a.m. Sundays from the Virgin Islands Bike and Trails workshop at 29 Estate Little Fountain.
"We really enjoy exploring and sharing the island by bike," Hutchins said.
More information about rentals, tours and prices can be obtained by sending email to Hutchins at freedomcitycycles@gmail.com, calling 340-277-2433 or on the website at www.vibikeandtrails.com.