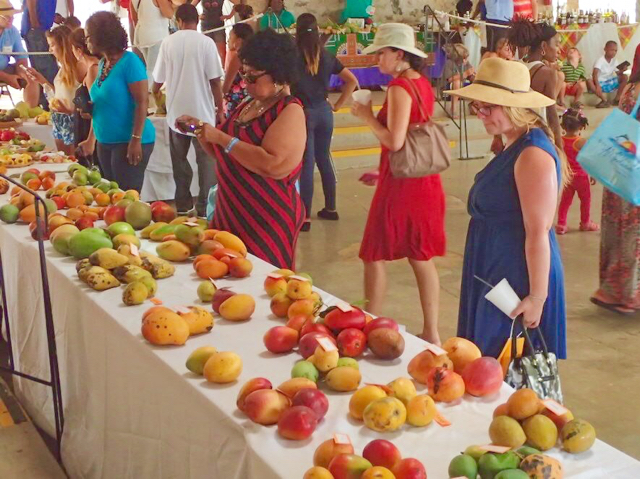 The 20th Mango Melee surpassed itself Sunday, with more visitors, entertainment and mangos in every shape and form – including a life-size walking, talking mascot, Mandy Mango.
Organizers expected 3,000 to 4,000 people at the tropical fruit festival this year, said Christine Thomas, who is director of administration and development at St. George Village Botanical Garden.
There was more entertainment, mango sampling, displays, workshops and more than 100 vendors to ramp up the 20th milestone, which is a fundraiser for the St. Croix botanical garden.
Also new this year was Mandy Mango, AKA Katie Payne in a mango costume, who strolled through the grounds performing for and having her picture taken with children.
Inside the Great Hall, the distinctive fragrance of ripe mangos wafted from hundreds of fruits displayed by variety, surrounded by locally made soaps, candles, stews and jellies.
Samplings of mango enhanced dishes and beverages and a cooking contest added to the excitement and juicy odors inside the great hall.
Winners of Mango Dis, Mango Dat were: Wanda Wright and Cruzan Ice for drinks; Susan Barker and Lisa Sperry, sweets; John Brastron and Merryn McDonald, salsas; and Viola Brastron and William John for "stuff". The Brastrons and John have won prizes for several years.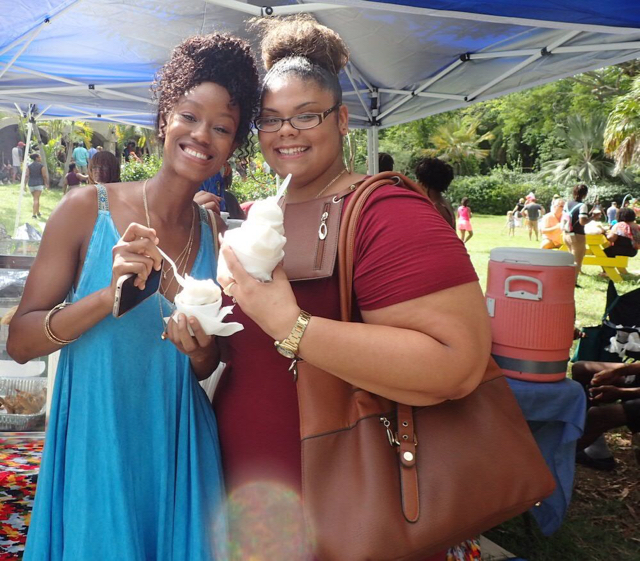 Arts and crafts, food, jewelry and clothing vendors were spaced on the grounds west of the great hall and around the Bodine visitor center.
Events for children and adults included workshops with Olassee Davis, hula-hoop lessons and creating calabash bowls with Nate and Shelli Olive.
Entertainment included the Superior Court Rising Stars Steel Pan Orchestra, the Guardians of Culture Moko Jumbies, We Deh Yah Cultural Dancers and Kiki and the Flaming Gypsies. The mango-eating contest and a silent auction of fruit ended the event at 6 p.m.
"It seems like a family reunion," said Irving Julien, who was born on St. Croix but lives part of the year in Orlando, Florida. "I love the people – meeting old friends – networking – meeting new friends. Seeing the integration."
Julien was with daughter Brianna, 9, and Brandon, age 6, and a handful of relatives. Softball training paid off for the youngest Julien – Brandon hit the target twice, plunging Julie Landreneau into the dunk tank.
Another family, the Lombards, enjoyed everything from ice cream to seeing old friends. Claudia Lombard said she enjoyed walking the trails with her husband and children.
"It's such a great community event. Everybody comes out and has a great time. And there are always great vendors," Ryan Lombard commented.
Several V.I. senators and Delegate to Congress Stacey Plaskett enjoyed the event with families. Before returning to the island for the event, Plaskett questioned FBI Director James Comey Thursday in Washington D.C. about the Hillary Clinton investigation and appeared on MSNBC Saturday.
Sue Lakos of the V.I. Department of Agriculture was one of the founders of the event and gave Mango Melee its name 20 years ago. She said a group of people from the Ag and the University of the Virgin Islands came up with the idea for the family event/fundraiser because "mangos are a very important part of St. Croix."