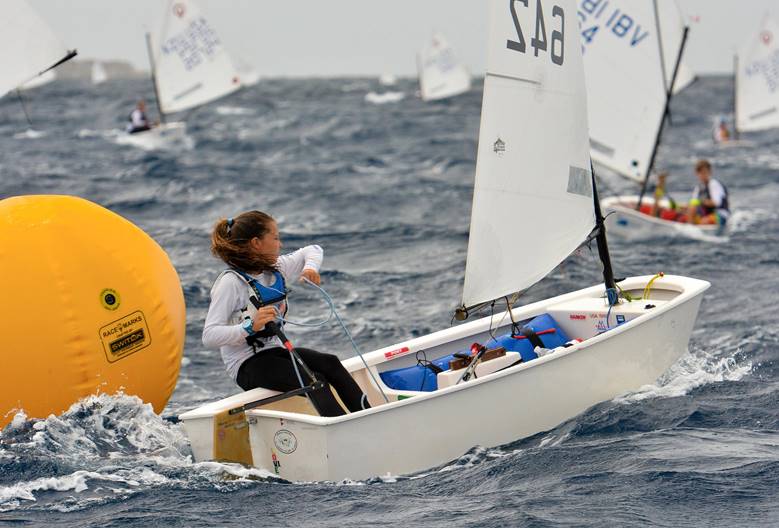 Mia Nicolosi is quick to tell you that her ambition in sailing isn't earning the Top Girl prize. Instead, she has always set her sights on the overall top trophy, beating all the other girls and boys alike. The 13-year-old St. Thomas Yacht Club (STYC) sailor achieved her goal by winning the 24th International Optimist Regatta (IOR), which was presented by Electronic Merchant Systems (EMS) Virgin Islands and hosted out of the STYC, June 17-19.
Nicolosi not only concluded today's racing with a four-point lead after 10 races in the Optimist Advanced Classes, but she also picked up a trio of other honors: First Place in the 13- to 15-year-old Red Fleet, Top Girl and the Pete Ives Award, given for a combination of sailing prowess, sportsmanship, determination and good attitude both on and off the water. This is quite a feat considering the keen level of competition in a field of 115 sailors representing seven nations – Antigua, the British Virgin Islands, Dominican Republic, Puerto Rico, Trinidad and Tobago, the USA and all three U.S. Virgin Islands – with winds blowing up to a blustery 22 knots.
"At first I didn't focus on getting first," said Nicolosi. "Instead, I paid more attention to the goals my coach wanted me to practice in preparation for the World (Optimist World Championships, June 25 to July 4, in Vilamoura, Portugal). Those were getting good pin end starts, making strong gains on upwind legs and not getting covered on the down winds so I could go faster. In the end, it was achieving these goals that helped me to win this regatta."
Nicolosi is the second girl to win the IOR/EMS and the third U.S. Virgin Islander to triumph, but she is the first to make it a two-year-in-a-row victory for the same family. Nicolosi's brother, Teddy, won the 2015 IOR/EMS.
In the Blue Fleet, for 11- and 12-year-olds, it was the U.S.'s Stephan Baker who won.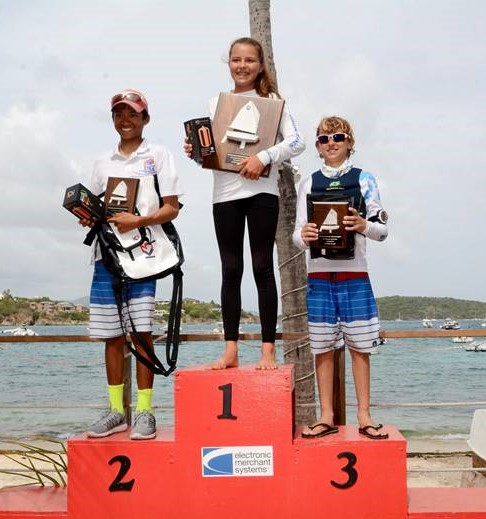 "I wanted to stay consistent and I pretty much did," said Baker, who sails out of the Coral Reef Yacht Club in Miami, Fla. "This is my third year sailing in this regatta and what I really like is the conditions, the beach, the competition and seeing all my friends again."
STYC sailor Max van den Driessche championed the age 10- and under White Fleet.
"I learned to get better starts in the Clinic (TOTE Maritime Clinic, June 15-15) and that really helped me in this regatta," said van den Driessche. "In the last race I pretended there were no other sailors out on the water but those of us in the White Fleet, and then I just focused on beating them."
Twenty-eight junior sailors competed in the Green or Beginner Fleet, which bodes well for the future of the sport. In the end, it was the USA's 10-year-old Freddie Parkin, who finished on top with a 21-point lead after 25 races.
"Each race I tried to get up by the other lead boats and then to overtake them before the finish line," said Parkin, who sails out of both Coral Reef Yacht Club in Miami, Fla. and the Riverside Yacht Club, Riverside, Conn.
In other awards, it was the USA's Laura Hamilton, a member of the Long Island Mid Atlantic Sailing Team, who earned the Chuck Fuller Sportsmanship Award.
"Nowhere else in the world can you get in 10 super quality Optimist races in three days," said Bill Canfield, principal race officer. "The weather was outstanding and competition close. This regatta continues to grow and is truly one of the best Optimist regattas in the world."
The IOR is organized under authority of the Virgin Islands Sailing Association and it is a Caribbean Sailing Association-sanctioned event.
"We at EMS Virgin Islands congratulate all the sailors, parents and organizers on a fantastic event," says Cobia Fagan, owner, EMS Virgin Islands. "We look forward to next year."
This year's event marks the fifth year that the IOR/EMS has taken part in Sailors for the Sea's Clean Regattas program. This program, the only ocean conservation nonprofit focused on the sailing and boating community, encourages regatta participants to recycle all plastic water bottles, use the reusable water bottle provided in goodie bag throughout the regatta, keep all lunch bags and wrapping out of the water and pick up any trash on shore and accept drinks without straws.
The Optimist is an 8-foot long single-sail dinghy. This boat is sailed in over 120 countries and is one of only two yachts approved by World Sailing for sailors under the age of 16.
For full results, visit www.styc.club/international-optimist-regatta.html or www.regattanetwork.com. Also visit the International Optimist Regatta on Facebook.
Results — Top 5 Finishers by Fleet
RED FLEET
1. Mia Nicolosi, USVI (20)
2. Daven Subbiah, USA (24)
3. Rayne Duff, USVI/BVI (46)
4. Liam O'Keefe, USA (62)
5. Julian van den Driessche, USVI (66)
BLUE FLEET
1. Stephan Baker, USA (41)
2. Ryan Satterberg, USA (48)
3. Jonathan Siegel, USA (100)
4. Nathan Haycraft, BVI (137)
5. Katherine Majette, USVI (187)
WHITE FLEET
1. Max van den Driessche, USVI (442)
2. Ryan Lettsome, BVI (471)
3. Samara Walshe, USA (481)
4. Anna Vasilieva, USA (540)
5. Mathieu Graham, USA (550)
GREEN FLEET
1. Freddie Parkin, USA (48)
2. Tanner Krygsveld, USVI (69)
3. Brayden Benesch, USA (136)
4. Andy Yu, USVI (143)
5. Cruz Lonski, USVI (150)