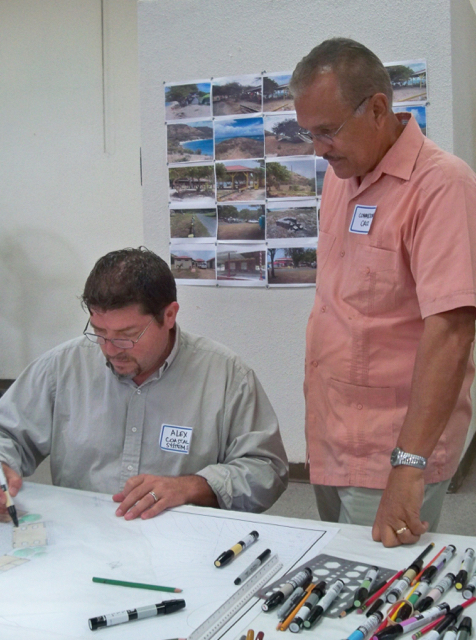 About 45 community members had the opportunity to give their input in a charrette on designs and plans to enhance Cramer's and Altona Lagoon Parks.
Friday, Project Engineer Harvey Sasso, principal of Coastal Systems-USVI, facilitators for the design sessions, explained in the final presentation and overview that a charrette is a rapid design process focusing on the participatory process of people who use the parks.
"We must have community input in the two-day design session with the people who will use the parks," Sasso said. "The participation and enthusiasm of the people was tremendous."
In the first phase, his organization had facilitators who listened carefully and interpreted what people in the charrette wanted.
Local resident Ruth Lynch said participants were very happy with the plans they came up with.
"We're very excited about all the plans for trails, something for kids, re-designs of beaches, extra parking and re-location of roads," Lynch said.
In the sessions, which began Wednesday at D.C. Canegata Recreation Center, participants boarded a bus and headed to Cramer's Park on the east end. From there they went on to Altona Lagoon, located east of Christiansted, for site visits. At the parks they checked out the existing facilities, paths, parking areas, roads, and beaches. Then it was back to Canegata where the group broke into two teams and brainstormed in group sessions.
The teams briefed architects and artists on 25 to 30 elements they would like to see incorporated in designs.
The teams wanted a lot of similar elements in both parks, including more trails, ADA compliance on all buildings and swimming areas, underground power lines, more waste bins that are animal proof, wider beaches, security, eco-friendly restrooms, paths for pedestrians and bicyclists only. They also want the entrances and exits changed, and roads inside the parks rerouted for safety reasons. Both parks would have retrofitted concession centers that planners hope will be rented out to generate money to help fund maintenance of the parks.
At Altona Lagoon, the boat ramp needs repair. Plans also call for a children's learning center and splash zone.
Sasso said planners realize that almost all of the trees at the lagoon were planted by Susana Ocasio Santana in her mother's memory, so they will be very respectful and mindful about preserving and transplanting everything possible.
Sen. Novelle Francis requested an area by the old radio station at the lagoon be designated for a memorial site for fallen Virgin Islands soldiers and police officers.
At Cramer's, the existing cabanas would be refurbished and an amphitheater planned for concerts. The government owns property across the street from Cramer's, so there would be overflow parking there. Coastal engineering will analyze the beach impacts, and better trails to Goat Hill and Point Udall would be on the drawing board.
Local resident Catalina Torres said she was happy to see more trails planned for both parks, but was concerned about trail maintenance.
"I believe there should be a public-private entity agreement separate from the V.I. Government to maintain the trails," Torres said.
In closing remarks Gov. Kenneth Mapp said he expects the projects to be in the $10 to $15 million price range. He said he was including funding for it in the capital project budget he was sending to the Senate Friday, adding there is $9 to $10 million currently in that budget.
"This will not just be put on a shelf. I can assure everyone – without dispute this will be implemented," Mapp said. "And not take 10 years to get it done."
Alex Avila is the head architect for Coastal Systems-USVI and Gerville Larsen is the local consulting architect.
Sasso added there will be a booklet of the plans will be available for public viewing. The book may be available through the Department of Sports, Parks and Recreation.