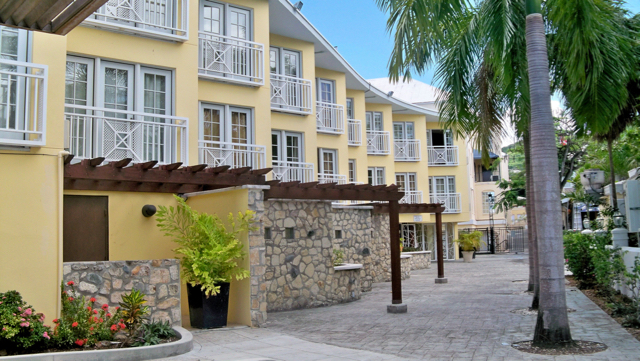 King's Alley Hotel is earning money. The question before the Board of Directors of the King's Alley Management, Inc. Friday was whether it was earning enough to pay a dividend to its parent company – the Virgin Islands Public Finance Authority.
The hotel has more than $800,000 in retained income over the years, according to Valdamier Collens, executive director of the board. The amount was $500,000 in 2012; $589,000 in 2013; $714,000 in 2014 and is estimated to be more than $800,000 when figures from 2015 are calculated.
"The hotel is doing fairly well," said Collens, "with a 60 to 70 percent occupancy rates."
Board member Keith O'Neale asked how the hotel was doing so well when it appeared to do little advertising.
"It is a boutique hotel with only 21 rooms so keeping the occupancy rate high is not that hard." Collens replied. He added that government agencies were responsible for 40 percent of the occupancy.
O'Neal said, "This looks good when I look at page one, but when I look at page two …"
Page one referred to assets and net position. Page two referred to revenues and expenses. The hotel is showing a profit – as long as you don't count asset depreciation. If depreciation is factored in the hotel is operating at a loss.
O'Neale also asked whether the hotel would need money for refurbishing or renovation. "We want to be sure the goose is comfortable before we take its golden eggs," he said.
Collens said that the only major project proposed is repairing the hotel dock that was damaged during Hurricane Omar, and that should cost less than $100,000. He also mentioned that the manager thought some carpet might need to be replaced soon, but that would not be a high expense.
In his opinion, Collens said, if a dividend was considered, it should be $100,000 or less. By general agreement, the board decided to put off a decision on whether a dividend should be paid until more information was gathered.
Board member Nellon Bowry requested the board wait for the audited, 2015 figures to be done and a more straightforward analysis of the cash flow is made.
Joanne Bozzuto, director of finance and administration for the PFA, also asked for a detailed explanation of $654,000 figure shown in the financial report as a liability to the PFA.
Bowry also asked what, exactly, PFA's return on investment was working out to be. He said he did some rough calculations and was coming up with 1.2 percent. A good return on investment is considered to be around 7 percent.
After an executive session in which employee matters were discussed, a unanimous vote was taken to increase the starting salary for existing housekeeping staff. The board members also unanimously agreed to institute a performance bonus program that will be carried out by the general manager under the direction of the board.
Board members during the regular session also discussed the history of how the PFA became owners of King's Alley Hotel, and how King's Alley Management Inc. came to manage it for the government.
PFA acquired the hotel in 2001 after Development Consultants Inc. defaulted on a loan given from 1994 PFA bond issue proceeds set aside for ventures with the private sector.
In 2006 additional funding for renovations was approved by the PFA board – bringing the PFA's overall investment in the project up to approximately $8 million. In the spring of 2008 the hotel opened.
In 2014 Dive Experience leased and moved into the area of the hotel that fronts on the Christiansted boardwalk.
All the hotel rooms have either a king bed or two double beds. Each room has a narrow balcony with standing room only. The bathrooms have marble vanity tops and frosted-glass bathroom doors. The lobby is open air with mosaic tile floors in green, orange and blue. There are plastic, rattan-like chairs and large ottomans with cotton turtle print cushions.
The major complaint new guests have is the absence of a swimming pool.