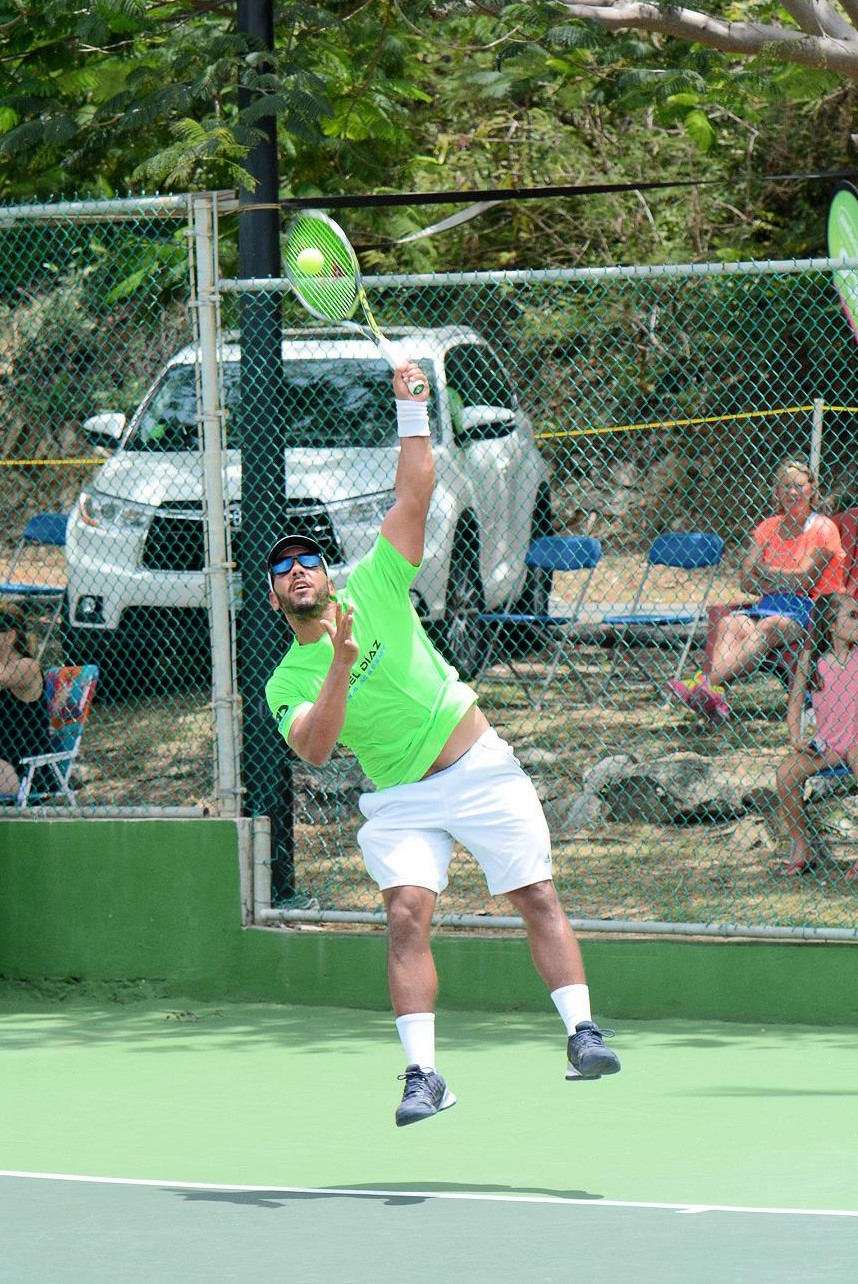 World-class competition was on full display at the Choice Wireless V.I. Open Tennis Tournament, hosted May 26-30 by the St. Thomas Yacht Club. Seventy tennis players from the U.S. Virgin Islands, Puerto Rico, St. Kitts and the U.S. Mainland – which included professional as well as a strong contingent of amateur or B Division competitors – definitely proved this event's reputation as the 'Wimbledon of the Caribbean.'
A strong serve combined with trying to force his opponent out of the court was the winning strategy that led Puerto Rico's Fernando Negron to win the Men's Open Singles over fellow islander Erwin Lopez (6-2, 2-6, 6-2).
"The second set I changed it up and lost, but I went back to my strategy and got more aggressive to win the third set and the match," said Negron, who works as a tennis pro in his hometown of Gurabo.
Negron, teamed with Lopez, also championed the Men's Open Doubles, beating St. Thomas players James Hosie and Gregorie James (6-3, 6-4).
In Women's Doubles 8.0, Puerto Rico's Yelitza Lopez and Vanessa Munoz defeated St. Thomas' Fenella Cooper and Sasha Gumbs (7-5, 6-2).
"This is my fourth time competing in this tournament, and I had played against Fenella in the past. I'd never played against Sasha, but we knew because of her height we had to play lower, change the pace of the lobs and get them to the net to win the point," said Lopez, who last year earned the Women's 4.5 Singles title at this event.
The team of Jay Croft and Jason Miller, both from St. Croix, V.I., bested Puerto Rico's Hiram Amado and Raul Villanueva (7-5, 6-2) in Men's Doubles 8.0.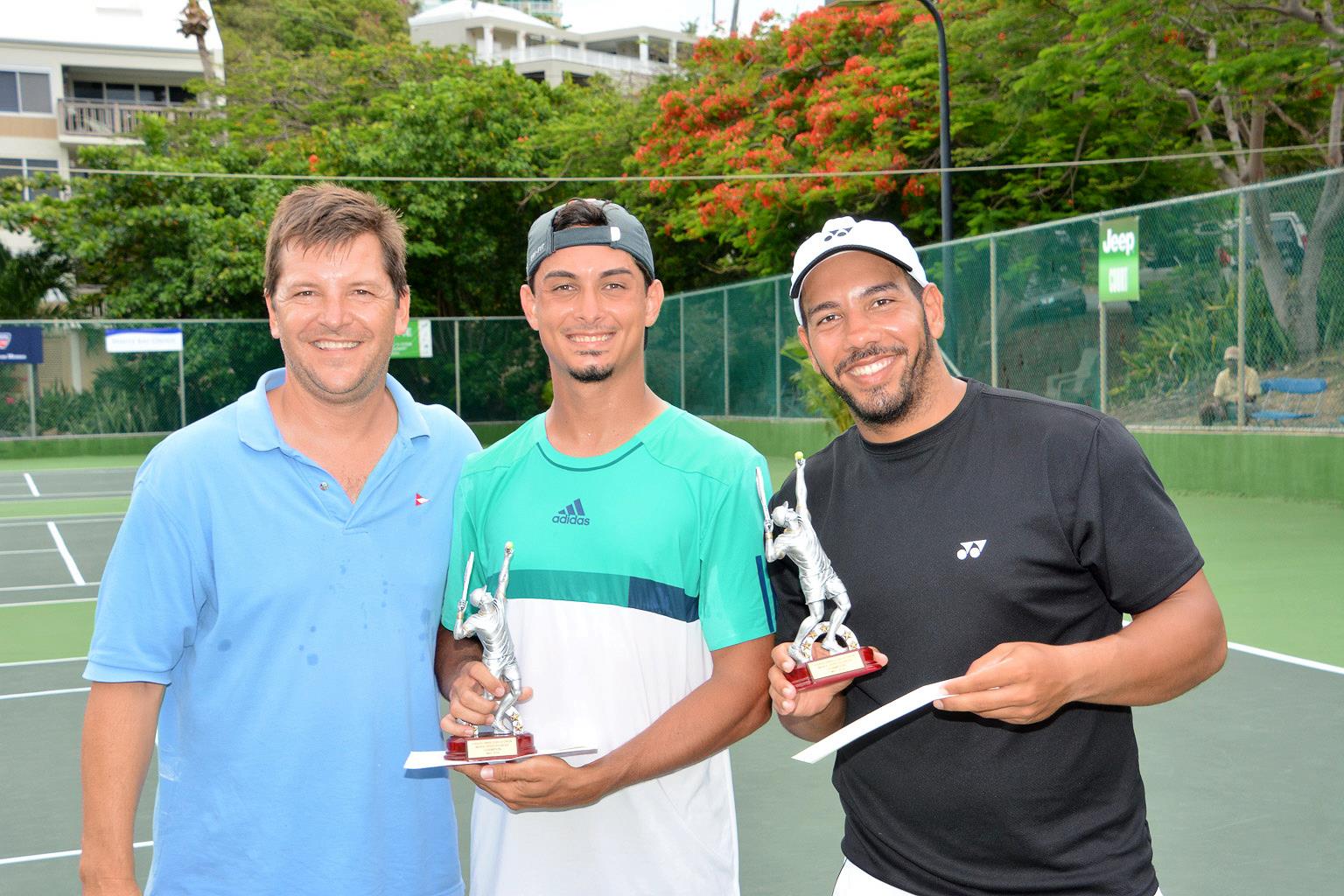 "We're power hitters, that's what did it," said Miller. "This was our first time playing here. We had such a good time that next year we're going to bring a larger group of players."
Teamwork is what led St. Thomas' Darryl Donovan and Sacha Gumbs to win the Mixed Doubles 8.0 (6-1, 6-1) against Tanya Ferris, from Florida, and Richard Maney, who flew in from North Carolina to compete.
"This is the first time Darryl and I played together as a doubles team, and we worked well together," said Gumbs.
In Women's Singles 4.0, it was St. Croix's Pat Charles who defeated St. Thomas' Denise Holmberg. "Patience, patience. That and taking the shot when I got it" is how Charles described her triumphant tactics.
First-timers luck plus talent led Puerto Rico's Karla Colon to victory when she defeated St. Thomas' Billie Hodges (6-1, 6-1) in Women's Singles 3.0.
"My friend invited me to come over this weekend and play. I didn't expect to do so well. It was really some good tennis," said Colon.
What Maney lost in Mixed Doubles he gained in Men's Singles 4.0, besting St. Croix's Mabubiyah Richards (6-1, 6-1).
"I knew from watching him earlier in the tournament that he didn't miss the ball and he was a very astute player," Maney said of Richards. "I knew I had to put him in an uncomfortable position and make him run. I figured if he won, I was going to make sure he ran the equivalent of a marathon."
Matt Schoch of St. Thomas nabbed the trophy in Men's Singles 3.0 by beating St. Thomas Byron Gumbs (6-0, 6-2) in a three-man round-robin that included Miguel Quinones.
"Byron and I play very often. I knew I had to move him around the court and make him do all the work," said Schoch.
Finally, in the Men's Doubles 60-Plus years of age, it was the dynamic St. Croix team of Stan Myrie-G and Rudolph Chapman that won over Richards and St. Thomas' Louis Taylor (6-2, 6-4).
"We knew they would try to lob us a lot, so we adjusted accordingly and hit high overhead to make a difference," said Myrie-G, who has played in every Choice Wireless VI Open Tennis except one.
Over $13,000 in prize money was awarded in addition to engraved trophies.
Matches were officiated by USTA-certified and International Tennis Federation referee Addy Medina of Puerto Rico. Cesar Febus and Javier Roman, also USTA-certified, served as chair umpires. The Choice Wireless V.I. Open Tennis Tournament is the only tennis tournament in the U.S. Virgin Islands sanctioned by the USTA's Caribbean District.
"We really thank our sponsors for enabling this event to showcase such an amazing caliber of tennis and to draw such an international mix of players," said J.P. Montegut, who co-directed the tournament with Margo Lynch.
The Choice Wireless VI Open Tennis Tournament is sponsored by Choice Wireless, the U.S. Virgin Islands Department of Tourism, Caribbean Auto Mart, STYC and USTA Caribbean.
For more information, call 514-8428 or email: viopen@choice-wireless.vi
Choice Wireless is the premier 4G LTE high-speed Internet provider and cell phone service provider in the Virgin Islands as well as a growing presence in the continental United States. The company was founded on St. Thomas, U.S.V.I., in 1999 and is the largest provider of Internet access services across the territory. Choice Wireless is a subsidiary of Atlantic Tele-Network (NASDAQ:ATNI), a telecommunications company operating advanced wireless, wireline, and both terrestrial and submarine fiber optic networks in North America and the Caribbean.