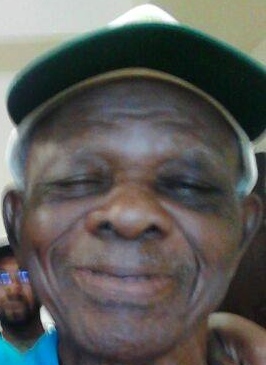 It is with great sadness that we announce the passing of our father, grandfather, great grandfather, uncle, husband, brother, in-law and friend Nathaniel Anthony at the grand age of 96! He passed away on the morning of Saturday, May 21.
A native Antiguan, Nathaniel Anthony was a fisherman by profession, and he was known to many by his aliases: Captain Blood, Taper, Captain Hard Storm and simply Nathan. He traveled many islands and made many friends across the Caribbean Sea. Mr. Anthony was born on April 3, 1920, to parents, Daniel and Sarah, in Johnson Point on the Caribbean island of Antigua, and he was married for over 52 years to Jane-Ann Fernella Richards Anthony.
He is survived by his children: Leroy Anthony, Claudette Hill, Tony Anthony, Junior Anthony and Rebecca Milligan; adoptive children: Cortwright Christian of Canada and Hyacinth Laviscount of Antigua; grandchildren: Desiree Anthony, Jalean Anthony, Kerry Anthony in Bronx, New York, Krendis Anthony in Israel, Darien Hill, Joell Hill, Jelani Hill in Florida, Jahmarley Anthony, Halik (AJ) Milligan and Ethan Anthony; great-grandchildren: Shaquille, Quandijah and Danaezha of Bronx, NY. Tikavh, Tiferet and Hadriel of Israel, Dakari and Daven in Florida; great-great grandchild, Jerimiah in Bronx, NY.; and sibling, Ruth Anthony of England.
He is predeceased by siblings: Simon Anthony, Thomas Anthony, Rose Matthew, David Anthony, and Oakland Anthony and Lou Anthony.
He was uncle to Curlita Anthony, Earl Anthony, Fanso Anthony, Leon Anthony, Gene Anthony, Roosevelt Anthony, Collette Anthony, Cherise Anthony, Ceceal Anthony-Roberts, Denise Hunte, Elizabeth Anthony, Sharon Anthony, Glenfield Anthony, Floyd Anthony, Sandra Matthew- homas, Cheryl Lewis, David Anthony, Veronica Anthony, Althea Anthony, Wentworth Anthony, Sheena Anthony and Wade Anthony.
Other survivors include relatives: Lucinda Joseph and family (of Jennings Village, Antigua), the Anthonys, Tonges and Simons of Bolans, Johnson's Point, Urlings and Old Road of Antigua; sisters-in-law: Edris Weekes, Nolarine Joseph, Ethelyn Richards and Cynthia Richards; brothers-in-law: Elrose Richards, Elderfield Richards, Patrick Richards and Kenmore Richards; daughter-in-law, Icilma Anthony; sons-in-law: Mitchell Hill (ex) and Chan (Toughest) Milligan; special friends: Lynette Simmons-Orson, Agnes Hamilton, Julice Joseph, Ursula St. Louis, Sylvia Skepple, Ruth Cornelius, Jane Greenaway, Eulalie Josiah and Patrick Cassin; as well as other relatives and friends too numerous to mention.
There will be a viewing held at 9 a.m. followed by a funeral service at 10 a.m. on Saturday, June 4, at Divine Funeral Services, No. 129 Peter's Rest.
Arrangements are entrusted to Divine Funeral Services and Crematory. We own and operate our own crematory. Let us offer you a Dignified Funeral, affordable by all. Tel: 773-0003/fax: 773-3003.