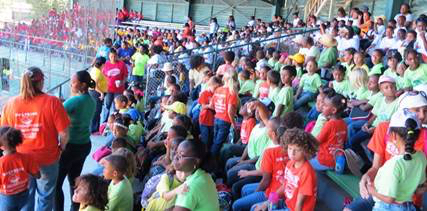 Hundreds of primary school students in the St. Croix school district flocked to the Canegata Ballpark on Friday as a grand finale to the Week of the Young Child celebration, according to the V.I. Department of Education.
Accompanied by teachers and parents, students from kindergarten to third grade filed past booths to hear encouraging words from representatives of community agencies and organizations. Participating groups were the V.I. Territorial Emergency Management Agency, Fire Services, VIPD Highway Safety, St. Croix Environmental Association, St. Croix Jeep Club, VIPD's McGruff, the Crime Dog, My Sistahs Keeper, Inc., the Library Service Book Mobile, V.I. Waste Management Authority, Sports Mania, Book Corner, Smart Art, Local Instruments, Culture Bearer Bomba Allick and Zumba instructors.
Entertainment was provided throughout the day Deejay Vladimir Williams and the Arthur A. Richards Jr. High School Band.
Sponsors for the culminating event included Food Town Supermarket, Plaza Extra West, The Chicken Shack, Celestine Construction and Tata's Bakery.
Jeselle Cruse-Peters, the school district elementary program coordinator, spearheaded the Week of the Young Child activities on St. Croix.