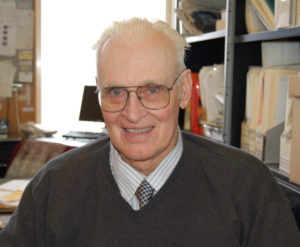 William "Bill" Mason Gray , emeritus professor of atmospheric science at Colorado State University, died Saturday at age 86, surrounded by his family, according to a news release from CSU.
In 1984, Gray initiated seasonal hurricane forecasts, for which he became well known, and which received extensive media coverage. They are looked for every spring throughout the Caribbean.
Gray was a faculty member in the department of atmospheric science at CSU from 1961 through his formal retirement in 2005. It was during that time that he created the annual seasonal hurricane report which have become a standard feature in meteorological reporting. The most recent forecast was released Thursday. After retirement, he continued his hurricane and climate research as a professor emeritus. He graduated 70 masters and doctoral students, and many of his former graduate students have become prominent leaders in the field of tropical meteorology today.
He remained active in his hurricane and climate change research up until his death. Gray was best known for his seasonal hurricane forecasts, but also gained attention for his strong disagreement with the scientific basis human effect on global global climate change.
His last graduate student, CSU atmospheric scientist Phil Klotzbach, has continued these seasonal forecasts since 2006.
Gray was born in Detroit, Michigan, on Oct. 9, 1929, the eldest son of Ulysses S. Gray and Beatrice Mason Gray. The family moved to Washington, D.C. in 1939, and he graduated from George Washington University. He was active in high school football and baseball and wanted to pursue a career in professional baseball, but was prevented by a knee injury at 21. Baseball's loss was meteorology's gain.
He joined the newly‐formed department of atmospheric science at CSU in 1961.
He married Nancy Price on Oct. 1, 1954. They had four children, Sarah, Anne (deceased), Janet, and Robert.
Gray worked many years with the United Nations World Meteorological Organization. He initiated and organized the first WMO International Workshop on Tropical Cyclones in Bangkok in 1985. He travelled the world and maintained collaborations with prominent researchers in the field of tropical meteorology throughout his career. To recognize his leadership and distinguished service in the field of tropical meteorology, he received many professional awards, including the first Robert and Joanne Simpson Award in 2014.