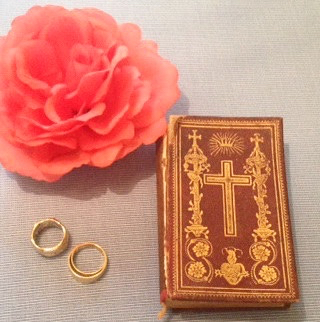 Fewer and fewer couples are taking the traditional walk down the aisle, but those willing to make the trip can find a lot of support within the church community.
The Anglican/Episcopal diocese in the Virgin Islands is one of the denominations that reaches out to people who want to marry, helping prepare them to make, and keep, a life-changing commitment.
"All of our churches are required to do counseling" with a couple before they are married, said Bishop Ambrose Gumbs, bishop of the Anglican diocese in the Virgin Islands.
The parish priest meets with a couple at least four times, for about an hour each time, although clergy interviewed for this article made it clear that there is room for flexibility in the schedule. Sometimes sessions are combined, sometimes they are expanded, depending on the circumstances.
In rare instances, marriage counseling uncovers major problems, and then the priest will refer people to a professional counselor for long-range treatment, Gumbs said. If there's a major source of tension, "marriage isn't going to make it go away."
More commonly, marriage counseling helps people clarify their relationship and, it is hoped, provides some tools for smoothing any rough spots.
The Rev. Lenroy Cabey, pastor of St. Andrews parish on St. Thomas, said he most typically meets five times with a couple.
"To get them started, I ask a very important question," he said. Speaking separately and privately to each of the partners, he asks: "Are you going into this marriage of your own free will? … Is there any pressure on you to marry?"
Sometimes, he said, only one of the pair really wants marriage. That's a glaring trouble sign and may prove to be a good reason to advise the couple not to wed.
In some instances, Gumbs said, a proposed marriage is one of convenience, perhaps to facilitate a change in immigration status for one of the parties – again, that's a reason to advise against it.
"You spend time learning how they came to this point in their lives," the bishop added.
The priest may know only one of the people, or may not know either of them prior to their seeking marriage. Early in the preparation, he will gather information about them, including whether they are both the same religion, whether either or both are active in their church, the dates of their baptisms, and whether either has been married before.
A divorce requires the bishop's review, so the parish priest must send him paperwork about the prior marriage.
Once the paperwork and the preliminaries are out of the way, Cabey said he encourages the partners to talk about their understanding of marriage, what they are seeking from it, and why they decided to marry.
"It's a listening session," he said.
Ensuing meetings include discussions on love and family and faith, as well as some very practical matters. There's a good bit of time devoted to conflict resolution and to finances.
"When you start counseling, some things come on the table, and they're not going away," Cabey said. "A husband-to-be may react defensively and with anger: 'I'm the man of the house… there's nothing to negotiate.' … Sometimes it blows up."
In such instances, he's careful not to leave the woman in a situation that will boomerang when the couple goes home, putting her in jeopardy of domestic violence.
While he's sensitive to that possibility, he's also concerned about a phenomenon he attributes to a pervasive culture of sexual promiscuity that strains men and women's ability to trust one another.
Too often, he said, he finds men who are "broken, emasculated, stripped" of their selves, having given up friends and former activities in an effort to prove that they are faithful to their partners, "and still yet they're not believed." His counseling is designed to help both partners handle the "baggage" they carry from the past.
The trust issue can affect other aspects of a partnership as well.
"A lot of times there are money issues in a relationship," the bishop said. "There's an unwillingness to hold things in common."
And there's the strain that a lack of money can place on any relationship.
Rev. Lionel Rymer, who served at St. Luke's Episcopal Church on St. Thomas for many years before moving to St. Ursula's on St. John five years ago, said finances are important, although it's an issue many couples overlook until a problem develops.
"I always tell them to check in their pocket books," he said, to see if they are financially ready for marriage. "It's one thing to love one another, but if there's no job" there will be extra tension. "Then they have a lot of kids, and life becomes very difficult."
When he was on St. Thomas, Rymer counseled many local couples, but on St. John, most of the marriages he performs are for tourists or part-time residents from the States.
It's also not unusual throughout the territory for one or both of the parties to be returning to the Virgin Islands after living for a time stateside, maybe going to school or starting a career.
"Some come with a letter from their parish priest, saying they had counseling," said Rev. Gregory Gibson, who serves at St. John's Episcopal Church on St. Croix.
In such instances, the on-island priest coordinates with the off-island clergyman.
Like his fellow priests, Gibson reported relatively few weddings, estimating he performed eight ceremonies over the two years he's been at St. John's.
Both Rymer and Cabey said there have been years when they had no weddings at all, but gave the average as two or three per year.
The question of same-sex unions is an open one within the Anglican/Episcopal Communion worldwide, with some divisions allowing it and some opposing. There is also a long-standing rule in canon law that a priest may not be forced to marry anyone he does not want to marry for any reason. So far the controversy has not been tested in the territory and there has been no question of counseling same-sex couples.
Other sticky issues do arise, however.
"Marriage depends on commitment," Rymer said. "The church thinks (a couple marrying) should do it as a lifelong commitment, but we're human beings." For example, he asked, should the church encourage people to stay in an abusive marriage? "It's quite a complicated issue."
Also, the church teaches that people should refrain from sex outside of marriage, but Gibson said most of the couples he has counseled before marriage were living together already. That gave them "a pretty good knowledge" of one another.
There are no guarantees with marriage counseling. No matter how hard the priest may try, marriages can and do break up. In fact, Gumbs said it is "one of the things I like least in my ministry" because he feels he has failed if a marriage does.
But it has its rewards too.
"One of the good areas for me is when you have young couples come in," Cabey said. It's wonderful to see "the joy with which they go into it."
The premise of marriage counseling is that the two people are not on their own in trying to make their marriage work. There's ongoing religious support and there's practical help from their church. Cabey's fifth and final session brings that to the fore. It involves the family and the wedding party – not just to rehearse a ceremony, but to be involved in giving spiritual and emotional support to the bride and groom.