Positive messages met with positive, youth energy Friday morning bringing the St. Croix Educational Complex auditorium alive. The energy came from three voices – Peter Bailey, author and journalist; Stalley, a rapper from Ohio signed to Rick Ross's Maybach Music Group; and several hundred St. Croix high school students jamming the auditorium.
The event featured Bailey, an alumna of Ivanna Eudora Kean High School on St. Thomas, taping a conversation series for his NiteCap show with hip hop star Stalley.
Both speakers said that hating and blaming other people was not a path to success.
Their words were often greeted with cheers and applause from students.
Stalley said, "Faith is everything." He said, "If you don't have goals, you can't accomplish them."
Bailey said that fear is just a method of rejecting people.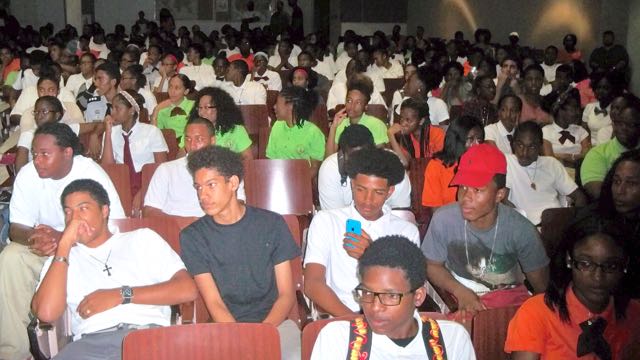 Juniors and seniors from Complex and Central High Schools were invited to partake in the discussion about achieving and maintaining success.
The taping was sponsored in partnership with the V.I. Departments of Tourism, Education and the V.I. Lottery.
Stalley will be shooting a video for an upcoming album while on St. Croix. He already has several mixtapes, collaborative albums and a solo album to his credit.
The show NiteCap is filmed at different locations throughout the United States. It has featured celebrities such as Mike Tyson, Fantasia, 50 Cent, Ice T, Janelle Monae, Chad Johnson and Mike Epps.
It is routinely featured on Vibe, BET, MTV and Huffington Post. Before launching NiteCap, Bailey wrote for Time, Newsweek and Miami Herald. His book on the life of hip hop star Trick Daddy was praised as "one of the pop music gems of 2010" by the New York Times.
In a press release, Bailey said he hoped to provide inspiration for youth by bringing the show home to the Virgin Islands. "I've always wanted to create a bridge for Virgin Islands' youth to connect to their dreams and with those who can make those dreams a reality, as well as stir a cultural and economic renaissance of sorts in the territory."
He said to the audience, "I see many here who want to dream, to believe."