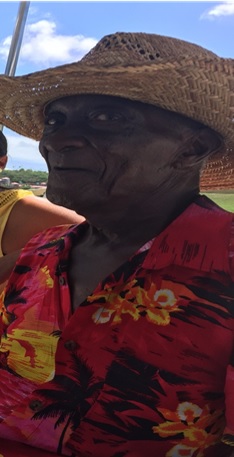 Harry Lincoln Harris Sr. Dies at 83 Harry Lincoln Harris Sr. died on April 3. He was 83 years old. He is survived by his sons: Harry Harris Jr., Alfred L. Harris and Olric Harris; daughters: Irene Harris and Gloria Harris; grandchildren: Masai Harris, Shani Harris, Kareem Harris, Jaime Harris, Alfred R. Harris, Wendell Parris III, Melaney Henderson, Jason Henderson, Rodante Moorehead, Adriana Trotman, Sativa Harris and A'Jahnikai Harris; great-grandchildren: Halia Harris, K'Layah Parris and Wendell Parris IV; brother, Olric Harris; and sisters: Rita Powell and Beryl Thomas.
He is also survived by nephews: Emile Pedro Jr., Elroy Pedro, Elvis Pedro, Ezekiel Pedro, Cedric Petersen and Michael Harris; nieces: Eleanor Pedro, Grace Ann Hodge, Cheryl Thomas-Diehl, and Rita Harris; daughter-in-laws: Jacklyn Canton, Kanika Pennyfeather and Ruth Harris; son-in-law, Archie Lambert; special friends: Evans Heyliger, Camille Clarke, "Sonny" Seales, "Chickie" Benjamin, the Parris family, Miller family, Heyliger family, Clarke family, and other relatives and friends too numerous to mention.
Thank you to the Juan Luis Hospital ICU and PCU staff for his care, Annette Parris-Delgado and "Chickie" Benjamin and the Department of Finance Family for all your emotional support, and a warm thank you to Elsie Erarte from James Memorial Funeral Home for easing our worries during our bereavement.
The viewing will take place at 9:30 a.m. followed by a funeral service at 10:30 a.m. on Friday, April 15, at St. Patrick's Catholic Church. Interment will be at Kingshill Cemetery. All arrangements are by James Memorial Funeral Home Inc.