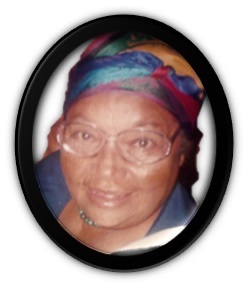 Queen, mother, grandmother, great-grandmother Leona Brady Watson transitioned into eternal life on Wednesday, March 23. She was 89 years old.
She is preceded in death by her mother, Eugenia Cornelius; father, Eugene Brady; sisters: Cleopha Brady, Doris Brady Williams, Mariel A. Brady, Camille Brady, Doris Brady, Marian Brady and Arieline Brady; brothers: Leroy "Butch" Matthias, Terrance Brady, Arthur C. Brady, Michael A. Brady, Paul C. Brady and Amadeo Forbes.
She is survived by her husband, Curneall "Cal" Watson; children: Derek Eugene Watson, Neal Alan Watson, Gail Angela Watson Chiang and Jay Thomas Watson; grandchildren: Anita Audrey Watson, Kayla Rochelle Watson, Rihana Alayne Watson, Kia Aliyah Watson, Ciara Marie Abeo Watson, Nelson James Jelani Watson, Perry Kenneth Turner II, Lyn Maria Jade Chiang, Aaron Cornelius Chiang, Anna Leona Chiang-Schmitzer, Leah Eri Marie Chiang, Peter G. Chiang, Jr., Grant Schmitzer (in-law), Simone Nathalia Watson, Michael Alan Watson, Leona Emel Watson, Sheena Marie Watson, Jay Thomas Watson II, Ki'Anna Elizabeth Watson, Jaynese Latoya Watson, Jaycob Elijah Watson and Denise Pittman (adopted granddaughter);
Great-grandchildren: Shane Watson Durand, Kahlil Edmond Pack, Nathaniel Arnez Pack, Antwann Demond Paige Jr., Juliano Chiang, Aaron Cornelius Chiang, Jr., Sasha Chiang, Caydence Schmitzer, Kambui Cummings, Venice Cummings II, Nathalia Cummings, Maleahki Cummings, Malachi Christian, Malaysha Christian, Dakarai Christian, Mikhylei Christian, Edwin Claxton Jr., Hylei Watson, Joy Watson, Hayyalla Watson, Michaela Watson, Jayley Watson and Frank Knowles Jr.;
Sisters: Joan Brady Dandridge, Lithia C. Brady and Donna I. Brady; brothers: Ben Hur Brady, John D. Brady, Victor A. Brady and Arthur Dennery (foster brother); daughter-in-law, Monique Clendinen Watson; son-in-law: Peter H. Chiang Sr.; sisters and brothers-in-law: Marjorie Watson Florence, Thomas Watson, Dolores Brady and Sylvia Brady; godchildren and spiritual children: Marianella Crispin, Sheellia Danielson, Charles Farrell, Carl F. Christopher (aka NswNeb) Asarra Kasaamsu Herishetapaheru, Ray Parris Jr., Jenella Parris, Kevin Parris, Aretha Brodhurst Ventura and Cedelle Petersen;
Respected family members: the Brady, Christian, Cornelius, Finch, James, Watson, Matthew, Richards, Moorhead, Joseph, Abramson, O'Reilly, Petersen, Rames, Brewster, Parris, Powell, Golden, Bough, Gibbs, Edney, Williams, Miller, Burke, Larsen, McKay, Forbes, Sylvia Gibbs and Doward Peterson, McNamara, Gittens, Messe, Seales, Schulterbrandt, Smith, Thomas, De Chabert, Roebuck, Barnes, Walcott, Boynes, Christopher, Milligan, Springer, Urgent, Francis, Brow, Farrell, Henry, Schrader, Rodgers, Edwards, Johnson, Gerard, Benjamin, Bostic, Hodge, George, Sackey, Farrelly, Gordon and Henderson families; caregivers: Mrs. Curlina Sonson — the Caregiving Queen of the Highest Honor for over 22 years, Cynthia Joseph, Elrica Thomas, Brenda LaForce, Sharon Laub, Ms. Opal as well as all the doctors, nurses and staff of Continuum Care;
Special family and friends: the Honorable Former First Lady Mrs. Juan Luis, Alfred and Marie Schuster, Egeria A. Bennett (aka "Lisi"), Mary Abraham, Carla LaBega, Annola S. Watson, June R. Rodney, Magnolia Matthias, Alicia Bennett, Andrea Matthias, Leelia Padilla and family; Bernard Alphonso Bennett, Benita Bermudez, Lenny James, Jean Lindesay, Carlotta Luis, Juan Luis Jr., Judge Eileen Petersen, attorney Brit H. Bryan, Marlene and attorney Emile Henderson III and family, attorney Ronald Russell, attorney Martial A. Webster, attorney Lydia L. Moolenaar, Dr. Ralph De Chabert and family, Buddy and Candida Larsen, Kym Maduro-Bunn, the Foster family, Dr. Augustine Oyake, Roy Lawaetz and family, Gene and Julia R. Larsen, Virdin Brown, Hector Peguero and family, Samuel Raphael and family; Bennett and Leona Smith, Patricia "Aunt Pat" De Chabert and family, Etheldred and Chrystalia Christopher family, Carl Christensen and family, Denise Pittman and family, George Odlum (deceased) and family, Judge Raymond Finch and family, Ilsa Judith Cordelia, Melbarosa Thomas (Cousin Girlie) and family, Kathy King and family, Brownie and Ruth Schmitzer, the Isles family, Carlotta Espinosa Moorehead, Harold Hodge Sr. and family, Ethelind Brown and family, Dwayne Fergus and family, "Ricky" Ricardo and Lucy Rodriguez, Roger and Maude Gason, Luz James II and family, Vargrave Richards and family, Carl F. Christopher – NswNeb Asarra Kasaamsu Herishetapaheru and Dr. Chenzira Davis Kahina and family, Diego Conde and family, Winnie Schuck and family, Denise Richard and family, House of Chiang and House of Yee, all of Ay Ay Islands; and other special family and friends, respectfully included in Spirit yet too numerous to mention.
If we may have forgotten anyone, please remember that Leona Brady Watson loved all her family and friends with her heart and soul!
Tributes will begin at 9:30 a.m. with a funeral service at 10:30 a.m. on Tuesday April 5, at St. Patrick's Catholic Church, Frederiksted. Interment will follow at Frederiksted Cemetery.
Festive, cultural and traditional colors are requested for Queen Grandmother Leona Brady Watson's services and celebrations of her life.