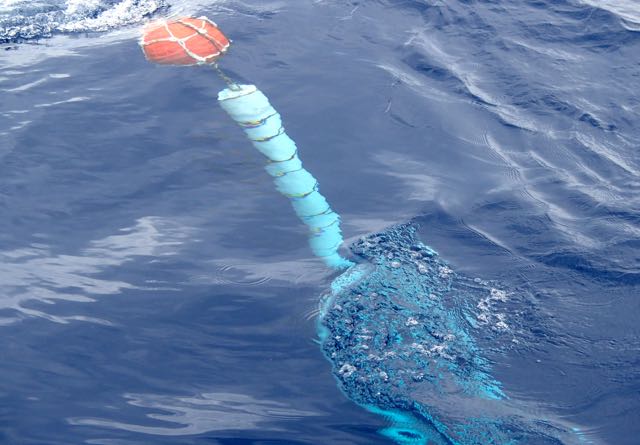 For the first time in five years, the Department of Planning and Natural Resources deployed specially designed buoys to improve recreational sport fishing in the territory.
On Monday, two fish aggregating devices (FADs) were installed south of St. Croix and, in the coming weeks, two more will be placed north of St. Thomas. DPNR is aiming to deploy at total of 12 of the devices this year, six around St. Croix and the other half around St. Thomas and St. John.
According to Alexis Sabine, a fisheries biologist with the DPNR's Division of Fish and Wildlife and head investigator of the project, the FAD program began in the Virgin Islands more than 30 years ago to enhance recreational sport fishing.
Functioning similarly to an artificial reef, the fish aggregating devices create habitats for pelagic fish, which are ones that don't inhabit deep waters or the shore, like mahi, tuna and wahoo.
"Small fish and juveniles are attracted to large objects because they offer protection and food via the algae that colonizes them over time, which is the case with the FADs when they are deployed," Sabine said. She added that, "More fish may be attracted to the buoys because joining a school offers an added layer of protection."
These smaller fish then attract the larger predatory fish that anglers like to catch.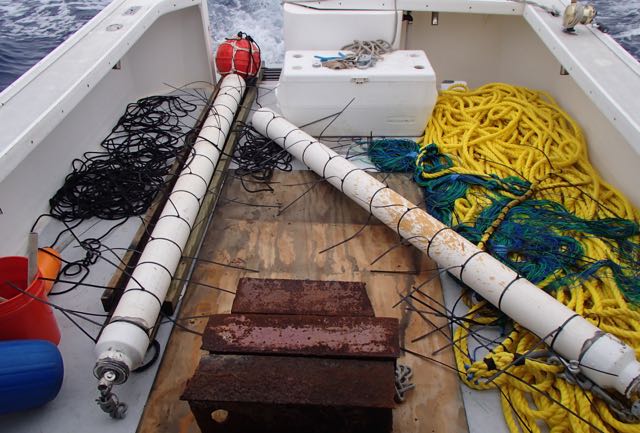 "This benefits anglers by reducing the effort, time, and money spent searching for fish that they may not find. It also benefits the near-shore fisheries of the USVI because it shifts some of the fishing pressure the inshore reefs experience to offshore areas with more abundant sport fish populations," Sabine said.
Intended to last for three to five years, depending on the location and unpredictable events like storms and boat strikes, FADs can be designed a number of ways and are either deployed on the surface or about 50 to 60 feet underwater.
Environmental specialist Gerald Greaux Jr. and maintenance technician Julian Aubain of the DPNR's Division of Fish and Wildlife deployed the FADs on St. Croix. The ones that were just installed are submerged and made of six-inch diameter PVC pipe, while spherical steel buoys are the most common design for surface FADs.
Sabine explained that submerged FADs make sense to use in high boat traffic areas, since boats won't hit them as much or moor up to them. Because of their visibility, surface FADs are also easier for anglers to locate when they don't have GPS equipment onboard.
To keep them in place, the devices are anchored using concrete blocks that connect to the buoys with high-tension steel chain and rope. Because installing the devices could potentially damage coral reefs, careful consideration is given to where they're placed.
The two St. Croix FADs were placed four nautical miles southeast of Long Point and three nautical miles south of Sandy Point, St. Croix; the St. Thomas ones will be installed 11 nautical miles northwest of Cockroach Cay and 13 nautical miles north of Outer Brass Island.
"Before the FADs could be built and deployed, surveys were conducted to identify locations suitable for deployment based on a number of factors including water depth, bottom slope, and proximity to features such as high-traffic shipping lanes," Sabine said.
The local fishing community is consulted about where to deploy the devices and their GPS coordinates are released publicly once they're installed. (See coordinate for St. Croix FADs below)
"Recreational and commercial fishers have provided a lot of positive feedback about the FAD program and have been requesting that DFW deploy new FADs for the past few years," Sabine said, adding that they're popular during sport fishing tournaments.
Sabine explained that while the FAD program is designed to enhance sport fishing and recreational opportunities for anglers, commercial fishers often use them as well.
Though overfishing near FADs can be a concern, Sabine said that the highly migratory nature of many of the fish species the devices attract keep them from being exposed to constant fishing pressure, as do natural variations like currents and storm events.
Dan Holstein, a marine biology and fisheries professor at the University of the Virgin Islands, said, "In healthy fisheries, FADs made a lot of sense, because you can meet your fishing quota very quickly. But if the fishery is overfished, FADs allow you to target the remaining fish, which can make them dangerous."
The waters the FADs are being deployed in are outside the three-mile territorial boundary, so they are monitored and managed by the by the National Oceanic and Atmospheric Administration's Atlantic Highly Migratory Species Management Division.
The funding for this project was provided by a federal grant from the U.S. Fish and Wildlife Service via the Sport Fish Restoration Fund. Deployment of the FADs has been permitted by the U.S. Army Corps of with consultation from DPNR's Division of Coastal Zone Management, NOAA, the Virgin Islands State Historic Preservation Office, and the U.S. Coast Guard.
– FAD four miles southeast of Long Point, St. Croix: location coordinates: 17° 37.869′ N, 64° 47.666′ W.
– FAD three miles south of Sandy Point, St. Croix: location coordinates: 17° 37.665′ N, 64° 54.937′ W.