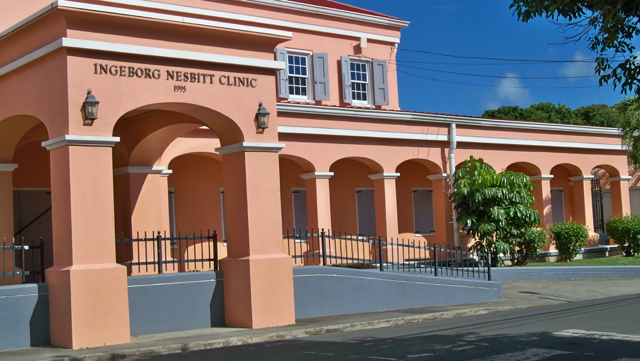 A program to to eliminate chronic homelessness on St. Croix kicked off Jan. 30.
Launched by the St. Croix Foundation for Community Development, in partnership with Catholic Charities of the Virgin Islands, Frederiksted Health Care, and V.I. Housing and Finance Authority, the group is approaching the problem in two manageable phases.
In the first phase, organizers began immediately addressing medical needs and issues. In Phase II, chronically homeless residents will be identified, evaluated and placed in permanent housing units.
Jermaine Connor, STX Foundation fiscal review and compliance officer and project director, said the mission is to reduce chronic homelessness in the community by instituting policies, practices, and initiatives that will tackle root causes of homelessness.
According to Leslie Raymer, project director for Frederiksted Health Care, they are doing intake, medical and case management screens – getting people fed, cleaned up and back on prescribed medication.
"FHC has long recognized the unique medical and safety needs of the homeless, and we've been looking for ways to address these needs," Raymer said. "When the St. Croix Foundation came to us to collaborate on this initiative, we had already put a framework on what we wanted to accomplish, so it was a welcome and timely partnership."
Once immediate needs have been addressed, project workers will be working toward stable housing, one client at a time. Raymer said the team looks forward to the expansion of the housing component soon, to place people in safe environments where more extensive medical care can be provided.
During the primary health care phase, all clients will be provided with an initial medical examination to include an assessment of their medical history, a physical exam, and a laboratory work-up. Based on clinical exam results, individuals will receive referrals to a medical team specializing in behavioral health, psychological therapy, dental work, and more.
During this phase each client will continue to be monitored periodically by a team of doctors, counselors, and social workers to treat and assist with any underlying issues after placement in housing. And the participants must make a firm commitment to taking medications and doing follow-ups, Connor added.
The third Saturday of the month is key in Phase I, organizers said. During monthly clinic visits, clients will be given clothing and meals.
So far 91 people are registered for involvement in the project.
Connor said they have had emergency medical situations, finding one person with gangrene and another with tuberculosis.
"We definitely got a good bit of the homeless population in to be examined," Connor said. "But there are more out there."
Connor added the Phase II housing program may be starting around May. She said the Housing Authority has 21 units designated for the program.
A 15- passenger van was donated to Catholic Charities of the Virgin Islands through the St. Croix Foundation to assist in transporting homeless people to and from the Frederiksted Health Care clinic.
"It's awesome to hear success stories and how people come around," Connor said. "We're seeing some changes, with people coming on their own accord, and feeling comfortable enough to open up to us. They're trusting us and want to partake of the services."
The project is funded by a private donor through a fund at the St. Croix Foundation. Those who want to learn more about the project, become a project partner, make a donation, or volunteer can contact St. Croix Foundation at 340-773-9898 or send email to staff@stxfoundation.org.