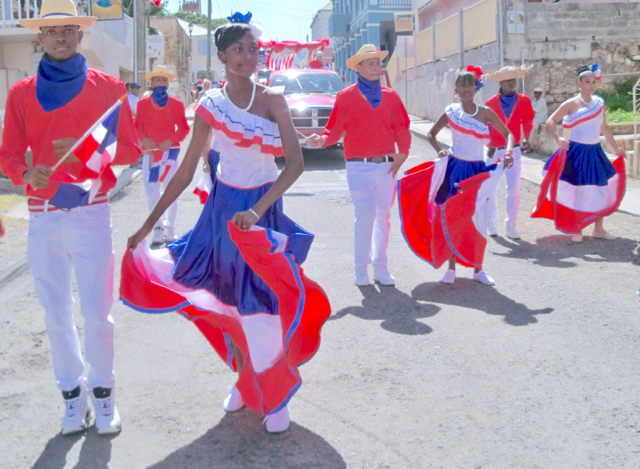 Music dominated the streets of Christiansted on Sunday as the seventh annual Dominicanos Parade rolled slowly down King Street.
High school marching bands from St. Croix Educational Complex and Central High played a big part in bringing the streets alive. The members of these bands always show pride in their parade performance and were in high gear as they helped Crucians originally from the Dominican Republic celebrate the February day in 1844 when Juan Pablo Duarte, who had founded a secret society called La Trinitaria, declared independence from Haiti. Duarte was represented in the parade by a marcher with a big-head mask.
The bands were not the only ones helping Domincanos celebrate. Crucians from probably every ethnic group on the island took advantage of a chance to hear live music, dance, and consume a few drinks.
Although the number of parade entrants might have been slightly down from previous years when there were more than 40, no one in the crowd seemed disappointed and the crowd was not any smaller than previous years. If anything, it looked larger.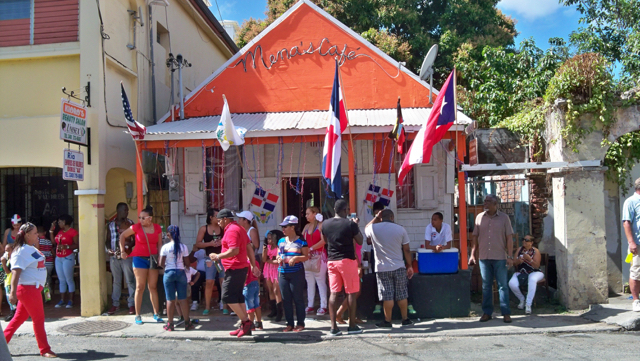 Although the marching bands might have dominated with their performances, much of the crowd's appreciation was directed at the dancing. The dancing groups ranged from very young to adults offering performance based on culture and folklore of the Dominicans.
Local majorette groups in red, white and blue ensembles also twirled and marched to the crowd's delight.
Crystal Collins, said she always attends the parade to show support for her two daughters, ages 7 and 13, who are in the St. Croix Majorettes.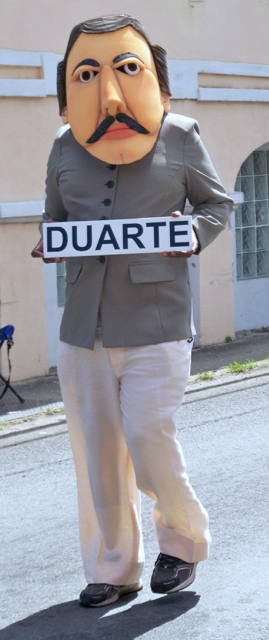 Red, white and blue Dominican Republic flags had started to appear around St. Croix early in the week, so many of them that tourists were asking locals about them. Folks along the parade route were wearing the flags' colors to show their pride in the Dominican Republic.
The "Ballet Folklorico Dominicano," always a center part of the parade, received a loud reception in front of Mena's Café Bar and Restaurant, as the dancers waved flags and danced in pretty blue, white, and red outfits emulating their country's colors.
Esperanza Querrero, a member of the Comite de Accion Dominicana, said she was happy with the turnout, but she would have liked to see more viewers. She said the current committee president is Humberto O'Neal.
The parade is known to many, not as a celebration of Santo Domingo, but as a celebration for Crucian Dominicanos.
Festivities continued at D.C. Canegata Park following the parade.