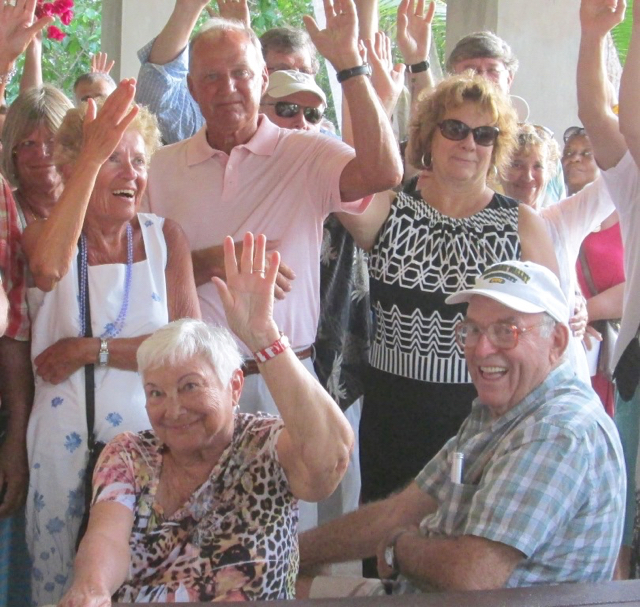 Three couples at Sunday's Valentine's Day wedding vow renewal ceremony at Trunk Bay have been married more than 50 years and, of the three, Martin and Rebecca Brooks of Doylestown, Pennsylvania, took first place by quite a few years.
"Fresh air, cigars and sex. Not necessarily in that order," Martin Brooks, 85, said when asked the key to keeping their marriage going for 61 years. His wife Rebecca, 84, suggested that a sense of humor helps.
Leo and Peg Morrissey of Boston were next with 55 years of marriage on their resumes.
"Respect is number one," Leo Morrissey said, adding that his wife was a woman he could depend on.
The third-longest married couple, Doug and Lynn Kalusniak of St. Louis, have been married 51 years.
Doug Kalusniak said if he was giving advice to someone about to be married, he'd tell them to be mature.
"You have to give and take. There are bumps in the road always," he said.
They and other couples had various reasons for renewing their vows but Lynn Kalusniak said it was a reminder of what the day meant when they first got married.
Non-denominational minister Anne Marie Porter, who organized this year's 14th annual event, asked for a show of hands when she ticked off the number of years people were married. Nearly every hand went up when she started at five but as then number rose, the hands began to drop, until just the three couples remained.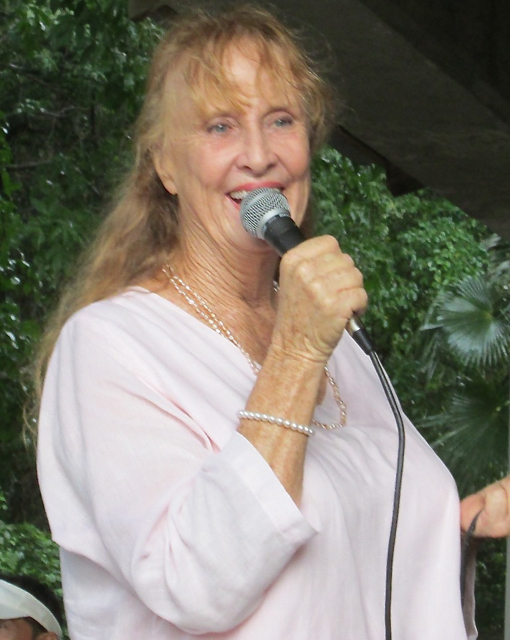 "You're our role models," she said to the three longest-married couples.
While most of the couples were visitors from the mainland, Rick and Carol Wassel of St. John said they come every year. Married for 39 years, Carol Wassel said their secret to staying married was to "piss and moan" to each other every day.
"And hold on tight and never let go," she said, when asked what advice she'd give newlyweds.
Glenn and Terry Dudinsky moved to St. John two weeks ago so he could take a job as mechanical supervisor at the Westin Resort and Villas.
Married 35 years, Terry Dudinsky said they grew up next door to each other in Huntington Beach, California.
"Our faith is definitely the key to success," Terry Dudinsky said.
Nancy and Al McNeal of Chagrin Falls, Ohio, extended their stay so they could attend. Married for three years, Nancy McNeal said the secret to a long marriage was to always spoil your spouse.
Sharleen and David McColl of Brighton, Michigan, came to St. John for their honeymoon 16 years ago.
"This is our favorite place in the world," Sharleen McColl said.
St. John is also special to Carol Van Bommel and Bob Smith of Pass Christian, Mississippi. They're married eight years.
"This is where we renew our love for each other," Van Bommel said.
Tom and Deborah Howard celebrated their Valentine's Day wedding anniversary at the vow renewal. Married 17 years, the Reston, Virginia, couple said renewing seemed like a wonderful idea.
Tom Howard pointed out that the secret to a happy marriage was making sure his wife was happy.
"Having someone willing to put up with me …," his wife added.
Mitchell Weiss, standing with his wife of 32 years, summed it up.
"Happy wife, happy life," said the Boulder, Colorado, resident.