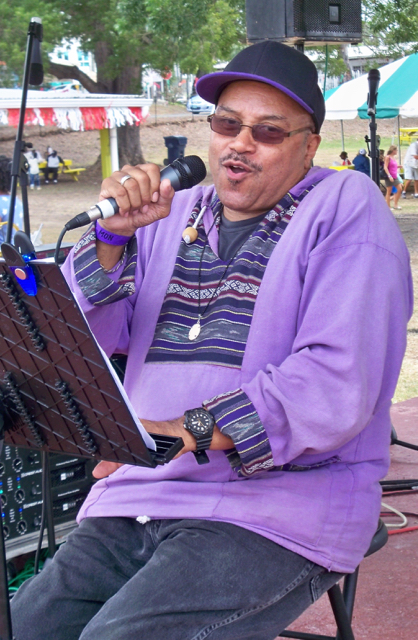 The sounds of entertainment mingled with the scent of food on the midway and grounds as the 45th Agriculture and Food Fair wrapped up Monday.
As people came through the east side entrance, the tantalizing smell of roast pork wafted from a brick oven and the smell of fresh baked titi bread came from the old-time general store. It was enough to make people drool.
For some folks food is the main attraction at the Agri Fest.
Alma Roberts, local resident, said Monday while waiting for the ice cream making demonstration to begin she always comes to the fair for the food.
"I love to eat," Roberts said. "I like the the potato pudding that is only made at fair time. And I like the stewed plum and green tamarind."
She added she enjoys watching the food demonstrations, such as the ice cream churning that Clint Ferris was about to begin.
Ferris bounced to the music that was blaring from the stage on the east side of the fairgrounds while he turned the crank on his old-fashioned White Mountain churn. He told the people gathered that he has demonstrated ice-cream making at the fair for the past 16 years and every year he does a different flavor. He has made, avocado, kidney bean, potato, breadfruit and more.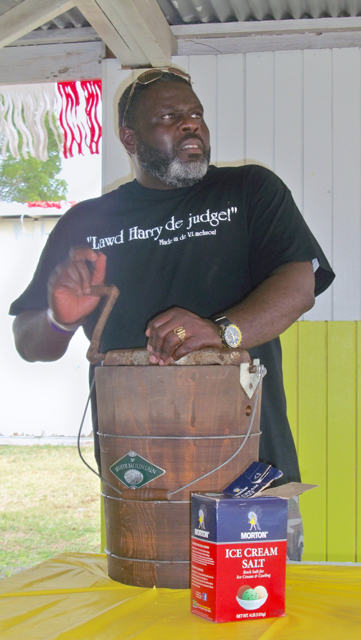 Monday, he made cassava ice cream and carrot/peanut sorbet. He gave step-by-step directions and gave all the ingredients he uses. Then he gave out samples that were yummy.
"My goal is to make sure people have a wonderful fair experience," Ferris said. "And I give them something to go home and talk about. I encourage everyone to go back and try to make this wonderful treat that can be made from anything locally grown."
Jo'an Josiah, a nutritionist at the University of the Virgin Islands Extension Office, said she didn't want to miss Ferris' demonstration and she was lucky to catch it this year.
Over at the Friedensfeld Moravian Church Food Pavilion people lined up to pick up their favorite local dishes, desserts and canned fruit and sauces.
The workers at the Elenor Sealy tables were selling conch in butter sauce and other specialties for which Sealy had won ribbons. Sealy won two first-place blue ribbons, one second-place red ribbon and two green third-place ribbons.
Sealy was not available for comment, but her friend and co-worker for many years Deborah Richardson said Sealy is accustomed to winning awards. Sealy has been selling her food at the fair for about 20 years. Along with her two grandsons Sealy prepares enough food to serve about 200 people each day of the fair. Richardson said people come back every year just for Sealy's food.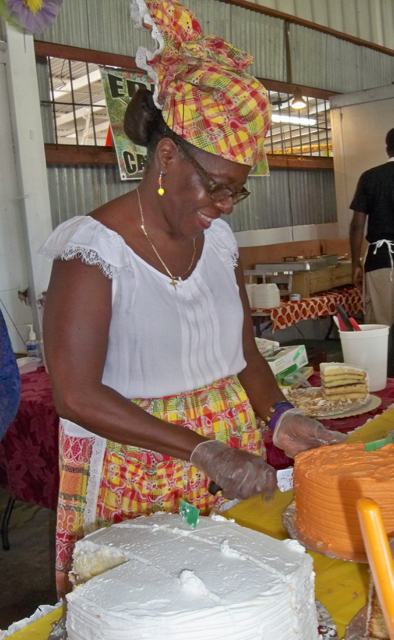 Renita Johannes, the Crucian Cake Queen, had luscious-looking layer cakes of all flavors including the seven-layer Vienna cake, made with jelly between each layer, and Crucian black cake. She said she entered her black cake in this year's cake baking contest. The cake is made with fruit soaked in wine and liquor for a year.
On the midway, Owen and Marion Stanley said business in food sales was very good this year. They were selling reasonably priced local drinks and pates. They added they had a lot of customers that were from the states.
In other booths, high school students sold food and drinks to raise funds for school-related activities.
Members of the St. Croix Central High School Class of 2016 were selling drinks to raise funds for their class trip. Class President Hector Acosta said they were raising funds for a cruise the class is taking to Mexico and Belize.
The Good To Chew student caterers from St. Croix Career and Technical Education Center prepared and served turkey legs and stuffed Johnny cakes. The students said business was very good and they will use proceeds to buy food for their catering jobs.
There was plenty of entertainment spread across the grounds to suit everyone's taste.
The Guardians of Culture Moko Jumbies did their amazing stilt dancing and posed for pictures with fairgoers.
On the the middle stage, Doc Peterson played guitar and sang local folk songs. On the east stage Peter Clements sang popular songs from the '70s and '80s. And in the big tent, R& B Connection played rhythm and blues. Near the mango grove La Cel Diffewans Drummers played drums with an African beat. The Fusion Band rounded out the day playing until the fair closed for the year at 6 p.m.
The V.I Department of Tourism, Innovative Companies, V.I. Lottery, V.I. Department of Health, Seaborne and FirstBank are major sponsors of Agri Fest.