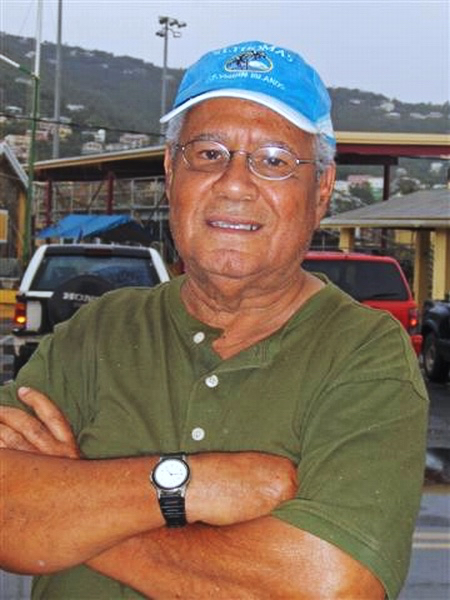 Leo Moron, one of the island's veteran radio personalities, died Friday in the Tampa area. He had gone to Florida last year for medical reasons. Further details are not available at this time.
Moron was well known in the radio field; you could say his name has been synonymous with local radio for more than 50 years. He has owned his own station, WIUJ 102.9 FM for the last 41 years, the only Virgin Islander to own a non-commercial station in the territory.
He was a fixture in local radio. You can't get much more ingrained in the community than Moron. If it's on-island and if it's local music, you knew Moron would be there, from Latin Night at Carnival to the Food Fair in Emancipation Garden.
At noon Sundays, you know you're in for an hour of quelbe music on the Old Timer's Show, which Leo Moron has hosted for more than the last 42 years. It's a part of community life.
Moron started the show as a reaction to station policy. He was working part time at WSTA.
In his own words, from a 2009 interview: "The station would play about one calypso song to hours of other music, and I didn't like it," he said.
After that stint at WSTA, Moron switched to a full-time job at WVWI, Radio One, for Rick Ricardo, where he worked on both sides of the control board.
He started WIUJ 102.9 FM in the early 1970's, and began an educational program. That was his goal.
"I went to work part time for WSTA," he said in an interview some years ago, "and that's where the Old Timer's Show started."
Moron was hardly an old-timer when the show began 42 years ago.
Ricardo shared his memories Sunday in a tribute to his old friend:
"It is not easy to see your close friends go, one by one. I am this morning reminded of what Leo Moron once said to me, one of the last times we were together. He said, 'Rick, you realize that Ron (DeLugo,) Lee (Carle,) you and I are the last ones standing from the original WSTA bunch.' I recall saying to him, 'Leo you will outlive us all.'
"I sit here two months away from my 80th year on this earth," Ricardo continued, "now fully aware of my own mortality. I am on the 'back nine' of life so to speak. I think back on my lifelong friendship with Leo. The many historic broadcasts we shared both at WSTA and Radio One are distant memories. He was with me to the end of my broadcasting career.
"I always appreciated Leo's loyalty. His Sunday show was such a joy. Quelbe knocking dawg. A true keeper of VI Culture. A show that was enjoyed by countess listeners throughout the islands. I am remembering when he came in to my office one day to bounce an idea off me. He had an idea about starting a low power radio station to get kids interested in broadcasting. A wonderful idea. I thought. I agreed to help him with the FCC paperwork and so on. I also agreed to build the studios for him and provide the necessary equipment for him. We built the first studio in a trailer in Frenchtown and then later moved to the barge Miss Opportunity in Sub Base, and then for the last time, at a building on the UVI campus. We had just changed out all of the equipment at our Radio One studios, so we donated all the surplus gear to him. Leo did great work with his students. He was dedicated to those seeking a career in Radio. Several I would later hire at Radio One.
"Leo was with me from the beginning to the end, some 40 plus years later. Leo, my friend, you will never be forgotten. Thanks for the memories. Rest well," Ricardo said.
Details of Moron's death and memorial service will be published as they become available. Tributes to Moron are pouring in on Ricardo's FaceBook page.