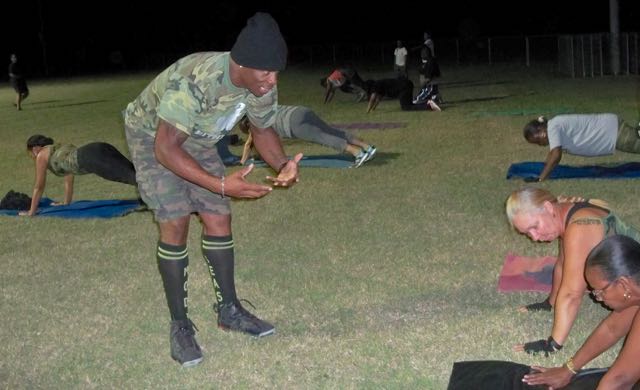 What started out as a weight loss workout plan for Philern "Mr. Metallic" Davis and his fiancé, Mahogany Carter, has grown into an outdoor gym program joined by others to get fit.
Instead of dining out Friday evening, about 25 people were at the Armapavie Sports Club on the Hess Road on the ball field under the lights working out.
Davis was encouraging people of all ages and sizes to push themselves in the physical portion of the Metallic Muscle M2 program, which is designed like military boot camp.
Davis speaks loud, yet in a calm tone of voice saying, "Push it, push it, pick it up, go, go," as people hustled up and down the field to a finish line to do a set of jumping jacks, push ups or repetitions of mountain climber steps.
"My goal is to make an impact on the island, helping people get healthy with fitness and a healthy diet," Davis said. If you are looking to lose or gain weight and then maintain weight with a healthy meal plan and even grocery shopping lists, Metallic Muscle M2 may be the key to success, Davis said.
Davis said he has always been into fitness, and he began his own customized fitness program in September 2014. Since then, he has attracted about 100 followers.
He lost 50 pounds and gained muscle mass doing workouts and sticking to a healthy diet.
Carter said she has lost 56 pounds. Davis said Carter, who is trim and toned, has kept him motivated and on track and he appreciates her influence on him.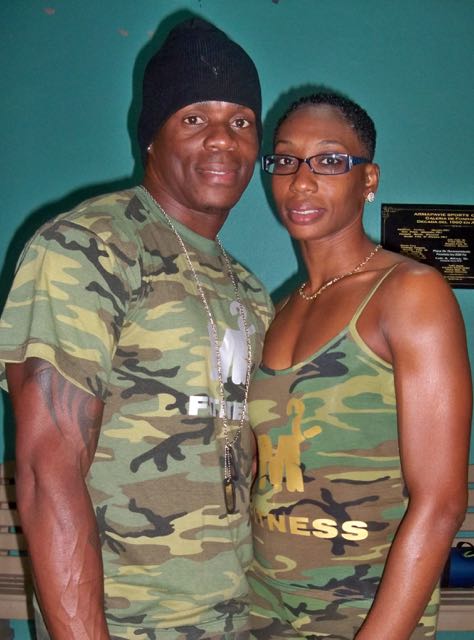 Around 80 percent of the program is diet and 20 percent is on physical activities that also include going out and having fun physically. Members of the Metallic Muscle M2 fitness group have done hikes to the tide pools in Annaly. They marched in the Crucian Christmas Carnival adult parade, which is a fun physical event. Davis added the troupe took second runner up in the parade.
The schedule for the workouts are set up for people who work different shifts.
There are pre-dawn workouts at the Christiansted bypass where participants feel safe and believe there is safety in numbers. They also meet for workouts in Frederiksted at the pier and Buddhoe Park. And the evening workouts are center island at the Sports Club.
Davis said he keeps in touch with participants on Facebook offering encouragement and tips on weight loss and diets.
"We want people to know they aren't doing the weight loss and fitness challenges alone," Carter said. "We all have the same focus and goals. We become like family and have created bonds with people."
Davis said the people who show great results are encouraged to join the M2 Gym Gang for more intensive weight training.
"I really like the fact that he makes everyone feel comfortable no matter what fitness level they're at," Chyrise Eleonora said. "He has a really friendly personality and he encourages us in a good way to push ourselves to do better."
To learn more about the work out schedule, location and fees for the program call Davis at 340-514-1451.
Davis, 34, is a certified and licensed fitness instructor from St. Vincent. He graduated from St. Joseph Convent Marriaqua Secondary School in 2000. Throughout school he was active in sports, as a sprinter and playing cricket in tournaments. He followed in his father's footsteps and joined the Royal St. Vincent Police Force after graduation. He also lived on Tortola where he worked as a police officer.
In 2007 Davis moved to St. Croix. He served in the U.S. military six years. Davis has based his program on fitness training he had in the military. Davis is on leave from the V.I. Police Department where he worked for five years in the tactile unit.