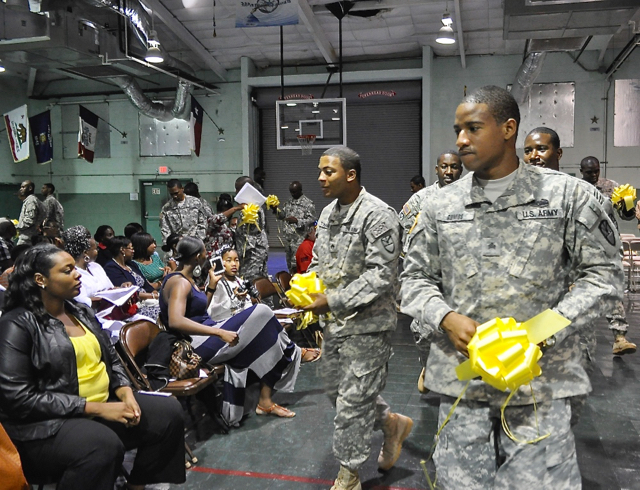 Two dozen members of the V.I. National Guard heard words of encouragement from their commanding officers and Gov. Kenneth E. Mapp Sunday as they prepared to deploy to Afghanistan.
The two dozen soldiers will fly to the mainland Jan. 24 for the last stage of their training before a nine- to 12-month mission in Afghanistan.
For 11 of the 24 soldiers, this mission is their first; 13 members of the battalion have deployed in the past, a few of them having served more than four times.
One of the soldiers, Sgt. 1st Class Louin Chung, was honored by Adjutant Gen. Deborah Howell for his continued service. Chung is deploying for the sixth time.
But those who are new to serving outside the territory are also well-prepared for their mission, Howell said at Sunday's ceremony at the Sergeant First Class Leonard B. Francis Readiness Center.
"I am extremely confident in these 24 individuals," she said. "I can say this without fear of contradiction in any way: they are trained, they are ready, they are well led. I will put my commission on the line for that."
Deployment is a time of anxiety for military families, acknowledged Mapp, who said he himself felt some anxiety in seeing the young men before him preparing to leave. The governor promised to be accessible to the soldiers and their loved ones for as long as he is in office.
"I've said not only today, but also when we selected Gen. Howell for the appointment of her task, I'm a simple phone call away," Mapp said. "This government stands with fully all of its resources behind each and every one of you, and behind your families."
"I look forward to welcoming you back to the Virgin Islands when your mission is complete and you return home," he added.
Following a pantomime performed by Zoya Williams and a deployment prayer lead by Julia Joseph-Simon, each of the soldiers had an opportunity to present yellow ribbons to family members in the audience. The yellow ribbon is a symbol of solidarity with loved ones serving overseas.
Command Sgt. Maj. Kent Bellot said he wants the community to turn out to wish the soldiers well when they leave from Cyril E. King airport on Sunday.
"Next week, I want you all to call 10 friends; your pastor, your church congregation if you go to church. Bring everybody down to the airport," he said. "Let's send off these heroes like they deserve."
Deploying with the 786th Support Battalion are 1st Lt. Roger Simon, 1st Lt. Jahmel Leonard, Master Sgt. Kelvin Bailey, Sgt. 1st Class Louin Chung, Sgt. 1st Class John Narcisse, Sgt. 1st Class Cleon Otto, Sgt. 1st Class David Peltier, Sgt. 1st Class Fitzroy Tutein, Staff Sgt. Keith Chambers, Staff Sgt. Wilfred Todman, Staff Sgt. Kevin Warrell, Sgt. Todakie Bassue, Sgt. Alvaro deLugo, Sgt. Akeem Francis, Sgt. Kenneth Francis, Sgt. Vaughn Francis, Sgt. Janeel Gumbs, Sgt. Tenryu Matthew, Sgt. Shimoi Vanholten, Spc. Ted Fahie, Spc. Jevon Gumbs, Spc. Michael Hawley, Spc. Jevon Samuel and Spc. Shawn Samuel.