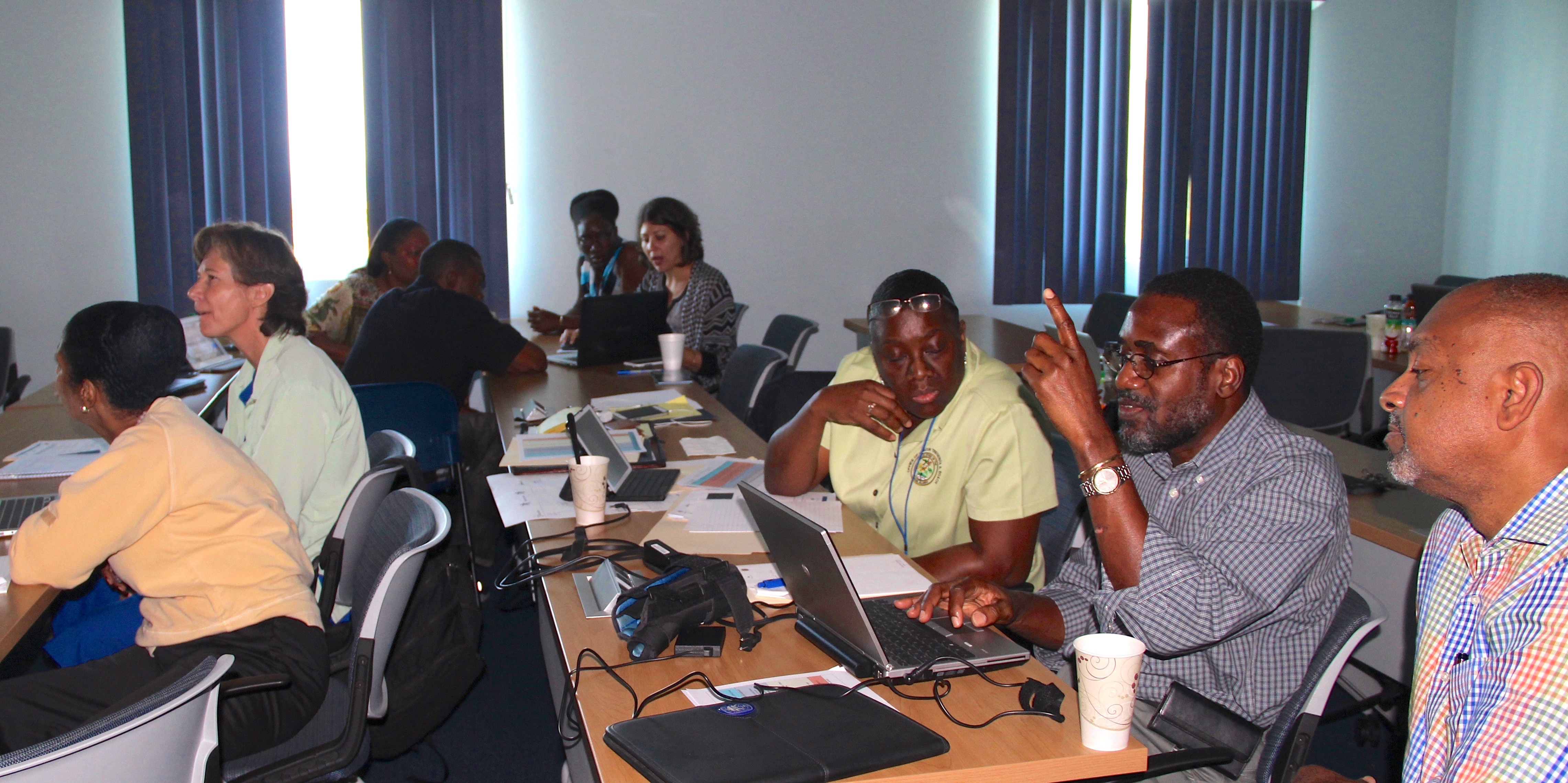 During day two of the "Climate Change Matters" workshop at the University of the Virgin Islands, attendees learned that climate change causes a complex web of wide-ranging impacts but that appropriate planning can help build resiliency in the territory.
Wednesday's workshop emphasized that climate change has multiple impacts and consequences, building on the knowledge learned in day one of the workshop about the science of climate change and how the changes are manifesting in the region.
About a dozen engaged community members discussed the potential impacts of climate change on the Virgin Islands, which could range from decreased tourism due to beach erosion to compromised human health because of more frequent and intense heat events and an increase in tropical diseases.
"As we begin to think about climate change, normally we think about one sector, but there's a number of impacts that spill over," said Michael Taylor, climate scientist and professor of physics at University of the West Indies.
Attendees completed group activities to draw connections between how different sectors will be similarly impacted by climate change. For instance, heavier rainfall can adversely affect agriculture, as well as put a strain on public infrastructure.
"We are linked to climate, so once the climate begins to change we are vulnerable. That's what causes disruptions," Taylor said.
In order to become more resilient, communities must first assess their vulnerability and then take action. That helps them withstand severe weather and adapt to long-term changes.
"As you continue on the climate change journey, you must consult other sectors and stakeholders," Taylor said. He added that the community should have patience with its politicians, since climate change is a really complex and crosscutting issue to address from a policy perspective.
According to Taylor, policy action generally falls into one of three categories, which are mitigation, adaptation and education. Mitigation includes taking actions that reduce emissions or store carbon dioxide, while adaptation refers to learning how to live in a changed climate. Education should encourage behavioral change.
"In the Caribbean, there's a big emphasis on adaptation, since small islands are tiny emitters and are also extremely vulnerable to impacts," Taylor said.
To demonstrate the process for evaluating vulnerability and establishing relevant public policy, attendees participated in a group activity. Each group set a goal, such as ensuring safe and adequate water for island residents, and then assessed how to achieve it while factoring in the potential effects of climate change.
Since climate change is causing overall rain levels to decrease while making it rain less frequently but more intensely when it does, homes might need to be equipped with larger or extra cisterns to be prepared for more drought-like conditions.
Kai Frett, a business owner in the renewable energy sector and director of Community Action Now of the V.I., said, "The workshop was really thorough and made a lot of valid points regarding the need to address climate change in the public and private sector. Climate change was on my backburner before but is really a reality for me now."
Sen. Tregenza Roach, who participated in both days of the workshop, advocated for the workshop in order to advance public education about climate change. He added that a few months ago he submitted a bill request for the legislature to create climate change policy and hopes the workshop helps inform decision-making.
"The territory is ready to start addressing climate change by engaging stakeholders and collecting data," said LaVerne Ragster, former president of UVI and a V.I. Climate Change Council member who's participating as a representative for the Foundation for Development Planning.
The V.I. Climate Change Council was assembled in October of last year to assess the vulnerabilities, potential impacts and stakeholders affected by climate change in order to inform policy decisions in the territory. The pressing issue for the territory is to now determine how to transition from being climate sensitive to climate resilient.