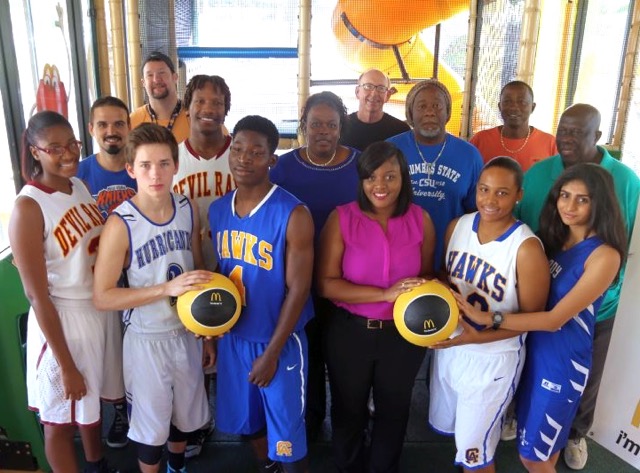 The annual IAA/McDonald's MLK Varsity Basketball Invitational has been a tradition in the territory for more than two decades and reporters got a chance Wednesday to talk to some of the participating teams, which includes this year students from the British Virgin Islands and, for the first time, an academy from the mainland.
Along with Charlotte Amalie High School, Ivanna Eudora Kean High, Antilles School, V.I. Montessori School and Peter Gruber International Academy, St. Croix Central High, St. Croix Educational Complex, and St. Joseph's Academy, this weekend's tournament will also field teams from Elmore Stoutt High School, Bregado Flax and St. Georges in the BVI and Gray Collegiate Academy in South Carolina.
Organizers said the addition of the guest teams means the tournament is evolving and is on the path to becoming something "bigger and better" than ever before.
"I think this event is going to be exciting because it's the first basketball tournament of the season and it always brings out the teams' competitiveness, especially with the rivalries between schools like Charlotte Amalie and Eudora Kean and Central High School and Complex," Interscholastic Athletic Association league president Buddy Kennings said Wednesday.
"But this year is going to be even more exciting with two teams coming from Tortola and, with the addition of the South Carolina team, it's going to be even more competitive."
Sponsoring the tournament this year with the IAA is McDonald's and the V.I. Education Department, whose officials said Wednesday that working to grow the tournament over the next few years could lead to even more regional and national participation.
"I think the sky could be the limit," St. Thomas-St. John District Health and Physical Education Coordinator Mark Daniel said Wednesday. "The tournament is strong this year and hopefully, with continued partnerships, we will be able to take it even further and actually be able to invite teams from Puerto Rico, or make it 16 teams and hold events in multiple gyms."
"One day it could even attract teams from the top high schools in the states to come down and play," he added.
McDonald's representatives said Wednesday that partnering with Education for the second year supports the company's mission to promote an active and healthy lifestyle, especially in students.
"As the title sponsor, McDonald's is proud to promote student athletes and an important legacy for the USVI," Gabriel Serber, managing director for Arcos Dorados Caribbean Region, said in a statement. "As a local family restaurant, we encourage families and children to participate in community sports activities, including youth basketball, school and junior tournaments."
Games kick off at Charlotte Amalie High School on Friday, followed by 11 games on Saturday, four on Sunday and the championships on Monday beginning at 10 a.m.
Kennings said Wednesday that coming in, Ivanna Eudora Kean is the defending champs on the boys' side, while the girls' field features some of the best athletes in the territory.
"Tournament fans out there should definitely be counting on an exciting weekend of interscholastic basketball," Kennings said.
For more information on the teams or the tournament schedule, call IAA basketball commissioner Kenny Todman at (340)-642-2156.