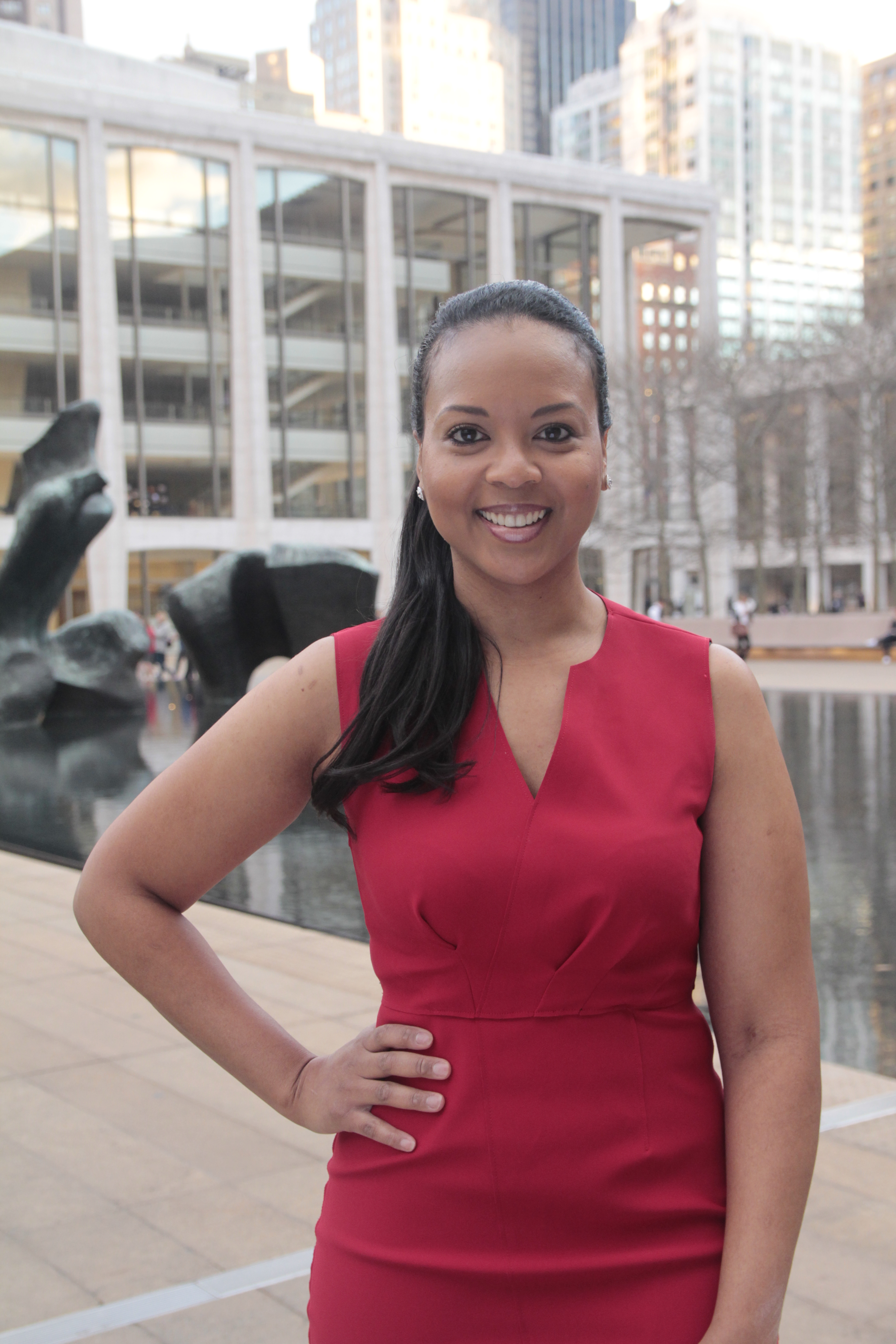 Jewels of the Virgin Isles is a feature series profiling Virgin Islanders in the diaspora who are excelling in their respective fields and/or positively representing the USVI abroad.
Virgin Islander Vivienne LaBorde is on a mission to bring the arts to the masses. A classically trained pianist and a lover of the arts, LaBorde was recently appointed director of government and community engagement for Lincoln Center for the Performing Arts (LCPA) in New York City.
She joined LCPA at the end of March 2015 as the interim, and then acting director, following her tenure as an associate at a major law firm, Skadden, Arps, Slate, Meagher & Flom LLP.
In her new role, LaBorde manages the relationship between LCPA's government and community partners at the local, state, and federal levels, reinforcing Lincoln Center's role as a civic institution as well as a performing arts center. Through this role, LaBorde helps to publicly fulfill Lincoln Center's mission to make the arts accessible to all people, and advocates for government support of community programs held at LCPA and throughout the five boroughs of New York.
Studies have shown that students who participate in the creative arts are more proficient in such subjects as reading, writing, and arithmetic. As a result, Lincoln Center and other such institutions are going into traditionally underserved communities to expose youth and their families to the benefits of the arts as a means of expression.
LaBorde's role is especially pertinent to some of Lincoln Center's newest and most essential community outreach programs, including Boro-Linc (which sends teaching artists and resources into underserved communities throughout New York City's five boroughs,) Poet-Linc (which encourages student literacy through poetry readings and spoken word performances at LCPA,) and Family-Linc (which brings families living at or below the poverty line to Lincoln Center to share artistic experiences for little or no cost).
"We are taking the arts beyond the four corners of Lincoln Center and into the boroughs through programming that provides underserved communities with access to live, world-class performances, artists, and creative outlets for youth. We also are making our campus more accessible to all by partnering with government and community organizations to bring families with financial or other barriers to arts participation to the performances and workshops taking place on our campus," LaBorde said.
The interactive programs are free or low-cost, and are to designed make the performing arts and Lincoln Center less intimidating, and dispel the myth that the performing arts are only for the privileged.
For LaBorde, the opportunity to work in such a capacity is a blessing. What began as a temporary assignment turned into a desire to engage with communities on a fulltime basis.
"I fell in love with the job. Ever since I was a toddler I have been involved in the arts and this role has brought me back to who I really am," LaBorde said. "Throughout my career, I've always wanted to transition to a place where I could bring my "soul" to work – a full expression of who I really am."
Now that she is able to blend her passion and her profession, LaBorde said she feels she is in the right place at the right time to make a difference.
Born in St. Thomas and a graduate of Saints Peter and Paul High School, LaBorde is the daughter of Alphonso and June LaBorde. She holds a juris doctorate degree from the University of Pennsylvania in Philadelphia, and a bachelor of arts degree in political science from Emory University in Atlanta.
"The arts have always been a part of my life and a part of my family's DNA. As far back as elementary school, I was singing in the choir at Moravian Church and Moravian School, and learning dance at the St. Thomas School of Dance. I started playing the piano from very early on as well, and eventually studied under Dr. Lorna Young-Wright. Also, when I was in high school, I taught piano to other children in the Virgin Islands at a school led by Dr. Lois Hassell-Habtes," said LaBorde. She also attended the renowned Interlochen Music Camp in Michigan.
Her own parents have been actively involved in the Virgin Islands arts community for decades, and her cousin Edward LaBorde, Jr., recently debuted his film-making prowess with the film "Timeless" in 2015.
Though she has lived outside of the Virgin Islands as an adult, LaBorde has her eye on opportunities to connect Lincoln Center to the Virgin Islands community. She hopes to find ways to provide residents of the territory with online access to performances at LCPA, and possibly participation in LCPA's artist in residence programs. She also encourages the local community to explore ways to publicly and sustainably fund arts-related programs for Virgin Islands students so they have another avenue to explore the world.
"Everyone's lives should be enriched by the arts because they offer so many academic and therapeutic benefits to people," she said. "There needs to be a higher commitment to ensuring that classical arts are part of an academic curriculum, and are consistently available to the broader community."
For now, she is enjoying the ability to do her part, and sees this position as a faith-led assignment, one in which she can serve the community and fuel her passion.
LaBorde lives in New York with her husband, Kaddu Luyombya, who also plays the piano. Together, they are passing on a love of music and dance to their three-year-old daughter Victoria, a student at the Alvin Ailey Dance Theater, and building a legacy of arts involvement for the next generation.
Loán Sewer is a marketing and tourism consultant, and proud Virgin Islander who resides in Charlotte, North Carolina. Follow her on Twitter @LoAnSewer or e-mail her at info@gobiconsulting.com.