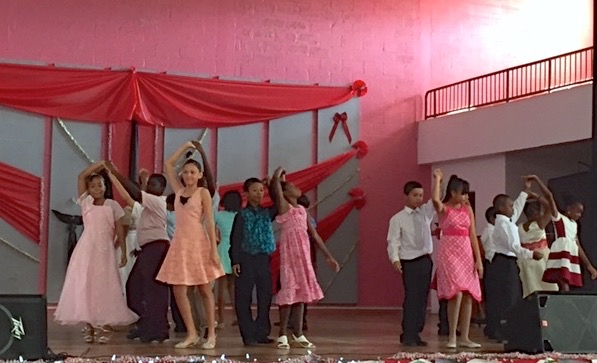 Dancing Classrooms Virgin Islands celebrated a successful inaugural run on St. Croix with the first of a series of ballroom dancing demonstrations Wednesday. Two classes of fifth-grade students at the Juanita Gardine Elementary School showcased their newly learned skills in the fox trot, swing, merengue and more to a packed and enthusiastic auditorium of students, teachers and parents.
What made the program an achievement was not just that students learned new dance steps, remarked Assistant Principal Anna Marie Gordon, but that those who participated demonstrated the "will, the discipline and the heart" to complete the program.
"The same thing is true with every area of our lives," Gordon continued. "We challenge each of our students not just in their dancing, but beyond."
Earlier that morning, music filled the auditorium as Natasha Mendez hung posters around the room. Created by the students, some posters told the history of a particular dance; others captured movements, costumes or sometimes the experience of learning itself.
Mendez was just one of the students who participated in the program and was a bit nervous because, in addition to dancing, she was also giving a short verbal presentation on her favourite dance, the merengue.
In addition to leading them in steps, DCVI Executive Director Kathryn L. Zaytoun teaches students the history and vocabulary of each dance over 10 weeks. As a global organization, Dancing Classrooms operates in 600 schools in 30 cities and serves more than 50,000 young dancers.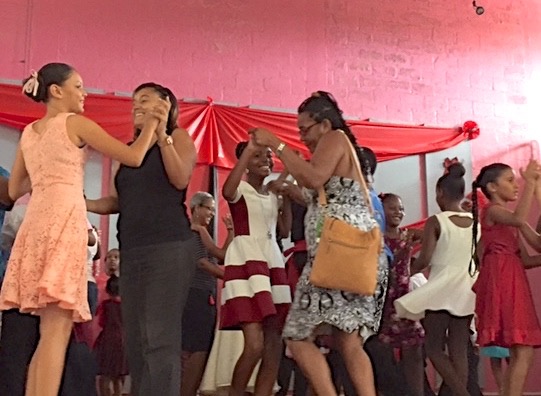 "It's first and foremost a social and emotional learning program, disguised by teaching ballroom dancing," said Zaytoun, who helped launch the program on St. Thomas in 2009. This is the first time St. Croix schools have hosted Dancing Classrooms. In addition to Juanita Gardine, the program launched this October in the Ricardo Richards and Claude O. Markoe Elementary Schools.
Mahsai Meyers, another student who participated in the program, was also hanging up posters before the big performance. With no nervousness in sight, Meyers explained how easy it was to learn the steps. While the step may been simplified, however, students had a harder time working through initial feelings of discomfort with partner dancing, remarked fifth-grade teacher Zuri Baker.
"It encouraged the young ladies and gentlemen to act like young ladies and gentlemen," she explained.
The 10-week journey is one that goes from resistance to engage with other students to a willingness to work as a group and exercise respect for fellow classmates, Zaytoun added.
"We feel that teaching those skills at 10 or 11 really sets a foundation that can carry them throughout life," said Zaytoun.
After such a successful season at Juanita Gardine, Baker expressed hope that the Dancing Classroom experience would live on.
"I loved it. I'm so sad its over," she said. "We're going to Government House on Friday, so hopefully if there higher-ups see the good its done, they will incorporate it into all schools," added Baker.
The public is invited to view the demonstration Friday at Government House. The students will be showcasing these dances and more for their families, V.I. dignitaries and community members.