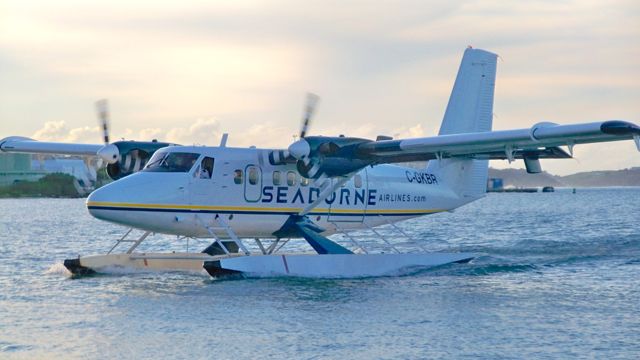 Wayne George flew the last flight of his career from downtown Charlotte Amalie, St. Thomas, over the beautiful blue sea to the St. Croix seaplane terminal on the last Seaborne Airlines flight out Thursday. He turns 65 on Friday, the mandatory retirement age for pilots.
Family, friends, colleagues and coworkers gathered to make the flight and arrival on St. Croix special.
In Christiansted, George was greeted by family, friends and people who worked with him over the years. They presented him with a lei of magenta bougainvillea and yellow alamonda flowers and a champagne toast.
"We gathered together to honor and give recognition for George's hard work and 18 years of dedication," said David Ziemer, executive vice president of Seaborne. He added George was Seaborne's longest standing pilot.
Ziemer said there are a few traditions carried out when pilots retire like the toast and getting the pilot wet one way or another. The mechanics and ground crew soaked George with huge super soaker squirt guns.
George was also presented with a detailed replica of a Seaborne seaplane made of balsam wood.
Omer ErSelcuk, a former Seaborne president and chief executive officer who worked with George for 13 years, said he flew in from Ohio for the special occasion to give George the recognition he deserves.
"And I'm here to celebrate his retirement and the next part of his life," ErSelcuk said.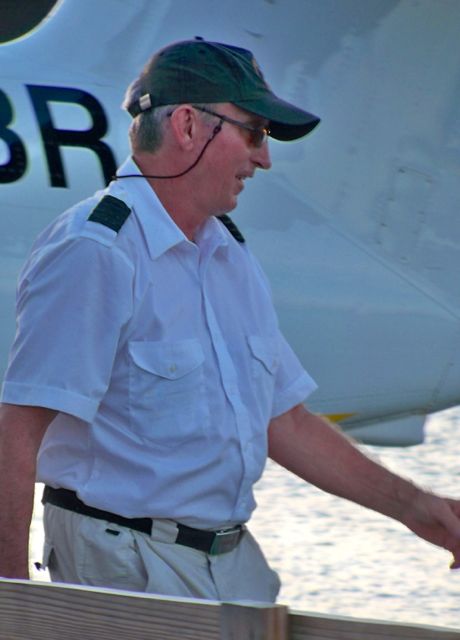 Ryan Ziebro, Seaborne pilot who flew with George many times in the past four years, said George is a top-notch pilot.
"He has a gentle touch on the landing," Ziebro said. "He puts it down like a baby." He said he's going to miss hearing the great stories George told while flying across the sea.
Surprise passengers on his last flight were his granddaughter, Taylor George; Martha Scott, a skydiving pal of his; Mike Fisher, a childhood friend; and his wife Dominique Tessier. His daughter Michelle George flew in from Fort Lauderdale for the retirement celebration.
"This is great he is being honored here today," Michelle George said. "Retirement is something you don't get to do twice."
George told the Source, as he was whisked off to the Brew Pub, he is absolutely ready to retire and spend time with his family and to spend more time at his hobbies, skydiving and fly-fishing.
George was in the Army and graduated from Embry-Riddle Aeronautical University. He began his career as a pilot in 1983. He started flying with Seaborne Airlines out of Alaska in 1997 when they were flying the Caribbean in the winter and Alaska in the summer.