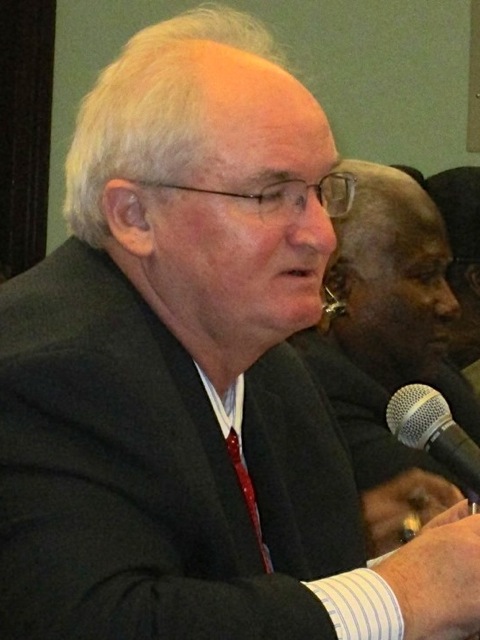 Without reform and an infusion of at least $600 million in cash, the Government Employees Retirement System will run out of money by 2025, Leon "Rocky" Joyner, vice president and actuary at Segal Consulting, said as the Legislature's Committee of the Whole kicked off a series of three meetings on a bill to try to fix the retirement system's ills.
"There will be no assets to invest and no money," Joyner told all 15 senators gathered Tuesday at the Legislature building on St. John.
The Committee of the Whole will also hold meetings Wednesday on St. Thomas and Thursday on St. Croix.
Joyner said that while GERS will still be able to pay some portion of a retirees' pensions because contributions from workers will continue, he said that it will only pay 45 cents on the dollar. He said this means that a retiree who was supposed to get $1,000 a month will get only $450.
In a meeting where testifiers seemed free with their figures, Joyner said that the GERS retirees create a $600 million a year economic benefit for the territory.
"It's 15 to 20 percent of the whole economy of the Virgin Islands," he said.
GERS Administrator Austin Nibbs put the number of retirees at 8,467, slightly less than the 9,200 government workers paying into the system. Nibbs said that the ratio should be three or four government workers to one retiree, but Joyner said that the 1.1 to 1 ratio in the Virgin Islands was typical of mature pension systems.
According to Joyner, GERS's problems are caused by lack of assets underpinning the system.
Leandro Festino of Meketa Investment Group said GERS has $250 million a year going out to retirees but only $80 million coming in.
"Even making a 7 percent return, you will be $150 million short," Faustino said, adding that to make up that $150 million, GERS is liquidating its assets.
While a $600 million infusion of cash was the number agreed upon when the senators passed a bill in 2006 authorizing the issuance of a bond to help the pension fund, Senate President Neville James said that figure may not be enough.
And he said that while the government finances were in better shape in 2006, that's not the case now.
"The question is where we identify the collateral," he said.
James told his colleagues as the meeting began that they were under no obligation to fund the $600 million GERS wants.
Joyner said the $600 million would keep GERS solvent for 30 years.
The bill before the senators calls for numerous reforms, including upping the age for regular retirement from 60 to 65 and for early retirement from 50 to 55.
"This will be difficult for government employees," Sen. Janette Millin-Young said.
The senators got the message that changes are needed.
"If the system were to crash, we're talking about the end of the Virgin Islands," Sen. Myron Jackson said.
Other tidbits that surfaced during the meeting included a statement by Nibbs that indicated GERS got a 30 percent plus return on its loan to Seaborne Airlines.
And he said that Carambola Beach Resort is reporting good occupancy rates so that GERS acquistion of it appears to be turning out well even though the loan defaulted. He also said that a deal to sell the resort looks promising.
Sen. Kenneth L. Gittens asked Nibbs why an effort to reform GERS in the 29th Legislature had never made it out of the Rules Committee.
Nibbs said, "It was three weeks before election."