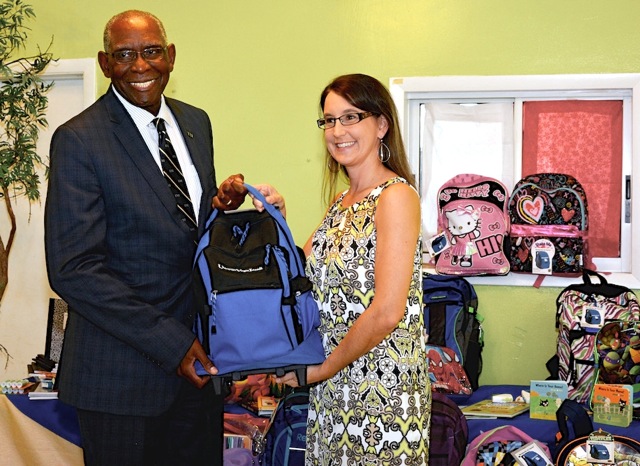 Students at the Queen Louise Home for Children will start the new school year with the tools they need to succeed, due in part to the University of the Virgin Islands' "Backpacks for Success" outreach project. University students, faculty and staff donated school supplies to the 18 students at the home on Wednesday, according to UVI.
The backpacks were made to order, based on the child's age, grade, favorite color, needed school supplies and most loved characters. UVI volunteers purchased the backpacks and filled them with notebooks, folders, pens, pencils, rulers, children's books, new shoes and clothing. School supplies were also donated to teachers, and the UVI Research and Technology Park donated $500.
Sen. Kurt Vialet, a UVI alumnus, and his daughter donated backpacks filled with school supplies for the children.
"We want the students from Queen Louise to go back to school this year feeling like they have everything they need to be successful," UVI President David Hall said in a statement. "We need to start working with students at an early age and to say to them, that you can have a backpack for success, but you can also have a life of success, if you take education seriously."
Queen Louise Home for Children Director Dana Holtz said the backpacks would help those kids walk into school with confidence this year. "You are greatly impacting the lives of 18 children," she said.
The Backpacks for Success project is one of four of the university's service outreach projects, which are a part of UVI's newest commitment to the community.
Over 80 UVI volunteers swapped their computers and iPads for shovels and paintbrushes last month, for an opportunity to renovate the Alexander Henderson Elementary School, the Family Resource Center and the Addelita Cancryn Junior High School.