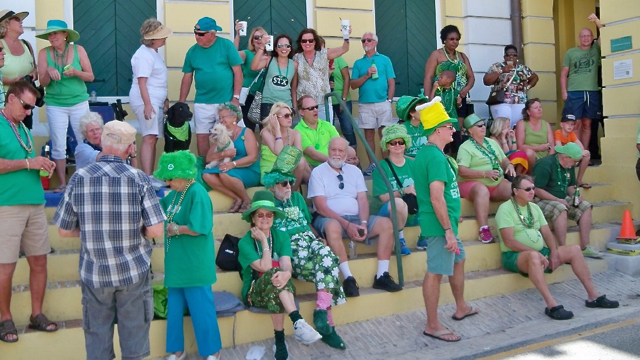 Did you want to wear a funny green hat and striped socks Saturday morning? Or maybe you wanted to dress up in drag. Then, again, you just might have wanted to enjoy the music of the talented St. Croix's public high school bands.
The place to do all this was downtown Christiansted as the 46th Annual St. Patrick's Day Parade rolled up Company Street to Sunday Market Square and back down King Street.
Wearing green was not required, but just about everyone in the crowd of thousands, did. The parade, which had 30 entries, was maybe the best attended parade in recent history in Christiansted, and included some troupes that took part in the Christmas Carnival parade in January.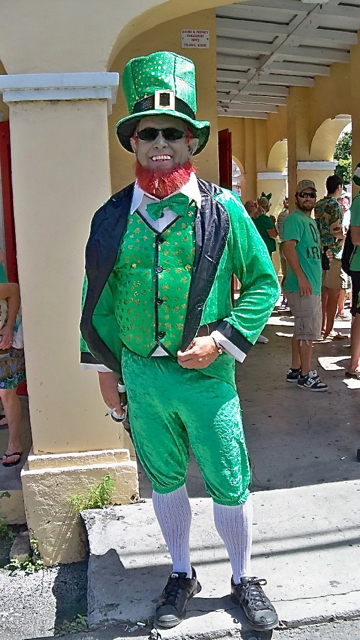 The parade has a reputation for celebrating the Irish arts of drinking and outlandishness. Green beer and green rum were served, but the tone of the two-hour parade might been a bit more civilized than previous years. No one aboard the floats squirted the audience with water or beer. That did not stop the loud music and people happily dancing in the streets. The theme for the parade this year was One Love VI.
"Pieces of the parade are here. Pieces of it are over there. It's like a giant block party," said Errol Morris, who was filming the event for the government channel.
"It's all about everyone having fun," said resident Manny da Motta, standing on the sidewalk in front of FirstBank. "I enjoy the high school marching bands. They're really talented."
The gift shop near the Scale House at the end of King Street offered a special treat. Two lady leprechauns paid for customers' purchases. The ladies, who did not want to be identified, said, "We're paying it back. We just want to do something nice for people and hope that they will then do something nice for another person."
One of the ladies added, "If you don't give your money away, WAPA takes it, so you might as well give it away."
Funds raised at the parade committee tent will benefit the Dolphin Swim Team and the St. Croix Track Club.
Track club secretary Mireille Smith said it was the first year the proceeds from sales of drinks, T-shirts and Irish themed trinkets were given to the club.
"It's awesome they're giving to the club and showing committed support to the community," Smith said. "The club will definitely make use of it."
She added they will use the funds to attend track meets.
Elizabeth Shimer, visiting from Kansas, said the parade was amazing.
"It's so much fun," Shimer said. "It was a very spirited parade. I've never seen anything like it."
Seaborne sponsored the parade.