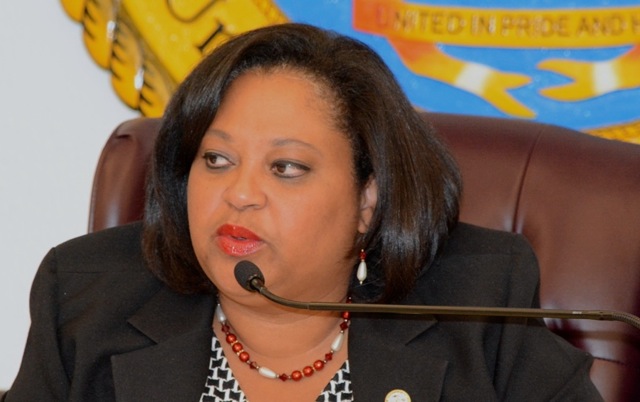 A professional barker on Thursday got aggressive and hostile toward a senator and was removed from a hearing on proposed legislation banning barkers over their being aggressive and hostile.
Everett Parker Jr., a freelance business promoter, often called a "barker," was testifying in opposition to a bill supported by many businesses and law enforcement banning the practice of having solicitors approach people in the street to drive customers to certain businesses.
Parker testified against a ban without incident, making a case that he and others had a right to make a living and to speak in public in support of a business.
But when Sen. Janette Millin Young, chairwoman of the Committee on Economic Development, Agriculture and Planning considering the bill, asked several promoters, including Parker, what the average pay was, Parker suddenly got angry and aggressive.
First he said he was well paid.
Millin Young said she did not want to know his pay, but the average pay.
"There is no answer to your question specific, Senator," Parker said in a loud, hostile tone.
"Do we have a problem here, Mr. Parker?" Millin Young asked.
"I don't know, do we?" Parker said in a confrontational tone.
Millin Young then had Parker removed from the hearing.
The committee heard from other testifiers on the bill sponsored by Sen. Myron Jackson to ban barkers.
Representatives of the USVI Hotel and Tourism Association, St. Thomas-St. John Chamber of Commerce and Virgin Islands Territorial Association of Realtors supported the bill, offering up a litany of horror stories of barkers getting into drunken fights over customers, frightening and intimidating tourists, defecating in public and so on.
St. Thomas-St. John Chamber of Commerce President Sebastiano Paiewansky-Cassinelli told of one "drug addicted barker who shoved another through a plate glass window," creating a violent, bloody spectacle for frightened tourists walking by.
In another case, two young tourists were assaulted by barkers while walking and, frightened, took a taxi straight back to their cruise ship, he said, adding, "It is not uncommon for barkers to call people names or humiliate them if they ignore their pitch."
Others have walked into stores demanding money, unsolicited and threatened owners who said no, he said.
Several businesses that use street solicitors and well-known St. Thomas icon Charles "Shaka Zulu" Matthew, who was a promoter for years before opening his own store, insisted good, law-abiding promoters should not be penalized for the actions of a few.
Larger Main Street stores that have money for advertising have huge advantages over small, local entrepreneurs, Matthew said. Using promoters – Matthews said he objected to the term barkers – enables small stores in alleyways and back streets to get the word out about their businesses too, he said. And cruise ships send their passengers to particular stores – those big enough to advertise on a cruise ship, he said.
"There will never be a level playing field for the stores in side streets who are never going to be able to afford the cost of advertising on the cruise lines," Matthew said. He and an employer of barkers: Bradley Sisneros of Conundrum Marketing, said they do not tolerate poor behavior and should not be lumped in with "bad apples."
Police and licensing officials said they lacked the resources to enforce nuanced regulations and needed a complete ban.
Sen. Nereida "Nellie" Rivera-O'Reilly asked St. Thomas-St. John Police Chief Darren Foy if the police had information about arrests of barkers. Foy said he did not have detailed data at hand. "But I know for sure other officers have made arrests of individuals involved in violent incidents working as barkers downtown," Foy said.
Licensing and Consumer Affairs Chief Enforcement Officer Ivan Hobson testified they get calls from 911 to assist with a barker situation "just about every other day."
DPNR legal counsel Frederick Norford also testified in support of the ban, saying it was "urgently needed."
Both proponents and opponents cited the opening of U.S. relations with Cuba to support their position. Ban supporters said the USVI needs to keep its towns pleasant to compete, while opponents, including Sisneros, argued the territory needs to promote moneymaking businesses to compete.
Jackson said he added passages to the bill to allow for kiosks with information on all the area businesses, to allow them an avenue to keep promoting themselves.
He later moved the bill be held in committee for further amendment. The committee voted unanimously to hold the bill.