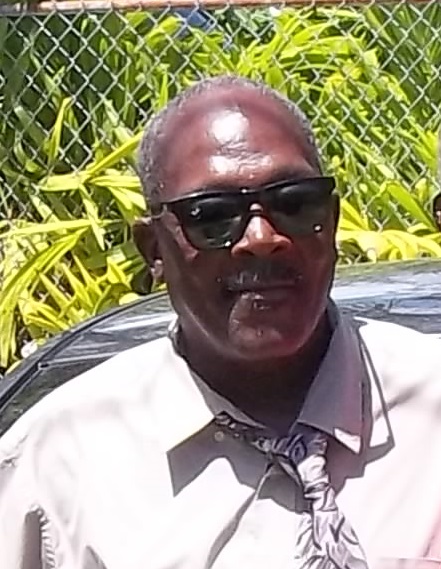 Roy Williams, also known as "TC," of Estate La Vallee died on Feb. 19 at the Gov. Juan F. Luis Medical Center. He was 57 years old.
He was preceded in death by his father, Camile "Mechanic" Williams.
He is survived by his mother, Esmeralda Cornelius; adopted mother, Leona Smith; godchildren: Egbert Smith III; great aunt, Anna Maria Johannes; grandfather-in-law, Charles Richards; brothers: Sherman, Bobby, Melbourne, Larry and Major Lincoln F. Williams and Aaron Buntin Sr.; and brothers-in-law: Glenroy Elvin Sr., Raymond Charles Sr. and Jerry Harris Sr.
He is also survived by sisters: Dale Williams. Elvin, Chenel Williams, Charles, Debbie Williams Richards, Delta Williams Harris, Melba, Darell, Marjorie, Hilda and Almeade Williams, Erma David and Audrey Ible; sisters-in-law: Floris, Dorris, Quandel and Marcia Williams; uncles: Oliver, Richard and Warren Cornelius, Robert Joseph; uncles-in-law: Marcel Scotland and Arthur Reynolds; and aunts: Lolita Cornelius-Saunders, Theresa Cornelius- Sobratae, Augustina Cornelius-Henry, Clothilda Cornelius-Charles, Bernice Cornelius-Reynolds, Melsadis Cornelius-Scotland, Anna and Sylvia Cornelius.
Other survivors include aunts-in-law: Catherine Cornelius and Velma Joseph; and nieces: Rashida Elvin, Sheray and Tracy Charles, Cherese Williams Jarvis, Cherene Williams Walters, Tyra and Kayla Williams, Natasha Romney, Akitha Williams, Shakima, Charlotte and Shaneka Roberts, Vida, Umi and Melissa Williams, Robbie Phillips, Christine and Sumiko Smith, Synettekiesha Shakyma and Shakyla Elva, Cylcharrise Stevens, Chris and Cindy Jarvis, Lydia Camacho, Angela Harris-Theadore, Jericha and Jochebed Harris, Teanna Browne and Madison Williams.
Survivors also include nephews: Glenroy Jr. and Marlon Elvin, Raymond Charles Jr., Michael Williams, Sherman Williams Jr., Rachid Simmonds, Abdul Fletcher, Michael Jr., Eugene, Lester and Marvin Roberts, Melbourne Williams Jr., Cymandye Phillips, Clifton Richards, Donald Robies Jr., Larry Williams Francisco Camacho Jr., Aaron Buntin Jr., Tino Buntin, Bernard Matthew Jr., Jamal Browne, Clyde Stevens, Clarence Jarvis and Nathan Williams; special friends: Roy Fern, Jeff Bertrant, the Robles family, the Johannes family, the Francis family, the Acoy family, Debra Williams, Sherill Smith, Robert Johnson, Leander Smith and Thomas Alkon; adopted family: the Smith family from La Vallee; as well as other relatives and friends too numerous to mention.
The viewing will take place at 10 a.m. and the funeral service at 11 a.m. on Thursday, March 5, at Christus Victor Lutheran Church, Estate La Vallee. Interment will follow at Kingshill Cemetery.
Professional funeral services are entrusted to James Memorial Funeral Home Inc.