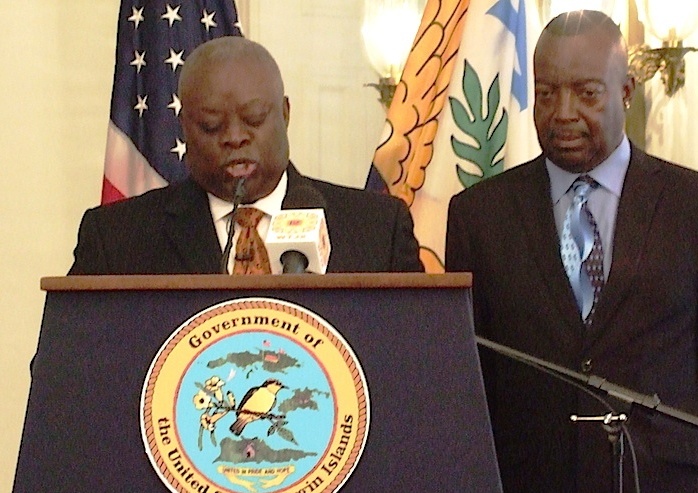 Gov. Kenneth Mapp and Lt. Gov. Osbert Potter talked about plans to ramp up the police force and deal with other problems while announcing the latest additions to the cabinet during a press conference Thursday at Government House on St. Croix.
Catherine Ann Hendry, formerly assistant commissioner and currently acting commissioner of Labor Affairs for the V.I. Labor Department, will take over as Labor commissioner if approved by the 31st Legislature.
Hendry was born on St. Croix, studied in the U.S. and earned a law degree from St. Thomas University School of Law in Miami. She returned to the island in 2007, worked as a law clerk for Judge Julio Brady and became a member of the V.I. Bar Association. Hendry also worked as counsel for the Department of Licensing and Consumer Affairs before joining Labor in 2012.
Mapp appointed Juan Figueroa, born in Puerto Rico and raised on St. Croix, director of the V.I. Lottery. Figueroa most recently worked as an advocate at the Virgin Islands Advocacy Inc. and prior to that he was chief of staff during his son's two terms as St. Croix senator. Figueroa served in the V.I. National Guard for more than a decade.
The governor also introduced Delroy Richards Sr., V.I. Police Department commissioner-designee, and both talked about "crime fighting capabilities." Richards said the police department will be restructured to achieve "consistency and accountability" throughout the territory. There are approximately 200 fewer police officers in the territory than needed so recruiting will continue on all three islands, he said.
Police patrols will be increased in high crime areas, Richards said, and federal law enforcement officers will be used if necessary. A reactivated marine division will patrol the shorelines and airports will be scrutinized for weapons.
"Alone we will never be able to combat the alarming crime rate in this territory, especially when guns are so readily accessible," Richards said. "We need the assistance now."
Most of the recent killings, especially on St. Thomas, are retaliatory, Richards said, and in many cases, those indicted are freed because victims and witnesses are afraid to testify.
Mapp backed up Richards with a promise of "limited deployment" of the National Guard if the commissioner calls for action. Additionally Mapp said, in the future, gun crimes will be prosecuted federally.
"They are not going to do happy time in the Golden Grove facility," Mapp said, adding that if convicted someone is convicted, they are going to "be sent off to a federal institution on the mainland" as a federally convicted individual.
According to Mapp, there are not enough correctional officers nor medical or mental health care personnel for the 296 inmates at the prison and the facility needs repairs. Research shows that prisoners can be housed in stateside facilities for half the $140 a day it costs the territory. Consequently, between 50 and 60 percent of the 165 convicted inmates will be sent to U. S. prisons. The most violent and serious offenders will be sent first, Mapp said.
One of Mapp's cost-cutting plans is to sell half of the government's fleet of 1,700 vehicles, except those used by VIPD. Another plan is to eliminate private phone and fax lines in government offices. Instead the V.I. Next Generation Network underground Internet cable resources will be utilized.
Mapp said he ordered an audit by the Inspector General after it was discovered that $3.5 million paid by the Hovensa refinery for settlement claims of former employees was applied instead to the legal bill. There were no receipts or documentation to verify whether or not the payment, approved by former Attorney General Vincent Frasier, was proper, the governor said.
Another area with discrepancies, according to the governor, is the Government Employees Retirement System. Millions of dollars have been lost due to poor investments and bad loans, and Mapp said he "will take control" of GERS and appoint a new board.
Potter brought up an inspector general's audit of a property auction conducted by the previous lieutenant governor's office that cited "highly irregular and questionable practices." Potter said 12 to 15 of the 104 sales in 2012 and 2013 are under investigation. Property buyers will be notified whether or not their sale is being scrutinized and those will be "frozen."
"Several of these transactions are very questionable, bordering on fraud and criminal activity," Potter said.
Because the previous administration put together plans for the renovation of the Paul E. Joseph Stadium in Frederiksted "in haste," Mapp said, he has halted the project. The current plan would build a $10 million stadium for $20 million. The administration will meet with the contractor to rewrite the contract or terminate the project if an agreement can't be reached, he said.
Mapp corrected a recent news story that he has rented a residence on St. Thomas for $4,000. The property, including security, is actually $12,500 a month, he said. The official governor's residence on St. Thomas is an old structure and has not been maintained for the last eight years, he said. On St. Croix, he will reside in his own home.
"I will not be spending any public monies on any private property owned by me," he said.
The governor then answered several questions from the media regarding the residence, hiring police officers and the stateside prison facilities. He also said he is paying his personal taxes on a payment plan.