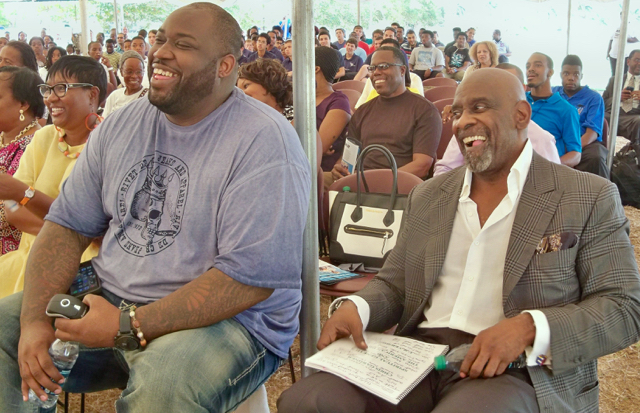 Christopher "Chris" Gardner, whose life was featured in the 2006 movie "The Pursuit of Happyness," is a multi-millionaire, but not long ago he and his son were homeless.
Thursday, Gardner told his story as the keynote speaker at the fifth Man-Up Conference at the University of the Virgin Islands on St. Croix. Since 1981 Gardner has gone on to become a New York Times best-selling author, entrepreneur, philanthropist and life coach. He addressed hundreds of young men from the island's public and private junior and senior high schools.
The program was presented Tuesday on St. Thomas.
David Hall, president of UVI, said they believe having speakers that have experienced challenging times in their lives but have risen to a place of leadership, serve as excellent examples for young males.
Gardner's childhood was one of domestic violence, alcoholism, sexual abuse, poverty and illiteracy. Gardner started on a light note Wednesday saying being a millionaire is highly overrated and he's trying to become a billionaire.
He told the young men gathered under a large tent on the lawn that when he was a little boy his stepfather held a shotgun to his head and told him, "You ain't got no daddy."
"My mother was my father," Gardner said. "As a five-year-old child, I said my children will know who their father is."
He said his mother always told him he could be or do anything he wanted to.
"I made the decision to be world-class at whatever I do in life," Gardner said. "And you can make that decision right now."
He said in order to be successful he knew he had to have a plan.
"It's never enough to have a dream," Gardner said. "The most important thing is to have a plan – just plan A."
Gardener opened up the conference to the boys and answered questions. One of the first questions asked was, "Why was happiness in the title of the movie spelled with a y?" He said it was to make us all mindful of what you create for yourself.
And of course someone had to ask how much he makes annually. Gardner said "What you're really asking is, why should I listen to you?"
The boys all from different socioeconomic backgrounds asked him personal questions, such as what it's like to be homeless and if he had any regrets.
Gardner said while homeless he asked himself every day, "How did I get here?" He explained he was going to get out of his situation by thinking, "I can change this. I can do this."
He was asked when he was poor if he ever wanted to give up. He said there's no giving up, because then you just become poorer. Asked if it was better to be wealthy or rich, Gardner said being wealthy is better, because it encompasses a lot more than being rich. He told the boys a motto of his is that baby steps count as long as they are moving forward.
Another motto he told the boys he has is, it's OK to fail, but he ain't gonna quit. He gave a note of encouragement explaining to the boys the expertise and job skills they acquire at their first job they take out the door with them and are transferrable to the next job.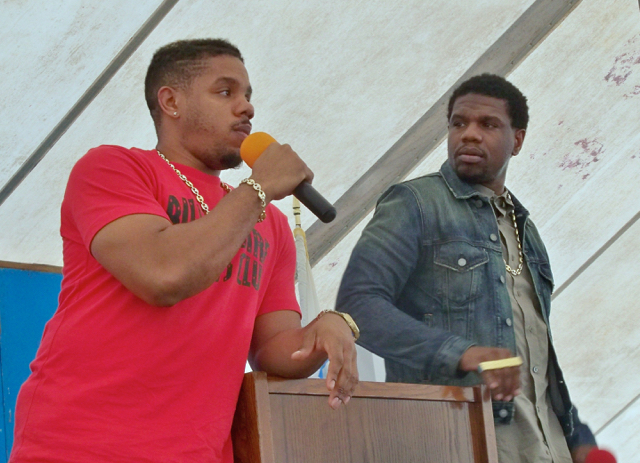 The popular local duo known as Rock City, St. Thomas natives, Timothy and Theron Thomas, also took the stage and told the boys about their struggles and the rough road to success.
"You need to see where we're from," Timothy Thomas said. "We went through all the same things."
They said they were raised in public housing and a lot of times all they had to eat were saltines and mayonnaise. They explained their father was a garbage man, so their beds came from the trash. And when they moved to Atlanta to pursue music careers they were homeless, but they were willing to be homeless and would do it again knowing they would be where they are today.
"We put ourselves on the map," Timothy Thomas said. "We never sit and wait for someone."
"Nobody from the Virgin Islands is doing what we're doing," Theron Thomas told the boys. "We've made every mistake but we do it until we learn to do it right."
The duo, now in their 30s, got the full attention of the boys – including a few boys who said they wanted to sing with them. They said they were out there promoting themselves, doing what the duo suggested.
"If you believe it you can achieve it," Timothy Thomas added.
The duo received two 2015 Grammy nominations – in the categories "Best Pop Vocal Album" for Ariana Grande's vocals on "Be My Baby" and Miley Cyrus' "We Can't Stop." The two have written music for Rihanna, Chris Brown, Justin Bieber, Enrique Iglesias, R. Kelly, Jennifer Hudson and others.
Rock City performed Wednesday for the crowd of about 1,000 boys, chaperones, UVI faculty administrators, board members, students and senators.
Antonio Polanco, ninth grade student at St. Croix Central High School, said he was inspired by the speakers.
"I'll remember to keep on trying and never quit or give up," Polanco said.
Osaze Newton, a senior at Country Day Good Hope School, said the conference is a very good thing for everyone's future.
"It shows there's always a way to stay focused on a plan," Newton said.
The conference theme "Man-Up: Awakening the Leader Within," was a reminder to each participant that true manhood is the responsible utilization of intellectual, spiritual and emotional power rather than a display of physical strength.
The Man-Up Conference was started in 2011 in response to rising violence in the community and the low enrollment rate of young men in higher education. It is an initiative of "Brothers with a Cause," a UVI program that seeks to attract more male students to the university and provide tools and support to help them graduate.
The conference was sponsored by UVI, the Department of Human Services, the Department of Education, and UVI Brothers With a Cause.