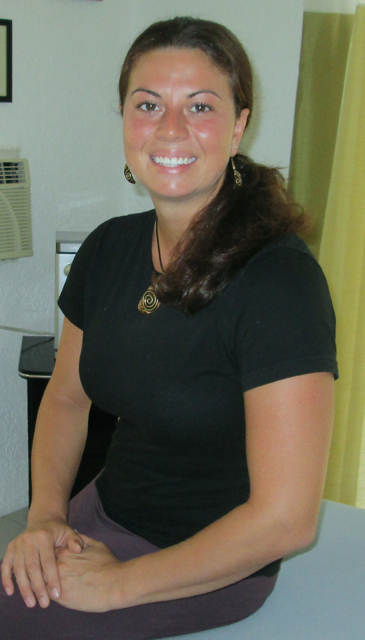 A Whole New You's setting matches the care at this Grunwald massage studio. Owned by Emily Dulac, the small complex welcomes clients with a waiting area that looks out to the sea. Inside the massage room, which Dulac calls the healing studio, soft music and scented candles set the stage for her care.
"I combine all different modalities to customize the treatment," Dulac said.
When the treatment is over, the hot tub and comfortable porch chairs beckon.
Dulac, 27, knew as far back as high school in Millville, Mass., that she wanted to be a massage therapist. She initially thought she'd be a certified public accountant because she liked math, but once she took anatomy classes, she changed her mind.
"I loved the human body and how powerful touch is," she said.
Massage therapy wasn't a career her family encouraged, so when she went to sign up after high school graduation at Bancroft School of Massage in Worcester, Mass., she had never had a massage. The school made her get one before she registered.
"It was the most amazing thing," she said.
She went on to graduate first in her class.
Following massage school graduation, she worked at a chiropractor's office and then as a sports massage therapist at Bryant University in Smithville, R.I. For three years, she ran her own massage business at a holistic wellness center in Cumberland, R.I.
A visit to a St. John friend from massage school convinced her to make the move to the island in 2010.
"I saw the opportunity to develop my dream," she said, adding that she always wanted to have her own business.
After working at the Driftaway Day Spa and the Westin Resort and Villas for three years, she decided to expand her fledgling private practice and opened A Whole New You.
She's not sure if St. John will be her home forever.
"I love the change of seasons, and I really do like snow," she said, referring to New England's weather.
The past summer spent doing massage in Bar Harbor, Maine, gave her another taste of life on the mainland.
But for now, she's back at A Whole New You studio.
While many of her clients are local residents, she sees many vacationers and does vacation villa visits.
She does have the travel bug, and recently took a cruise to Alaska's "Inside Passage." The cruise was set up to offer continuing credits in massage therapy, so she got to meet that licensing requirement with medical massage classes and see some more of the world.
"I'm constantly looking to expand and grow," she said.
She's a big beach goer, and a first responder at St. John Rescue. She said she joined because she likes giving back to the community.
"I try to be involved," she said.
Those interested can learn more about A Whole New You online at www.awholenewyou.co. her email address is info@awholenewyou.co and her phone number is 1-340-227-6641.