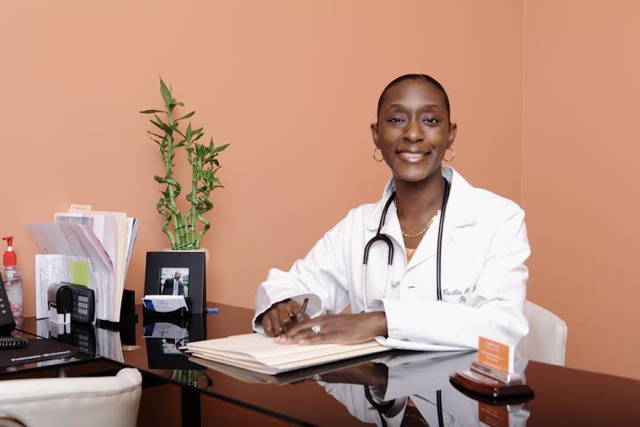 Does your baby seem healthy? Then it's time to take the child to the doctor.
"We want to see you when you're not sick, so we can keep you from getting sick," explains pediatrician Dr. Cecilia Penn, who offers a wide range of care for children and adolescents at Partners 4Kids in Lockhart Gardens.
It's also important for the doctor to observe a child when he or she is well in order to get an accurate "baseline" of personality and behavior against which future progress can be measured, as well as to establish a relationship built on trust; the child shouldn't associate the doctor only with pain or sickness.
Of course, Penn and her colleagues do treat children and teens when they are sick, but they stress prevention and provide a comprehensive approach to child care.
Penn has gathered a cadre of medical professionals at the center, which she opened in June 2013. On staff are Arthurlyn Sullivan, physician assistant; Linda Caiger, RN and a lactation consultant; Wincess Gentius, an audiologist who worked many years in the V.I. Health Department and was instrumental in establishing routine hearing screening for newborns; Leslie McKibben, physical therapist; Lisa Parfitt, occupational therapist; Kathy Valentine, speech therapist; and Lindsy Wagner, pediatric neuro-psychologist with specialty in autism and autism spectrum disorders.
"We're also looking to add another pediatrician," Penn said.
The need seems apparent. In little more than a year, the center has attracted 1,617 patients.
Penn said she established the "holistic medical home" to combat what is too often a fragmentation in health care for children.
A graduate of Cornell University, Penn earned her medical degree from Howard University College of Medicine and received specialty training in community pediatrics at New York Presbyterian Hospital Columbia University as well as a master's degree in public health-health policy and management/international health from Johns Hopkins Bloomberg School of Public Health, according to her résumé.
She moved to St. Thomas in 2006 and established a practice at the Red Hook Family Practice.
"We try to optimize a child's health," Penn said, adding that it affects everything the child does. It's important to identify any illness or medical condition as early as possible.
"I talk to the child" not just to the parent, she said, but she also works closely with parents and the family, advising them on ways to help the child.
If a baby seems slow in reaching such benchmarks as rolling from front to back or grasping objects, "we have to work with parents so we can provide stimulating environments." The solution may be as simple as laying the child on its stomach more often, encouraging the baby to reach for things, and giving him or her objects to hold.
Penn doesn't confine her advice to her patients. Through outreach to daycare centers and at PTAs, she promotes active participation by the family in a child's care and development.
A major tool in disease prevention is immunization, and the center follows the recommended guidelines from the Center for Disease Control, Penn said.
Some parents are reluctant to vaccinate their children. Some are worried that there's a link to delayed development or to autism; some think their child won't need shots because he or she is not often exposed to other children; some say they weren't vaccinated and they survived; some believe the diseases have already been eradicated so a vaccine is unnecessary.
"We try to work with you and see where you are" in your thinking about immunization, Penn said. "We counsel (the parents) about what the shot is for" and any possible side effects.
One thing that is not true, is that all the old childhood diseases have been eliminated. Take the case of pertussis, better known as whooping cough. Two or three generations ago, it was a common scourge that generally attacked infants and young children and was sometimes fatal, but it almost disappeared after a vaccine was developed. In recent years, it's been making a come-back in the U.S. and in the territory.
"We've had several pertussis cases (in the Virgin Islands) that needed hospitalization," Penn said. "Whooping cough can be very dangerous for the infant."
Most parents do immunize their children, and Penn noted that they tend to bring their children to the doctor often in the early years just to get the recommended shots.
Penn would like to continue seeing the patients frequently throughout their growing years. Periodic "well child" or "preventive" visits are key to tracking growth and development and behavioral milestones and catching problems before they arise.
More information on the center is available online at www.partners4kids.com