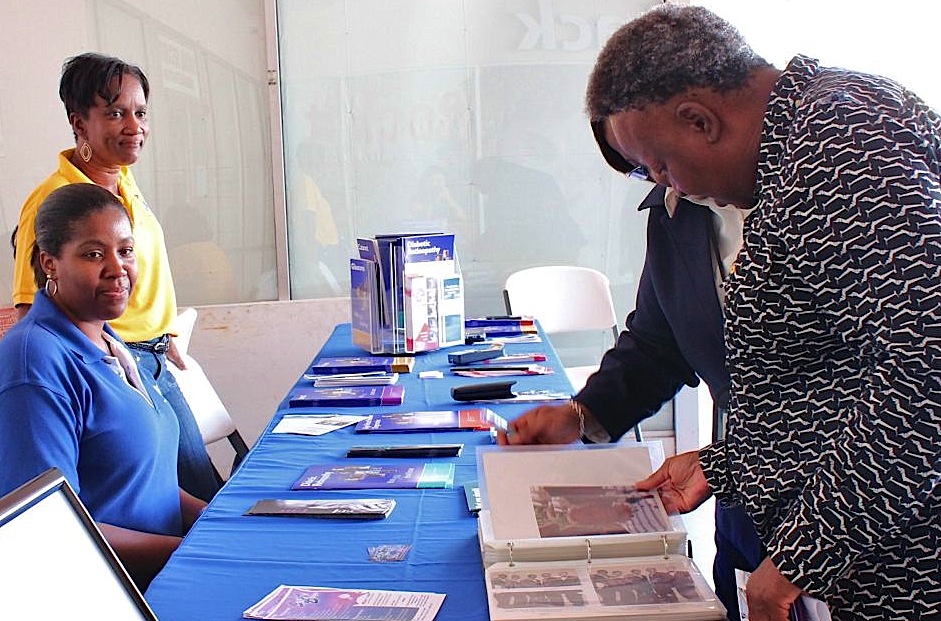 With a little help, people with disabilities do not have to miss out on anything in life. This was the message Wednesday at the National Disability Awareness Day exhibit in Nisky Center held by the V.I. Department of Human Services.
The exhibit was spearheaded by the Vocational Rehabilitation Program, a division of Human Services that works directly with people with disabilities. Human Services has collaborated over the years with local agencies, promoting events such as disability employment awareness every October, but for Disability Awareness Day, the department decided to create a bigger impact through an exhibit in one of the busiest business centers on St. Thomas.
"We want to help sensitize the community to the needs that individuals with disabilities have so that they too can function independently and have a quality of life equal to any other individual," said Felecia Blyden, administrator of the Vocational Rehabilitation Program.
According to Blyden, individuals with disabilities face an array of challenges, from employment to housing to transportation. Blyden's department helps its clients "level the playing field" and emphasizes the clients' strengths. Individuals with disabilities who come to their office are guided from evaluation to planning to placement with employers.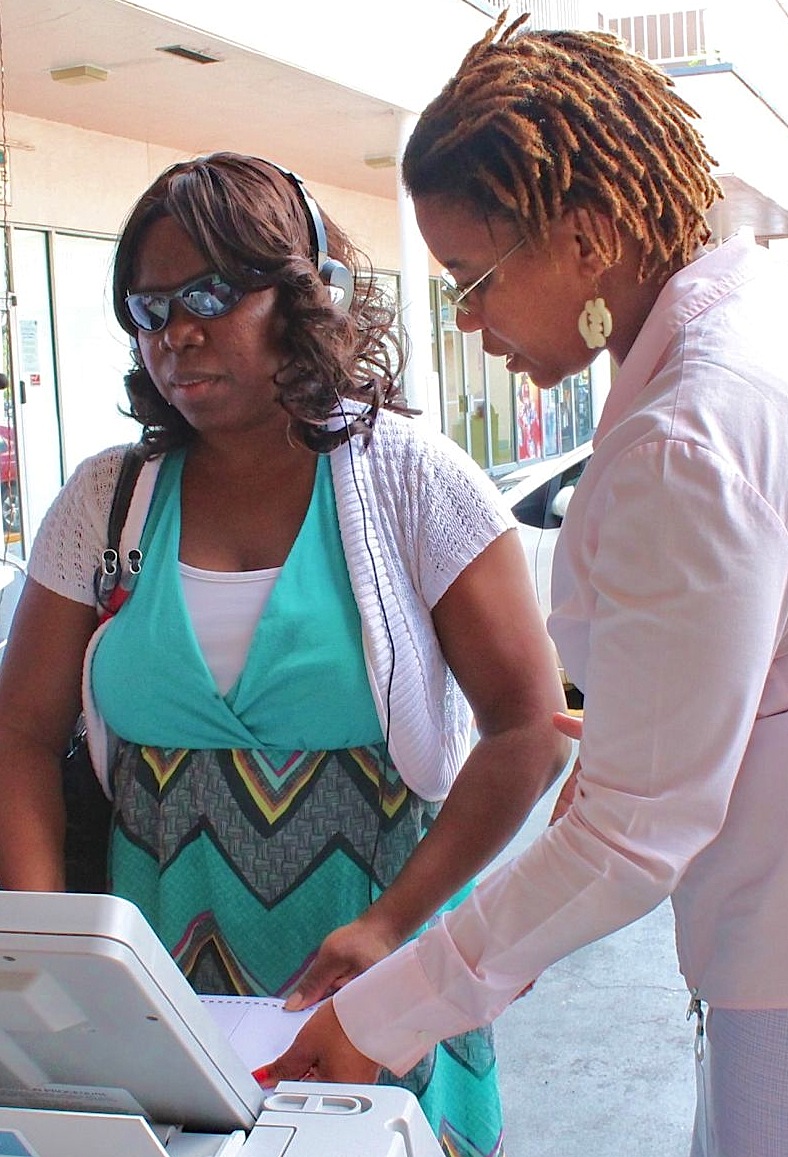 Krystl Edmead, vocational rehabilitation counselor at Human Services, shared that they normally encounter people with hearing and visual disabilities, amputated limbs and skin conditions. These individuals are taught how to market themselves to employers who may not understand their disability and may even be accompanied to job interviews if needed.
"Due to stigma and prejudicial biases, employers tend to think that persons with disabilities cannot do the things that people who don't have disabilities can," shared Edmead.
"But it's been proven that persons with disabilities are more reliable," she added. "They come to work on time. They listen and take instruction well. They are even the ones who bring life to the office. In spite having the disabling condition, they are normally the happiest persons in the room."
One table over from Vocational Rehab, the V.I. Association for Independent Living featured several assistive devices and software.
Henry Smith, a person with visual impairment, showcased a computer program that reads back everything that he types or any text on the screen. He also uses a photographic device that takes pictures of any document, sends an electronic copy to his computer, and it allows him to manipulate the file.
According to Henry, the surge in assistive applications helped enhance his daily life.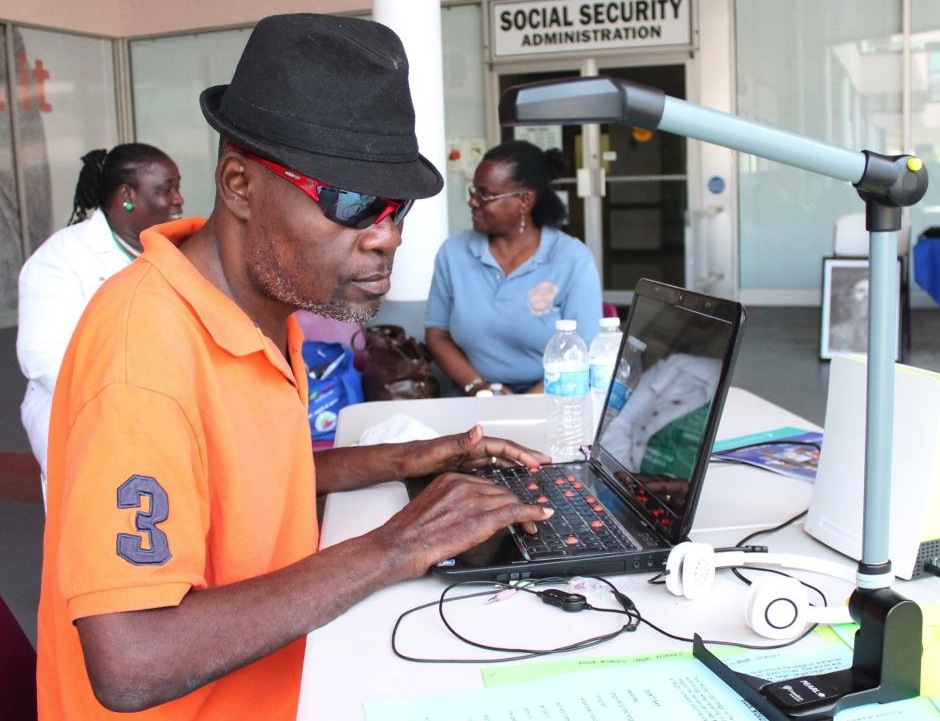 "Now I surf the net just like anyone else, shop online, read newspapers, anything you do online except actually seeing," said Henry. "There are websites out there with downloadable movies just for the visually impaired."
Josette Smith, who is also visually impaired, explained the benefits of the Braille typewriter, the more traditional Braille slate and stylus, and the intricacies of Braille shorthand.
Officials of the Election System of the Virgin Islands, including Elections Supervisor Caroline Fawkes and St. Thomas-St. John board member Alecia Wells, were also present with the ESS AutoMark Voter Assist Terminal, a specialized voting machine that allows people with disabilities to mark and submit their ballots independently and with complete privacy.
Nefrediezha Barbel, deputy supervisor of elections in the St. Thomas-St. John district, demonstrated the AutoMARK's audio function, which allows voters with visual impairment to hear the list of candidates through headphones, and the machine's capability of reading back the voter's selection. Voters unable to touch the screen or touch pad can sip or puff on a tube to select appropriately.
According to Fawkes, the AutoMARK will be used for the first time during the 2014 primaries and the November general elections.
Blyden said she believes that there are more individuals with disabilities in the community that Human Services has not been able to reach, something that it hopes to remedy with a state plan involving reaching out to the "unserved" and "underserved."
"National statistics show that if individuals are challenged, if they are able to work to their maximum potential, they become more independent, they build their self-esteem, and become productive in the community," Blyden said.