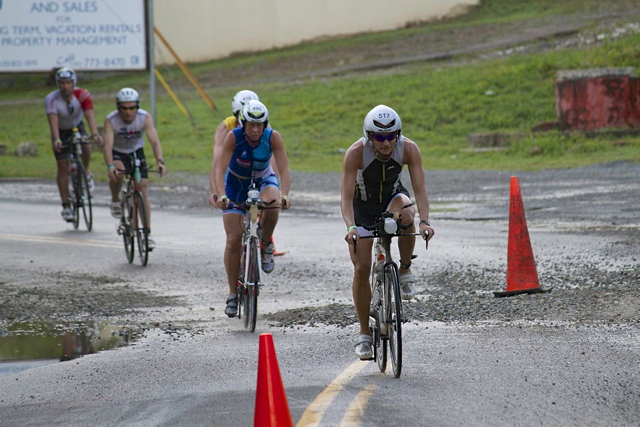 On a day when inclement weather and road conditions knocked out many top competitors, Richie Cunningham of Boulder, Colo., and Catriona Morrison of Scotland endured to take top honors at the 25th Annual Captain Morgan's St. Croix Ironman 70.3 Triathlon Sunday.
The first wave of athletes hit the water at 6:30 a.m., completing a 1.24-mile circuit around Christiansted harbor.
Australian Joshua Amberger was the first out of the water in the men's competition with a time of 24:13, but the pack was right on his heels. Eight other competitors finished their swim within 20 seconds of his time, leading to a tight bike race in the early miles.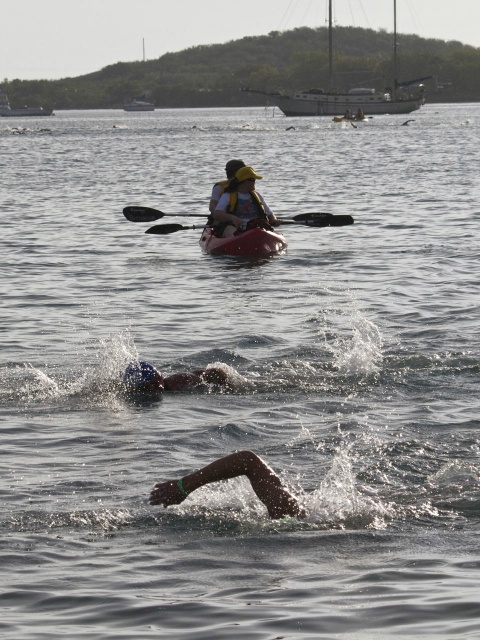 American racer Amanda Stevens led the women at the end of the first round with a swim time of 26:14. She ditched her swimsuit and was out of the transition area on her bike before her nearest competitor reached the shore almost a full minute behind her.
The St. Croix triathlon is known for having a very difficult bike leg, due in large part to the sharply sloping hill near Cane Bay known as "the Beast." But this year, competitors faced an extra challenge from poor road conditions.
Heavy rains on Saturday flushed debris into the road all along the racecourse, especially on the east end. Loose gravel tore through the athletes' thin racing tires, knocking many out of the race.
Of the 351 male athletes registered for the race, 38 failed to finish the bike leg, including seven of the 18 professional racers.
On the women's side, 13 of the 158 registered racers were knocked out in the bike leg including four of the 19 professionals.
Shortly after the bike leg began, dismounted competitors startled trickling back into the transition area, walking their bikes beside them or carrying them over their shoulder.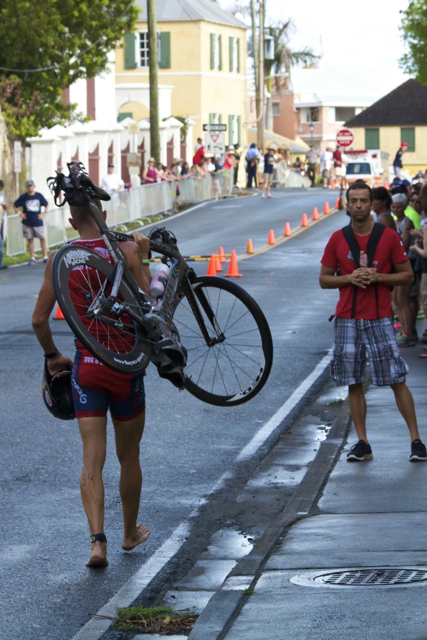 As the problem became obvious, spectators began doing what they could to help racers. In a few spots, people warned oncoming racers to slow down or switch lanes to avoid debris.
At a particularly bad spot less than a mile outside of the transition area, a few spectators grabbed shovels from their home and began clearing a large spill of gravel that covered three quarters of the road. A nearby police officer said he witnessed three racers blow out their tires at the spot within the first few minutes of the race.
The most notable loss from the race was Angela Naeth, last year's female champion. Naeth has experience with tire trouble on St. Croix, having finished the bike leg last year on her rim after blowing out her tire in the final miles.
Sunday she had worse luck, getting a flat within the first three miles. She said she attempted a repair, which failed, and then switched to her spare tire. That got her past the Beast, but the spare also went flat around mile 25.
"It's frustrating, to say the least," she said, adding that she had never received a DNF (did not finish) before. "It definitely changes the rest of the season when you're trying to get those points for a world championship."
Despite the debris, some racers still posted good times. Ben Collins of Chicago, Ill., scorched the field with a 2:14:50 time, giving him a nine-minute lead going into the run.
Collins continued to lead through half the final leg before the elements caught up to him. Intermittent showers throughout the morning made for hot and incredibly humid conditions that even long-time islanders said were some of the harshest they'd seen. Collins collapsed from the heat in the last seven miles of the race and was unable to finish.
With Collins gone, the door was open for Cunningham. During his post-race interview, he said he didn't know Collins had gone down and believed he was in second place until he heard the announcer in the final straightaway.
"I still didn't know I'd won until that last 20 meters," he said.
The 40-year old Cunningham is a seasoned veteran of the St. Croix triathlon, finishing in the top six on seven occasions. Sunday marked his first win, in a time of 4:10:29.
"I guess experience pays off," he said.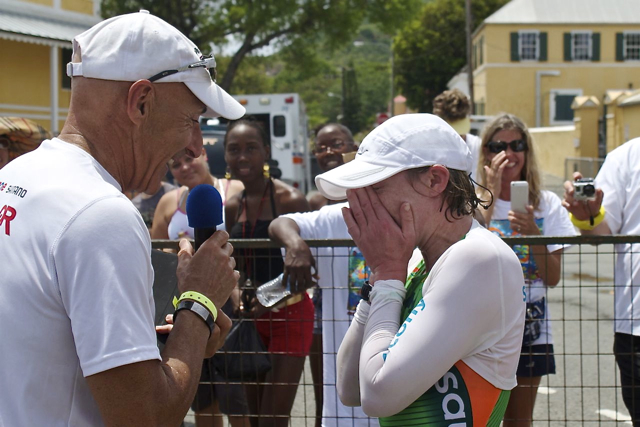 On the women's side, Stevens' lead after the swim evaporated during the bike leg. Morrison managed to catch her in the final miles and the two entered the transition area neck and neck.
Morrison proved too fast in the run, however, leaving Stevens far behind and building a five minute lead on her nearest competitor, Joanna Lawn of New Zealand. She won with a time of 4:38:56.
This is the fifth year Morrison has competed in St. Croix, and on each occasion she has dominated. She placed second in her first race on the island but won all of the others. Asked what her secret was, she said she honestly didn't know, but for this race she credited her win to a conservative approach to the bike leg.
She said she had driven the east end of the course that morning and knew it was in bad condition. She said she decided to take it slower to ensure she came through without a crash or a breakdown.
"You just have to be so careful. There's no sense in taking any risks," she said.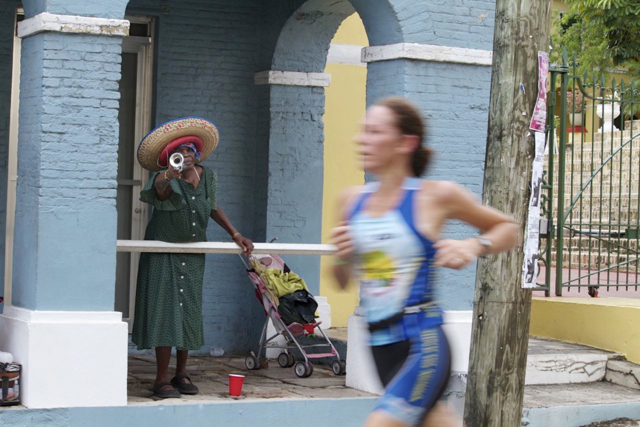 Morrison was reduced to tears during her post-race interview. She told the crowd that she was racing for her father who passed away earlier this year.
"I'm so joyful to be here again, because this race means so much to me. I just want to say thank you to everyone who puts in the time and effort to make this race work, because it really is so special," she said.
A sprint-distance triathlon was also held Sunday, in which participants swam 750 meters, biked eight miles and ran four miles. Joao Octavio Fernandes placed first on the men's side with a time of 1:06:12, followed by Gilles Janssen at 1:11:21 and Augustin Quinones, Jr. at 1:11:39. Mignon Vatlach took top honors on the women's race with a time of 1:09:34, followed by Theresa Harper at 1:22:39 and Jennifer Andrews at 1:24:05.
A complete list of results is available at www.stcroixtriathlon.com.