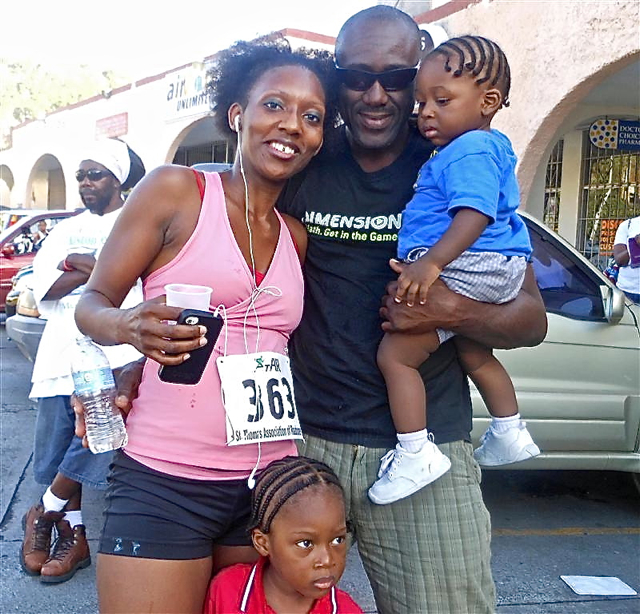 Maybe it's something in the air, or in the water, or just the hundreds of women, so happy to be together again. Whatever it was, the 31st Jogger Jam Sunday afternoon generated that special excitement it always brings about.
It's an energy that's suddenly released after being bottled up for a whole year. The women form little clusters, laughing and sharing stories about the old days. The race has almost as many veterans as newcomers.
Debbie Davis, Patty Varga, Susan Edwards, Gloria Salas-Lindquist, Margo Murray, Shaun Pennington, Anna Paiewonsky, Kathy Schlesinger – all are survivors of more than 20 races.
Edwards spoke about when the races started at Wayne Aspinall Junior High School (now Addelita Cancryn) out to UVI, and a couple other locales before finally settling on the current track.
"My first race, I had my daughter in a stroller, and now she's 29," she marveled.
As the women chatted, the stalwarts of the the St. Thomas Racing Association – Roy Wattlington, Dale Joseph and Steve Posterman – were setting up the course, putting the final touches on the finish line, as tireless race director Therese Hodge, backbone of the race, was doing 14 things at once with her usual total focus on getting everything right. Which she did, once again.
Sponsored by the Fruit Bowl for the past 30 years, the two-mile run takes participants around the Schneider Regional Medical Center for two laps and finishes in the Wheatley Shopping Center in front of the Fruit Bowl, where a robust cheering section applauds each finisher – "great job," nice going," "good for you."
This Sunday, one fan, cheerleader and husband yelped and jumped up and down as "mommy," Tonia Garnett-Stapleton, came charging down the finish line.
"Mommy, oh look there's mommy," shouted Clinton Stapleton, holding up their two sons – 14-month-old Aden and big sister Ajoni, 2 1/2.
Stapleton easily got the award for most excited guy, or would have if there was such a thing. As for Tonia, she was just happy with her 17:23 time.
"Wow," she said after breaking away from her delighted husband's embrace. "This is wonderful. It's the first time I've run in three years, because I was busy having babies."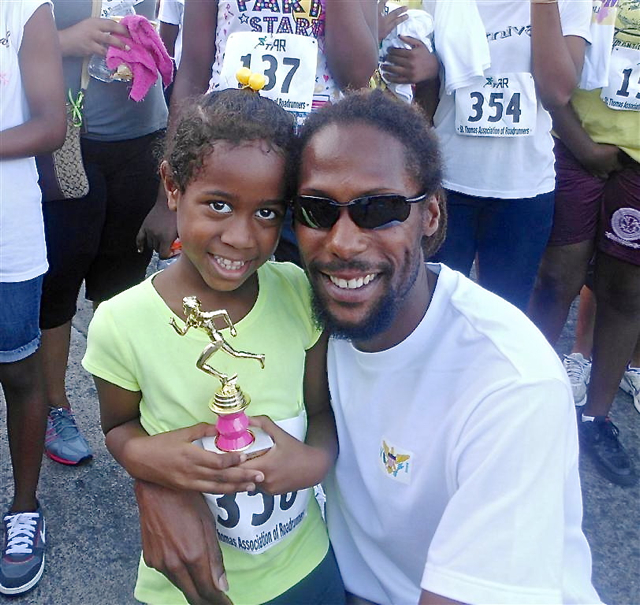 Judge James Carroll III was right up there with Stapleton, cheering on five of his court reporters and a parole officer. His wife, Celia, couldn't make it this year, but the judge showed up anyhow.
"I had to cheer on my troops," he said.
Ruth Ann David came in first this year, as she has for the last four, winning with a time of 11:57, 25 seconds off her best time, the 11:32 she ran in 2011. That simply means that David is mortal, after all. And still modest, deflecting praise with a wide smile. It's just something she does, like breathing.
Shane DeGannes, nurse/coach at Montessori School and Peter Gruber International Academy, who is the male equivalent of Davis, winning every race he enters, was a proud daddy Sunday as his daughter, six-year-old Devin DeGannes, came in third in her age group with a 30:15 time.
Vivian St. Juste, Family Resource Center executive director, thanked everyone for their support.
"A lot of what we do," she said, "you don't know about. We quietly help people, maybe someone you know. That's our job. When it's not in the paper, it doesn't mean it's not happening. It's not there because we're taking care of it. So, we thank you."
Sunday's winners:
Overall – Ruth Ann David – 11:57
Six and younger:
Myrline Pochette – 27:07
Zindzhi Ottley – 30:13
Devin DeGannes – 30:15
7-12
Talisse Thompson – 14:27
Alexandra Midler – 16:29
Khadijah McClean – 20:44
13 – 18
Akacia Powel – 14:59
Alison Bartsch – 16:37
Shanice Laurent – 18:58
19 – 29
Ashley Benson – 13.17
Lynnsy Jones – 15:30
Elizabethe LaPlace – 18:39
30 – 39
Julie Hadrath – 15:01
Tanya Schulterbrandt – 16:48
Tonia Garnett – 17:28
40 – 49
Kerstin McConnell – 15:38
Monica Midler – 16:36
Christine Sheehan – 18:16
50 – 59
Alayna Snell Kidd– 19:33
Debbie Murphy – 20:50
Margot Murray – 21:26
60 – 69
Gloria Salas-Lindquist – 17:35
Joyce Glimicwicz – 20:27
Cassandra Mallory – 20:52
70 and older
Patty Varga – 22:03
Marcy Offerdahl – 22:07
Claudette Richards – 29:40
Teams with most participants
Seventh Day Adventist Women's Ministries, 47
Addelita Cancryn Junior High School, 29