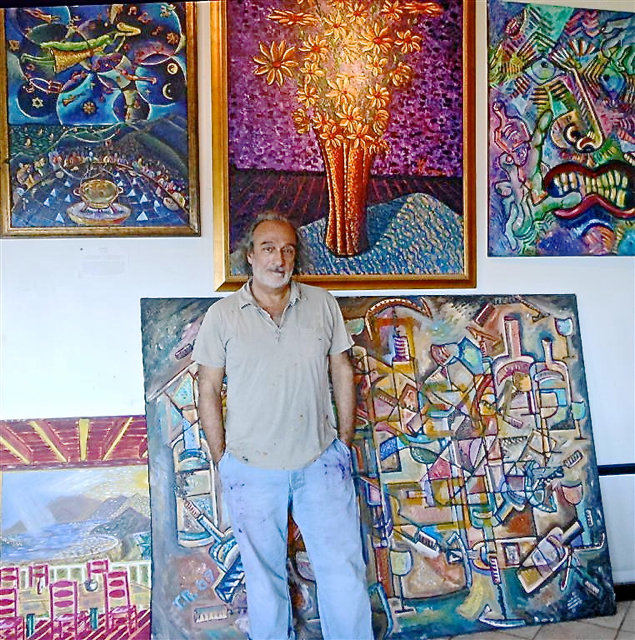 Restaurateur, artist, musician and now private chef Tony Romano has known his way around the culinary world since his teens, but he didn't pick up a paint brush until 2000, well into his 40s.
Romano loves to talk. He is an engaging conversationalist, some might say a raconteur, with a wry humor that flashes from his eyes. And when he says, "When I'm not cooking, I'm painting," that's essentially true, if you don't throw in his roles as saxophone player, one-time cigar manufacturer and single father of two.
Romano gives a tour of his spacious home studio overlooking Red Hook, where art and cooking influence every corner. An open professional kitchen faces the gallery filled with his finished paintings, along with three works in progress on easels, spaced at intervals around the gallery.
While Romano's culinary career has been relatively straightforward, his artistic path has followed a circuitous route. That's not to say creating the late and beloved Romano's Restaurant & Art Gallery wasn't a work of art, in itself. It's been his life for the past 24 years.
He learned the culinary world from his uncle Nicholas Giarretta at his fine dining restaurant, Le Bistro, in Cumberland, Md., starting as a teenager. He also credits his uncle for inspiring and informing his interest in music and art.
He moved to St. Thomas in 1985, and after a few restaurant gigs, opened Romano's in 1988.
"Friends warned me about the dangers of going out on my own," he says, "but I knew my talent as a chef; I knew I could create something. When I saw the Three Virgins Grill in Smith Bay was for sale, I knew and that was it. My same friends said I was crazy to start in that neighborhood, 'the worst on the island, nobody will come there.'"
Romano proved everybody wrong.
"I've never had any trouble in 24 years I was there," he says with pride. "There are more undesirables in Red Hook."
With more than a hint of sadness, Romano says he was forced to close the restaurant last October.
"With my power bill tripling, and my landlord and I not being able to agree on terms, I decided it was time to close the doors."
"It was a painful decision, disheartening," he says. "The restaurant had become a part of the neighborhood. Over the years, I'd hired a lot of the local young men. In fact, mothers would come up to me and thank me for their young brothers I'd taken off the streets. I'm still in touch with some of them today."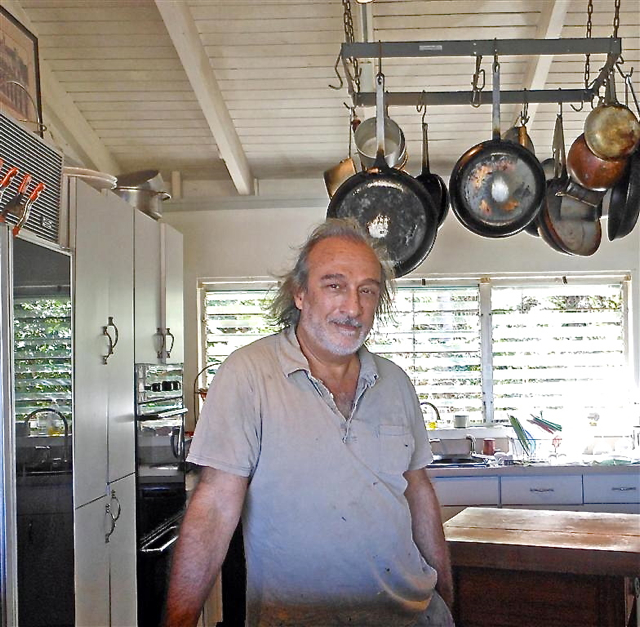 Romano briefly describes the challenges raising his two children – Nina and Tony – as a single parent.
"I had nannies," he says, "but though I'd get home late, I'd take the kids to school in the morning. I couldn't live without my children."
The apple as they say, doesn't fall far from the tree. Today Nina is a graphic artist and Tony is a chef on St. John.
Speaking of his work ethic, Romano says: "I always knew if I kept my standards high and service top notch, I would attract a clientele of people who love food and enjoy it"
He says he learned from the best, his uncle Giarritta.
"You go the extra mile," he says. "It can be a brutal business, but if you choose it, be the best you can. Serving food is a personal thing; I don't take it lightly."
He brings that ethic to his present culinary career: private chef. Romano brings all his expertise to individual parties of from two to 12. He is clear that it is not a catering service.
"I am offering the same level of service and cuisine with my private chef services," he says, "as I did at Romano's. That 24-year legacy works to my advantage. I can prepare fresh and delicious dinners for my guests here at my home/studio among my works in progress, or at their residence or villa. I focus my talents to make certain everything is perfect. I offer the full chef experience.
In fact," he says, "I have sold paintings to my dinner guests."
Romano says he offers set menus, but they are not rigid.
"The menu items are interchangeable," he says. "I can prepare a custom menu for individual tastes or dietary requirements."
Switching to his other passion, he says, "I've never put the brush down since I first picked it up in 2000."
At that time, he had experienced a serious illness that sidelined him for a year. His girlfriend, Kyra Walker, having seen some sketches, suggested he use the time to paint.
A cigar and art aficionado Romano had made several trips to the Dominican Republic collecting art over the years, while briefly running his own cigar factory there. His artist friends in the DR, seeing his work, encouraged him to pursue his talent, and that was all the impetus he needed, he says. He studied with local artist Tom St. Vincent DiColo and Miguel Gomez.
"I explore all techniques available to me," Romano says. One thing he feels strongly about is being defined by a "style," calling it "the artistic trap, and false comfort."
He loves to experiment.
"Most recently, I have been creating colorful, textured, oil paintings and encaustic works that seem to move rhythmically within the boundaries of the canvas and sometimes beyond."
Romano has won an impressive number of awards and has exhibited extensively in the islands, the Dominican Republic and New York. His paintings are in private collections in Europe and the states.
Romano can be contacted at 1-340-344-4450