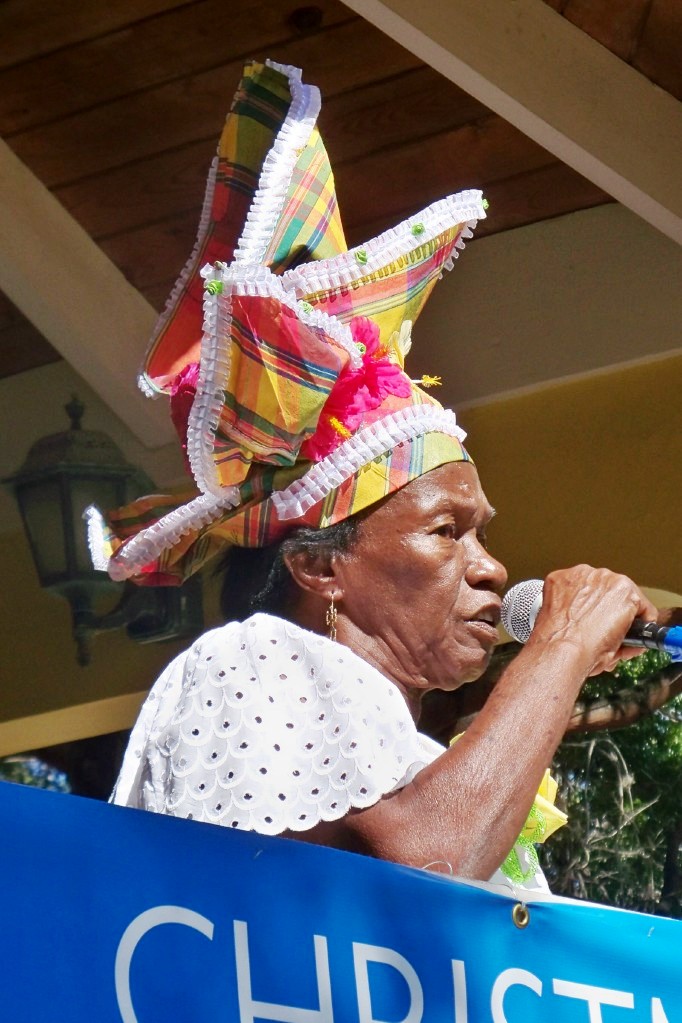 The Crucian Christmas Festival Food, Arts and Crafts Fair opened Wednesday with festival officials honoring Lena Shulterbrandt for her years of dedication to making the annual festival a success.
"I didn't expect this honor," Shulterbrandt told the crowd gathered at Budhoe Park. "I just do things for the festival, but not to be honored. I do this in memory of my father, Arthur Able, who helped start the festival 60 years ago."
She said after her father found out there was a festival on St. Thomas he decided to organize one on St. Croix. She said 60 years ago they didn't even have refrigeration. She added cooks had to get ice at the one and only ice factory in Frederiksted and they all worked together and shared their resources. She said she got involved with the festival in 1958, after she had finished college and returned home to St. Croix.
"I've worked every year since then to try to make the festival bigger and better," Shulterbrandt said. In the past she has been the vice president and president of the festival committee.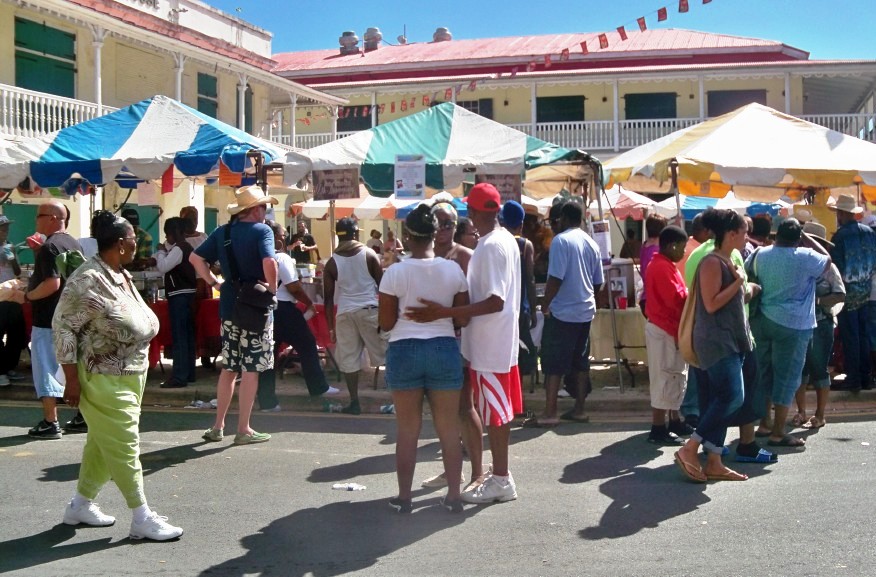 Davidson Charlemagne, festival committee board president, said Shulterbrandt is the oldest living past president of the festival committee. He said she has been involved in all aspects of the festival. "We had to convince her to be honored today," Charlemagne said. "People like her keep us on our toes."
Lt. Gov. Gregory Francis said the food, arts and crafts aren't just to look at, encouraging people to purchase food and art to support the vendors.
Brad Nugent, deputy commissioner for the V.I. Department of Tourism, said he was happy to see so many parents with their children. He added the theme for the 60th anniversary was bridging the gap between then and now, and so it was nice to see so many seniors sharing cultural heritage and giving their time and talents.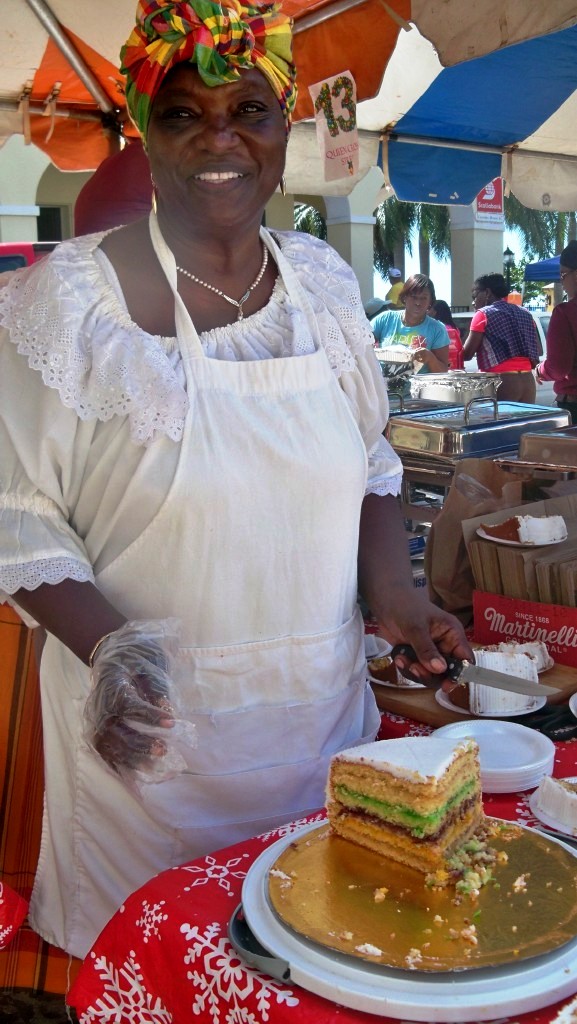 More than 30 vendors were selling their homemade goodies and crafts under red, blue and yellow stripped tents set up around Budhoe Park. Hundreds of locals and cruise ship passengers lined up to buy the local treats.
La-Verne Y. Bates, a past Food Fair honoree, was selling tarts, candy and cakes. She had a delicious Vienna cake with six layers of yellow cake separated with green lime, guava berry, pineapple, cherry, and guava filling frosted with white butter cream frosting. Bates and her mother, Wilma Abramson, have been selling sweets together since 1997.
For 40 years Akio Rawlins has been selling local fare at Rawlins Sea Food Hut. "I sell food because I like food and I like to cook food," Rawlins said. He was serving up dishes such as conch soup and lobster salad.
Other vendors were selling Johnny cakes, fried chicken, stewed goat, fried fish, rice with beans, kallaloo, souse, potato salad and much more local fare.
Local author Richard Schrader was selling books he has written and published about life on St. Croix and poems. Veronica Gordon, who calls herself the "Bush Lady," had items she makes by hand from calabash. She says the handcrafted calabash items such as bowls, cups and bangle bracelets are a cultural tradition.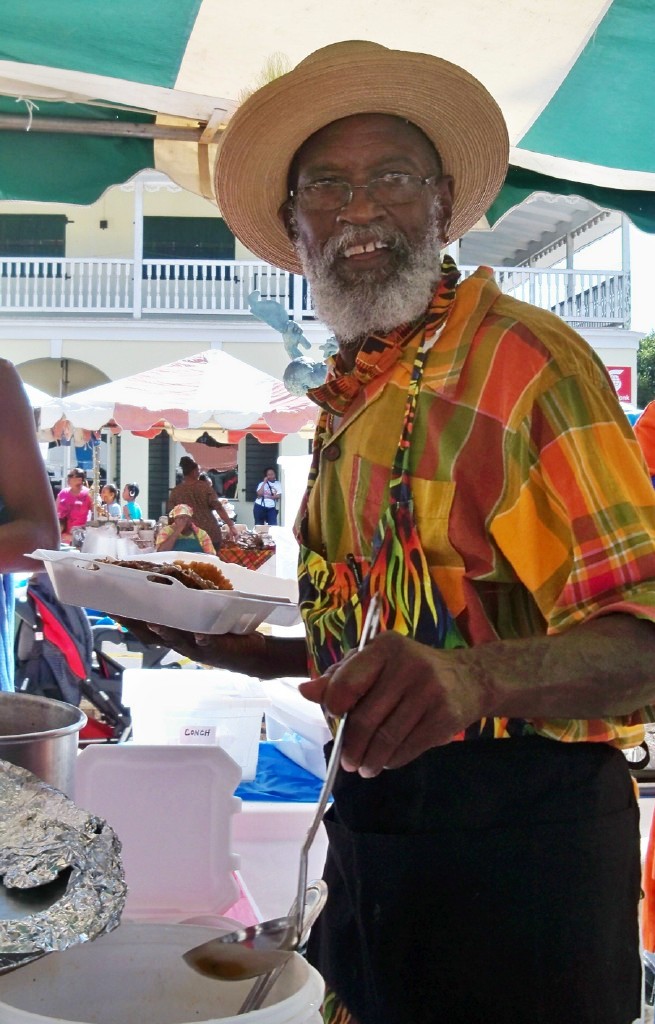 The St. Croix Central High School Class of 1973 reunion committee was selling food to benefit the 40th class reunion cruise they are taking to the Panama Canal in October. Annette Henry, president of the reunion committee, said the classmates' food was top of the line.
"I love the Food Fair," said local resident Corrinne Carmichael. "I haven't missed one for 30 years. The food is wonderful and it's always great to see old friends here." She was buying fried chicken for her daughter, Leah Gottlieb, and she was getting her favorite dish, kallaloo.