Here is where you will find what's new at St. Thomas's well-known Dockside Bookshop at Havensight Mall. Every week you will find new titles to peruse. Look for updates of our "picks" for fiction and non-fiction. We will gladly order any books you want. E-mail dockside@islands.vi
"The Complete Bookshop"
Mon. through Friday 8:30 a.m. to 6 p.m.
Sat. – 9 a.m. to 6 p.m.
Sun. — Closed
774-4937
E-mail: dockside@islands.vi
BOOK PICK'S FOR THE SEASON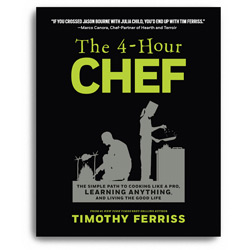 "The 4-Hour Chef" by Timothy Ferriss, hardcover, $35.00
What if you could become world class in anything in six months or less?
"The 4-Hour Chef" isn't just a cookbook. It's a choose-your-own-adventure guide to the world of rapid learning.
No. 1 "New York Times" bestselling author (and lifelong non-cook) Tim Ferriss takes you from Manhattan to Okinawa, and from Silicon Valley to Calcutta, unearthing the secrets of the world's fastest learners and greatest chefs. Ferriss uses cooking to explain "meta-learning," a step-by-step process that can be used to master anything, whether searing steak or shooting 3-pointers in basketball. That is the real "recipe" of "The 4-Hour Chef."
You'll train inside the kitchen for everything outside the kitchen. Featuring tips and tricks from chess prodigies, world-renowned chefs, pro athletes, master sommeliers, super models, and everyone in between, this "cookbook for people who don't buy cookbooks" is a guide to mastering cooking and life.
"The 4-Hour Chef" is a five-stop journey through the art and science of learning:
1. META-LEARNING. Before you learn to cook, you must learn to learn. META charts the path to doubling your learning potential.
2. THE DOMESTIC. DOM is where you learn the building blocks of cooking. These are the ABCs (techniques) that can take you from Dr, Seuss to Shakespeare.
3. THE WILD. Becoming a master student requires self-sufficiency in all things. WILD teaches you to hunt, forage, and survive.
4. THE SCIENTIST. SCI is the mad scientist and modernist painter wrapped into one. This is where you rediscover whimsy and wonder.
5. THE PROFESSIONAL. Swaraj, a term usually associated with Mahatma Gandhi, can be translated as "self-rule." In PRO, we'll look at how the best in the world become the best in the world, and how you can chart your own path far beyond this book.
"Formula 50 – A 6-Week Workout and Nutrition Plan That Will Transform Your Life" by 50 Cent with Jeff O'Connell, hardcover, $30.00
Get fit like 50 Cent: The phenomenally fit superstar rapper reveals his strategic six-week workout plan for achieving a ripped body — and developing the mental toughness to stay in shape for a lifetime.
Survival is a recurring theme of 50 Cent's lyrics, and his life. That's why, with obesity rates soaring and fitness levels declining, he wants to give everyone an all-access pass to his premium plan for lifelong fitness. In "Formula 50," the mega-successful entertainer and entrepreneur unleashes the power of metabolic resistance training (MRT), the key ingredient that has helped him achieve the famously buff physique that makes his music videos sizzle.
Through MRT, 50 Cent's fitness plan breaks down the barriers between traditional weight training and cardio workouts, accelerating fat loss while building muscle and improving overall fitness. Designed for a six-week rollout for total mind-body transformation, the "Formula 50" regimen builds willpower while it builds physical power. In addition to motivation, nutrition is another key element; readers will discover the unique dietary combinations that fuel 50 Cent's workouts. Co-authored with Jeff O'Connell, health journalist and editor-in-chief at Bodybuilding.com (the world's largest fitness Web site), the book delivers a payoff that goes beyond six-pack abs and flab-free pecs: This is a fitness plan that boosts energy, endurance, flexibility and mobility. The result is a body you've always dreamed of — and the mindset to attain the rest of your dreams.
"Story of Us" by Deb Caletti, hardcover, $16.99
A fresh and bittersweet story of love and family from National Book Award finalist Deb Caletti.
Cricket's on a self-imposed break from her longtime boyfriend — but she's picked a bad week to sort out her love life. For one thing, her mother's romance is taking center stage. After jilting two previous fiances, her mom is finally marrying Dan Jax, whom Cricket loves. But as wedding attendees arrive for a week of festivities at a guesthouse whose hippie owners have a sweet, sexy son, Ash, complications arise.
Cricket's future stepsisters make it clear they're not happy about the marriage. An old friend decides this is the week to declare his love for Cricket. Grandpa chooses to reveal a big secret at a family gathering. Dan's ex-wife shows up. And even the dogs — Cricket's old, ill Jupiter and Dan's young, lively Cruiser — seem to be declaring war.
While Cricket fears that Dan is in danger of becoming ditched husband-to-be number three, she's also alarmed by her own desires. Because even though her boyfriend looms large in her mind, Ash is right in front of her…
"Happy" by Mies Van Hout, hardcover, $17.95
Publishers Weekly (02/27/2012):
Van Hout's ("The Child Cruncher") catalogue of emotions is dead simple: an emotion word ("shy, " "surprised," "proud") appears on one page, and a drawing of a fish expressing that emotion is shown on the other. But what fish! Scrawled like children's doodles or cartoons in sizzling lines of scarlet, orange, aqua and fuchsia, each one swims alone in an ink-black sea, reacting to experiences readers can only guess at. The emotion words, one per spread, are handwritten with childlike care over pages scribbled with color, and are just as suggestive of each emotion as the fish are. Curious, a canary-colored fish, glides goggle-eyed toward something off-page. On the opposing page, the letters that spell "curious" are all different colors, like a cheerful ransom note. The Nervous fish is long, thin and miserable-looking, outlined in pale, tremulous lines. Bored is a flounder, almost cross-eyed with ennui. There's no particular story arc or even a story to be found within each drawing. It's a delightful amuse-bouche of a book and an aquatic introduction to everyday emotions. Ages 2 up. (Apr.) Copyright 2012, Reed Business Information.
"Dr. Mac Donald's Farmers' Almanac for 2013" by MacDonald's Almanac Dist. Inc., paperback, $3.50
This publication tells when to plant and harvest by the moon. It gives predictions about crops, the weather, sickness, lucky days and future events.
WE HAVE A NEW AND EXPANDED SALE SECTION FILLED WITH EXCITING BOOKS FOR ALL AGES INCLUDING: CHILDREN'S PICTURE BOOKS, EXERCISE, BUSINESS, HISTORY, NONFICTION, LITERATURE, FICTION AND LOTS MORE