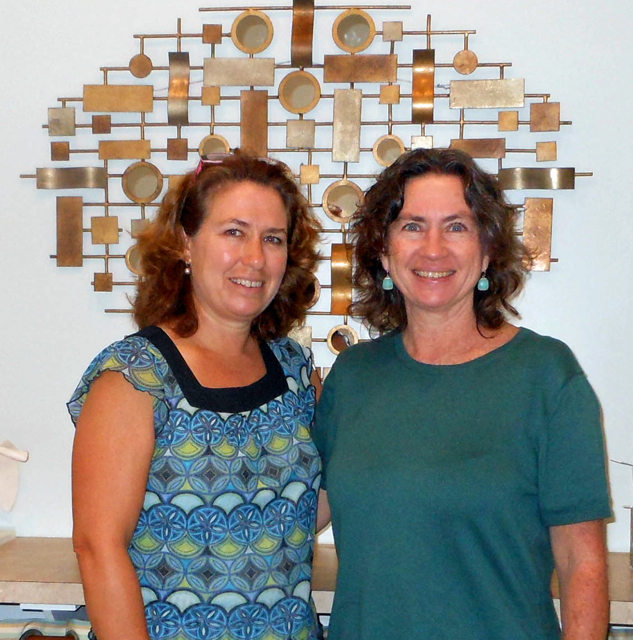 Synergy, from the Greek word synergia, is defined as the interaction of elements that when combined produce a total effect that is greater than the sum of the individual elements, a mutually advantageous conjunction.
On St. Thomas it means a venue to do just that. The Synergy Fitness and Wellness Center is the realized dream of physical therapists Eileen Short and Bonnie Barr-O'Rourke, each of whom has more than 25 years of experience.
Opened earlier this month, the center lays claim to being the first of its kind in the territory, offering holistic, complimentary health and fitness services gathered together under one umbrella, an umbrella that the owners said "bridges the gap between healthcare and wellness."
Short and Barr-O'Rourke realized their interests dovetailed a few years ago, while working together at the Schneider Regional Medical Center, but taking the jump into their mutual venture was a big leap of faith, a leap that suits both women, who are well grounded in their belief in the healing community.
On the second floor of East End Plaza, the center is beautifully appointed. Whimsical, engaging Haitian art decorates the walls, setting the tone for the venue. It's light, roomy and welcoming, with a large gym, overlooking the Mangrove Lagoon and many rooms for individual therapeutic treatments.
The outpatient healthcare clinic offers on-site integrative medicine, nutritional counseling, clinical psychology, physical and occupational therapies, therapeutic massage, personal training and soon will incorporate a yoga class.
Short is a familiar face in the healing community. Arriving on island in 1983, she first worked at Roy L. Schneider Hospital as a physical therapist, leaving to join Horizon Physical Therapy, where she spent 13 years before rejoining the hospital as director of Rehabilitation Services.
Barr-O'Rourke first came to St. Thomas as a "traveler" at the SRMC in 1994. It was at that time, she said, that she developed a great love for St. Thomas and vowed to return after completing graduate studies in International Public Health at Tulane University. Before she could return, she stayed in New Orleans, marrying Michael Barr and starting a family, until Hurricane Katrina forced them to relocate in 2006.
Since then, Barr-O'Rourke has become a familiar presence in the wellness community. Both Short and Barr-O'Rourke are active in the Therapy and Disability Advocates (TADA), regularly hosting Wellness Fairs at Magens Bay, introducing people to alternative therapies available on the island – yoga, massage, reflexology – along with an introduction to healthy eating.
In fact, you could say, the fairs were the impetus for organizing Synergy, their own wellness fair operating all year around.
The staff includes:
• Occupational therapist Tina Blue, who worked 10 years as SRMC's primary occupational therapist for inpatient and outpatient services. Occupational therapy helps people recovering from injury regain skills and children with disabilities participate fully in school and social situations.
• Therapist Sheena Walker served as a post-doctoral resident in at the V.I. Department of Human Services with the Foster-Care Intervention Program. There she was an in-home, family therapist. At St. Thomas Healthcare Management she served as a therapist in the residential treatment program for adolescents. She specializes in the treatment of anxiety disorders, issues related to gender conflict, men's issues, and racial identity.
She is, in word, a perfect fit. Short said of her, "Mental health is the foundation. Exercise, mental and emotional stability and balance go hand and hand. I'm so grateful we have her."
"We believe that therapeutic change occurs through a trusting therapeutic relationship in which the clients' strengths are identified and highlighted," Short said. "In the context of the therapeutic relationship, it is our belief that the client can then heal and grow by increasing one's awareness of self, challenging one's old beliefs, and learning to let go of old pain."
And someone new is coming.
"We are bringing on board Meredith Bleier, a medical massage therapist," Short said. "And we will be doing yoga classes. I think the great way to start the day is yoga. You get up, take a deep breath, do your yoga, and the rest of the day unfolds in a bright mind set. If you feel good, you can manifest your heart's desires."
She added the center will soon have a holistic dietitian on board.
"There is none on the island to treat nutritional issues with diabetes, with obesity prevention," Short said.
Short, herself, teaches Qigong, an ancient Chinese healing system that uses breathing techniques and physical postures. Holding both arms out, she confides, "It's great for focus."
Focus, constant focus, is what has been required of Short and Barr-O'Rourke for the better part of the last two years while getting the funding for the enterprise.
"It's mainly Bonnie who was the powerhouse," Short said. "We formed a business plan and went to First Bank, and were turned down. We went to ScotiaBank, but they gave us a small loan, not enough to build out. It was going to be long and cumbersome."
Time was passing and they were getting nowhere, until they went to Banco Popular and things changed.
"We met vice president Baren Brown, and he was encouraging. He didn't flinch at the idea of two women opening a business. He said, 'you can do this: it is do-able.' The bank gave us our major loan, and we went to the Economic Development Authority, and that made all the difference. We got a small business grant with collateral. It was a long process, lots of holdups."
"We were ready to open last April, but the EDA processes dragged on," she added.
Short gave a sort of laugh.
"We gave persistence a whole new definition," she said. "We kept calling and writing. We did everything we could. We pulled in Sen. (Shawn-Michael) Malone, who oversees the EDA, and (Delegate to Congress) Donna Christensen to help."
They finally got the necessary funds shortly before opening.
"I'm telling you this in hopes it will make it easier for others. The EDA has federal money, Obama's stimulus funds, and it is there for people to use," Short said.
Synergy's website has more information at http://www.synergyvi.com/.