Chef James Schierloh and m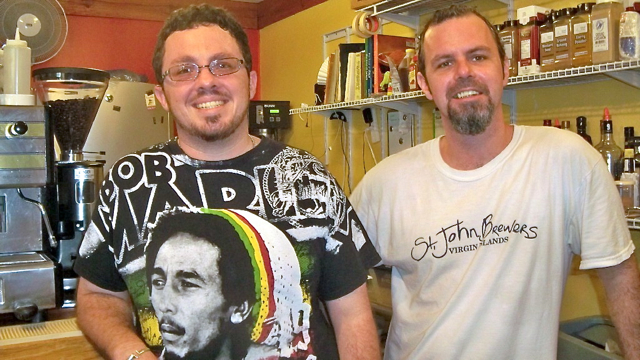 ixologist Dennis Ransehousen have blended their skills and ideas together to come up with unusual drinks and food at Mocha Jumbies Cafe. The cafe in Princesse opened its doors the beginning of August.
"Since discovering this place it has become our new favorite place," Elizabeth Bartasius said as she ate a sandwich and drank tea. She added the place reminded her of Internet cafes in the States. "Something we needed here."
The guys worked together and complimented each other for a few years at Salude Bistro in Princesse. During that time, they discussed opening their own cafe if the right location opened up. It just so happened Rustico, home and garden store, moved out of Princesse Plaza, which is located right on the main strip through Princesse.
Traffic is bumper to bumper in the morning and the place is very visible with umbrellas and tables out front. The guys say you can stop and get a Ras Wrap, a quick cup of coffee, and the newspaper in no time. The wrap, made specifically as a grab-and-go item, is made of phylo dough filled with curried egg whites, cheese, roasted veggies, black beans, rice and mango salsa.
The guys, both in their 30s, say the best part about running their own business is being their own bosses. They say they are flexible and able to be creative and do whatever they want.
Ransehousen says they do different things, such as make soda pop. Ransehousen is concocting fresh fruit syrup by mixing fruit of all sorts with sugar and water and cooking it down to a syrup. Their four employees just add carbonated soda water and stir. Ransehousen says the current favorite is watermelon/prickly pear. They have Surinam cherry, passion fruit, guava, honey nut and tamarind to name a few.
"We bring in our own personal creativity and tastes," he added.
They have gourmet coffee to go along with the breakfasts, which are served all day, and the guys proudly say they brew the best. They use VI Coffee Roasters beans that are roasted fresh on St. Thomas. Special flavors of coffees, lattes, espressos, cappuccinos and more are served at the cafe. They have come up with "Coffee Creations" made with chocolates, honey, nuts, ginger, whipped cream and more. Included on the menu are fancy coffees with or without liquor.
Schierloh says he's a real meat lover but his Virgin Meatball Sub is far better than ground beef meatballs. The sub is made with roasted vegetables, rice and garlic and topped with a tomato basil sauce and mozzarella cheese. He says the Drunk Pig is what St. Croix is all about. It is made with Heineken braised pulled pork and Cruzan rum barbecue sauce topped with provolone.
To satisfy a sweet tooth, Julianne Schierloh, James' wife, makes a decadent chocolate palm pie made with caramelized coconut and chocolate. They also serve fresh baked muffins and cookies.
Both guys agreed the biggest challenge in running the business is WAPA. They said keeping usage down is a challenge but, to top it off a few weeks ago the espresso machine was down and they said WAPA caused the problem. This week James has had trouble with AT&T phone service.
"It's hard doing business on the phone when it keeps cutting out," Schierloh says."We 're here for the long haul though. We 're all about the positivity."
They say business has been brisk and they are pleased with the support of customers who keep coming back. Schierloh says they've had a lot of Danish tourists who stay in Princess and walk to the cafe.
Schierloh, originally from St. Martin, graduated from Good Hope School in 1999 and studied culinary arts and business at Johnson and Wales University in Florida.
"I've always loved to cook," Schierloh says. "It's almost an obsession."
Ransehousen, originally from Vermont, moved to St. John in 2000. He found it too expensive to live there so he moved to St. Croix in 2006. He is an environmental scientist and photographer. He honed his mixology skills in the food and beverage industry.
"We are talking about starting catering," Ransehousen says. "I would like to start a high-end catered bar to take out to people. It's all about the product and positivity."
They have indoor and outdoor seating and free Wi-Fi. The cafe is open from 7 a.m. to 4 p.m. Monday through Friday, and 8 a.m. to 4 p.m. on Saturday. Take out orders can be placed by calling 1-340-718-5252.