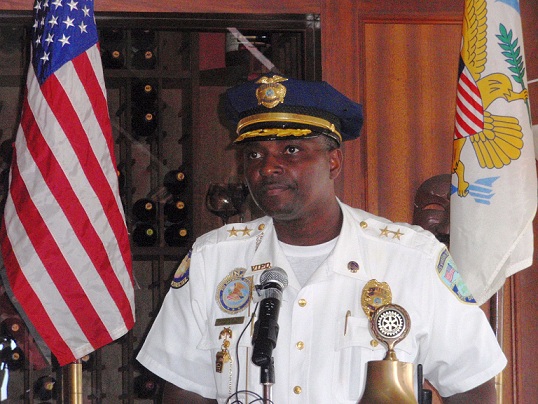 St. Thomas Police Chief Darren Foy told a community group Thursday that the V.I. Police Department is committed to being aggressively proactive in its mission to stop and solve crimes in the Virgin Islands.
Foy has been making the rounds of Rotary Clubs and other organizations recently, he said, to get out ahead of all the negative reporting in some of the media.
Admitting that austerity measures implemented under the current economic dark cloud are part of the challenge facing the VIPD, Foy said, "We can't use that as an excuse."
Increased foot patrols, roadblocks and stepped-up intelligence gathering, along with deepening relationships with federal agencies are some of the measures being carried out under Foy's watch.
Foy, who took over the post of police chief in June, said the community is inundated with guns. "Everyone is feeling unsafe just coming out of their houses," he said.
He called upon the community to take part in the solution by installing surveillance cameras and to be patient if stopped by police at roadblocks.
Foy said the surveillance cameras on Main Street were instrumental in breaking up a burglary ring in the area.
Constant gun fire in certain areas of the islands will soon be addressed with "shot spotters," Foy said, new gunfire locator systems which are on the way.
The gunshot locaters use a combination of sensors to allow police to know where to go directly when shots are fired, Foy said, eliminating the wasted effort in guessing where a shot may have come from.
The system triangulates where shots come from using listen posts and GPS to identify the exact location from where the shots were fired. This information is relayed to the VIPD and they can move without waiting for a call.
This technology will also help chart geographically where shots are most frequent, hopefully leading to a greater police presence in that area, he said.
The shot spotters will be placed in the neighborhoods with the most gun activity.
Several people at the midday meeting of the Rotary Club of St. Thomas asked what Foy intended to do about those hot spots that are teeming with gang activity and death.
"The V.I. does not have gang legislation," Foy said. A bill known as the Criminal Street Gang Prevention Act has been held in the Rules Committee since March.
Foy said in a brief interview after his presentation that his impression was that the senators thought it was a bad idea to single people out as gang members or label them as such. But what "they are involved in is criminal," he said.
Foy cited groups like My Brother's Workshop as having made significant progress in the solutions area.
He said the vocational training organization, which is about 6 years old on St. Thomas, has successfully brought young men from different warring neighborhoods together with a common goal, to get training and then jobs.
"It has helped them get over the gang mentality and understand 'this is not my enemy.'"
Foy said education and parents are also keys to solving the crime problem.