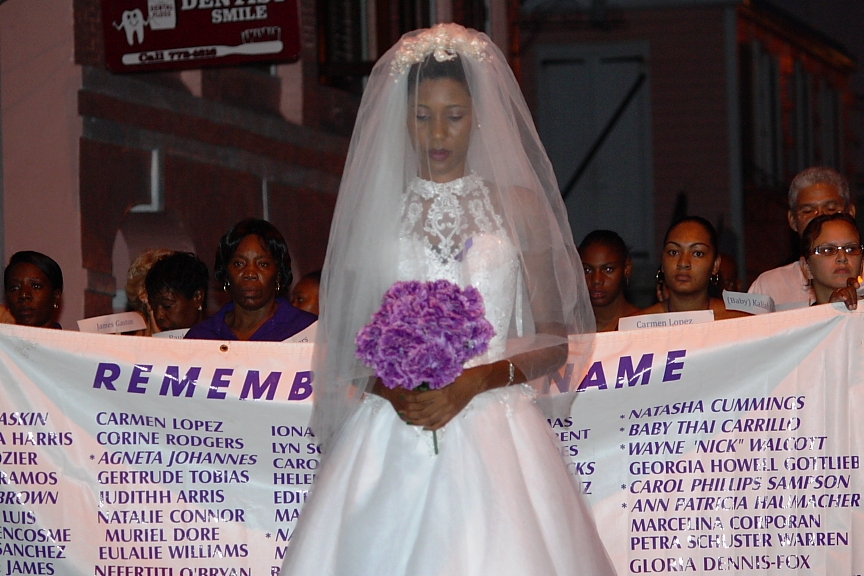 A somber procession filed through the streets of Frederiksted Thursday night, as about 100 people dressed in purple marched to commemorate those who have been killed in acts of domestic violence. The "Take Back the Night" event was organized by the Women's Coalition of St. Croix in honor of National Domestic Violence Month.
At the head of the procession, Reshauna Christopher marched in a wedding dress, her head bowed over a bouquet of purple flowers. The symbolism was meant to remind those watching that wives bear the brunt of domestic violence in the United States.
Behind Christopher, marchers carried a banner listing 61 names of women, children and men who have died as a result of domestic violence in the Virgin Islands.
Sheelene Gumbs of the Women's Coalition said that the list is not comprehensive. It does not list every victim, but those whom family members have asked to be commemorated.
"There are other names that we have been missing," she said. "Every year somebody will bring a name to our attention of someone who died before."
As the procession reached Buddhoe Park, the crowd fanned out around the clock tower. Hanging on a clothesline behind them was a string of T-shirts, each inscribed with messages of hope and love written by victims of abuse who reached out and got help.
The names of those who died were projected onto the base of the clock tower, and as each name appeared, a marcher would take an empty pair of women's shoes and place them silently on the steps of the tower.
This year's commemoration was held in honor of two particular women, Lorraine Joseph and Alorra Tutein, a mother and daughter who were murdered in 2010.
Gumbs explained that the coalition had held off honoring them until their murderer was convicted so as not to risk jeopardizing the trial.
When the shoe ceremony was complete, friends and family of the two women were called onto the steps to be recognized.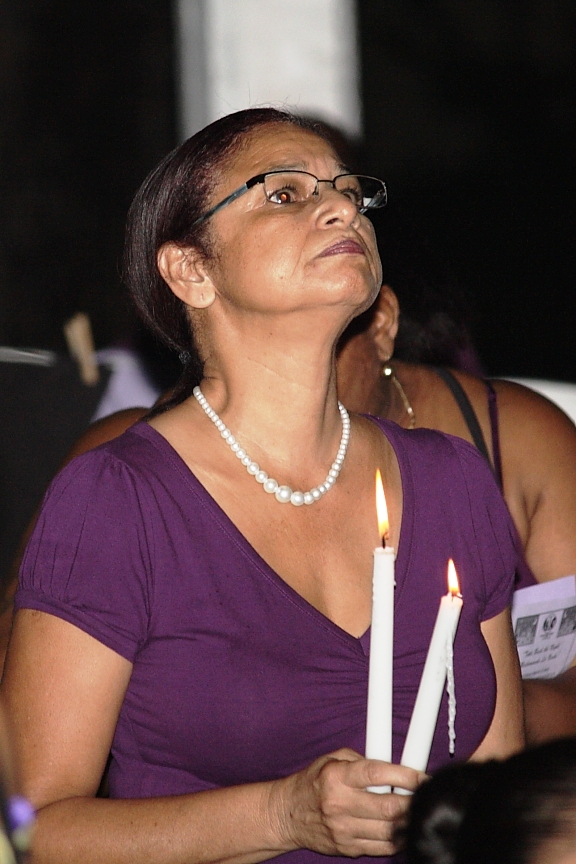 Maria Friday, a friend of Joseph's, spoke on behalf of the family.
"Many times we hear about this march and we read in the papers about it, but this moment is so far away from you and it's something you don't ever envision in your life," she said. "But tonight it's here in our hearts and in our backyard."
Friday went on to tell the crowd that one of the great challenges of being the friend or family member of a victim of domestic violence is to find the strength to forgive and move on. She encouraged everyone there to do so, because if they did not, she said, they would never be able to move beyond the tragedy and be the people they want to be.
"It's not an easy night, but we thank the almighty for allowing us to have this moment," she concluded. "Let us pray as a community when this march happens again next year, we don't have to add another pair of shoes."
As the ceremony concluded, Gumbs asked everyone to be safe and remember that there is always help available for those who need it.
The Women's Coalition of St. Croix offers counseling and shelter to all victims of domestic violence. They can be contacted 24 hours a day, seven days a week at 773-9272.