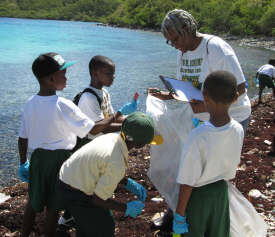 Pickings were good when Brenda Brown's third grade class at Guy Benjamin School went to the north side of Haulover Bay Friday to pick up trash as part of Coastweeks. The beach was strewn with all sorts of flotsam and jetsam that V.I. National Park education specialist Laurel Brannick said probably came from boats sailing in Drake's Passage. However, she later added that the several fishing nets picked up probably came from far off shore.
"There are lots of oil bottles and plastic drink cups," Brannick said, surveying the trash that nestled among the seaweed at this north-facing beach.
As the students walked the trail to the beach, they found a big pile of trash that appears to have been picked up by someone scouring the beach. It included a wooden pallet, rope, large and small pieces of plastic, and several glass bottles.
"Heineken," one student said as he tossed the familiar green bottle into a plastic bag.
Brannick said that much of the trash that's picked up on St. John as well as globally comes from single-use items like plastic bottles. She said that when Coastweeks results are tabulated, the numbers show that around the world, 60 percent of the trash falls in that category.
"People should start to think about it," she said.
She called this side of Haulover one of those dead end spots on St. John where trash seems to accumulate.
A class from Guy Benjamin cleaned up this beach during last year's Coastweeks so it all accumulated since then.
Brannick said that the eight students picked up 25 pounds of trash.
Students and adults from all over St. John have spent the past month picking up trash at the island's beaches. Brannick said students picked up 100 pounds of trash at Mary's Creek, 75 pounds at Brown Bay and 30 pounds at the popular Trunk Bay Beach.
What they found at Trunk Bay was discouraging. Along with the usual cigarette butts and plastic forks, the students found several used diapers on the beach, and Brannick questioned why adults would leave them behind in an area that has plenty of trash cans.
Brannick said as the students were picking up trash at Trunk Bay, one of the many donkeys that roam St. John wandered by. It had stepped on a six-inch section of plastic pipe left behind by someone.
"Its hoof had grown around it," Brannick said.
While donkeys are not usually the focus of Coastweeks, the Guy Benjamin students obviously paid attention when Brannick told them about the impact of beach trash on creatures that live in the sea.
"It's good to pick up garbage off the beach so animals don't get sick and die," Dwayne Morton, 8, said, echoing the remarks made by several of his classmates.
Rakhijah McCain, 8, urged beachgoers to be more careful with what they leave behind.
Brown was busy recording what her students picked up, and spoke positively about the importance of Coastweeks for her students.
"They will realize the impact we as humans have on the environment and that we need to protect it more," she said.