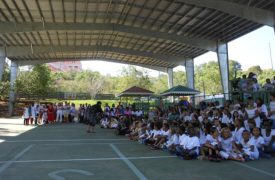 One entity in the territory is happily not in shock over WAPA's recently announced 19 percent LEAC increase.
The Virgin Islands Montessori School and International Academy now runs 100 percent on solar energy with the addition this summer of what's now called the "solar awning," a 9,000-square-foot outdoor solar-roofed structure. It's an auditorium, a sports facility, a toddler's playground with sand on one side, and when called for, a stage.
It provided an excellent venue for the school's annual Plea for World Peace presentation earlier this month where the students sang, danced, drummed and acted out skits with plenty of room for their happy audience.
Head of School Michael Bornn spoke about the new venture this week. After five years as VIMSIA board chair, Bornn stepped into his new role this year after the retirement of Shornaugh McWeeny, who spent more than three decades at the school's reins.
Bornn was eager to talk about the school's new solar venture and its significance to the school's coffers – astronomical savings.
Bornn says the school had an annual $70,000 power bill, which would have reached $84,000 with WAPA's recently announced rate increase.
'The solar roof produces 86 kilowatts of energy,which powers the entire school," he says.
"We have a zero WAPA bill. This month, we have a $1,200 WAPA credit which during the course of the year, we'll burn off."
The building itself is pretty amazing. It's wide, welcoming and open. Constructed on the site of the former youngster's playground toward the front of the campus, it somehow adds a new dimension to the older structures. .
The solar program isn't new, Bornn says. "We started many years ago," he says. "In fact, we say with pride that the solar panel that costs $200 today, cost us $1,395 six or seven years ago. That's before solar energy became politically correct."
The school stands alone as the territory's only fully solar energized school, and the territory's only fully solar supported entity, according to Donald Buchanan, V.I. Energy Office media specialist. "We have worked with Montessori for years." Buchanan says. "I don't think there is another facility in the territory which is entirely solar run."
The building was completed in record time. "Just two months this summer," Bornn says with a smile borne of deep satisfaction. "It was done by JPK Development, a local company. And they also built two new campus buildings, holding eight classrooms. We're proud of the fact that they finished the additions in ten weeks at a cost of $160 per square foot, which is very reasonable."
Bornn says the entire project cost about $2.8 million. "The awning cost $800,000, and the new building and infrastructure improvements made up the rest.
Bornn said the work was supported by federal energy grants, rebate programs and private donations.
The new structure also collects 25,000 gallons of water. "We have about 150,000 gallons capacity, in combination with other cisterns," Bornn says. "We have 100,000 gallons of gray water for watering the soccer field and the plants. And we don't have to buy potable water."
Bornn says the school will have a formal opening and a real name for the "solar awning," in the near future.
The school has been working for several years on its solar program